Strong funded ratios and higher interest rates are prompting many corporate pension plan sponsors to shift assets to LDI strategies. If you're still waiting, consider a hedging portfolio built on public corporate credit, complemented with non-traditional hedging assets.
Waiting to exhale
Corporate pension plans had a lot to celebrate in 2021, riding 10–12% improvements from the prior year that brought funding near 100% on average. Funded ratios have continued to climb in early 2022, driven by a higher discount rate: the FTSE pension discount curve, commonly used for pension liability valuation, surged 80 basis points (bps) in the first quarter, reducing liabilities by 10% for a pension liability with a 12-year duration, while the S&P 500 declined only 5%. That difference translates to an additional 2–3% improvement for fully funded pension plans split evenly between growth and immunizing assets. Today, pension plans are at their highest level of funding since before the 2008 financial crisis (Fig. 1).
Figure 1: Corporate pension plan funded ratio at 15-year high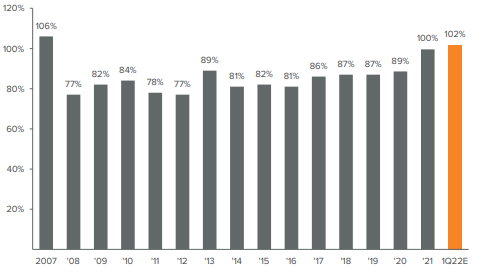 As of 3/31/2022. Source: S&P 500 companies' 10-K filings, Voya Investment Management
In the wake of the financial crisis, the average funded ratio spent the next decade bouncing around 80% range. During that period, plan sponsors told us time and again that interest rates had to move higher before they would engage in more aggressive hedging activity. Yet rates remained low, and glide path triggers weren't tripped. Despite hundreds of billions in contributions, plans were no better off than a decade before, while the lack of hedging left them exposed to high surplus volatility.
Now—with the 10-year Treasury yield up about 130 bps year to date through late April, and with investment grade spreads wider by 30 bps—the wait is over.
Going into hibernation
Many sponsors are taking advantage of improved funded positions and locking in gains. Those who were waiting on the sidelines may now begin to fully shift assets to LDI strategies, often involving higher allocations to fixed income (particularly to corporate credit).
As allocations to credit increase, alternative sources of credit risk—such as investment grade private placements, securitized credit and commercial mortgage loans—become more attractive. These asset classes historically correlate well to the liability discount rate and complement a hedging portfolio built on the foundation of public corporate credit.
Furthermore, diversifying fixed income portfolios with non-traditional hedging assets offer important potential benefits:
Greater potency of liability-hedging assets through covenants and structure.
Reduced opportunity cost of moving away from public corporate credit.
Reduced concentration risk and downgrade risk.
Dampened sensitivity to public-market volatility.
Interest rates are notoriously difficult to predict with reasonable consistency. A decision not to hedge interest rate risk is, in effect, a bet on the direction of rates. But remember, interest rate hedging isn't about timing the level of interest rates; rather, it's about managing risk regardless of where rates are going.
The stage is set. It's time to de-risk. All eyes are now on sponsors to see what they'll do.
Further reading: To learn about including non-traditional fixed income assets in asset liability management modeling, read our recent white paper, A Pension Mulligan, or contact your Voya representative.