The Voya Machine Intelligence Opportunistic U.S. Equity Strategy celebrated its three-year anniversary on July 31, 2023, beating the S&P 500 by 9.4% annually (8.6% net) — ranking in the 2nd percentile among its peers. The AI-driven portfolio brings advanced machine learning techniques to fundamental investing, working together with human analysts, data engineers, traders and risk managers.
1 A minimal drawdown in the 2022 slump
In the Strategy's first three years of consistently strong performance, a key highlight was its exceptional defense during the 2022 downturn, helped in part by stock selection and underweights in the technology and consumer discretionary sectors. This softened the impact to overall performance from underexposure to the AI trade in 2023. (The irony of an AI avoiding AI stocks is not lost on us.)
Voya MI Opportunistic U.S. Equity performance statistics, since inception (SI) on 08/01/20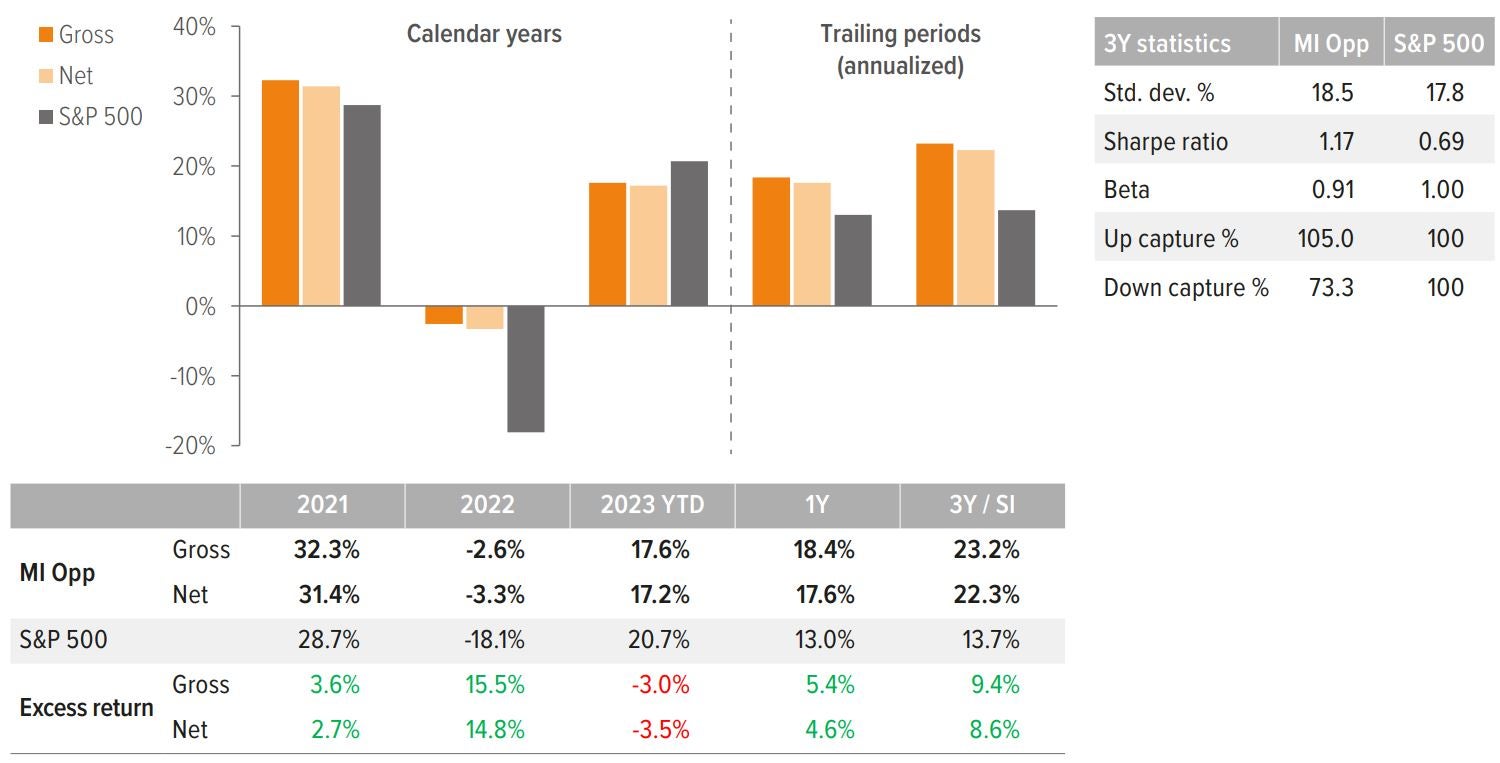 As of 07/31/23. Source: Voya IM. Past performance does not guarantee future results. Figures may not sum due to rounding. Gross and net performance numbers based on unaudited returns. Composite represents the investment results of a group of fully discretionary portfolios managed according to the Strategy. Returns include the reinvestment of income. Gross returns are presented after transaction costs, but before management fees, which, in addition to other fees incurred in the management of the portfolio, would further reduce returns. For a description of advisory fees, please see Form ADV, Part II. Gross returns should be used as Supplemental Information only. See back page for additional disclosures.
2 An answer to market crowding
A key challenge for investors today is the crowding of large cap benchmarks in a handful of mega-cap tech stocks that have dominated performance. The Strategy's benchmark-agnostic approach and unique investment process will often move away from crowded trades into uncomfortable positions that may offer better risk/return prospects, potentially enhancing portfolio diversification.

One-month average as of 07/31/23. Source: FactSet, Voya IM. Over/underweights relative to S&P 500 Index. Holdings subject to change. Information shown is supplemental only. See back page for additional disclosures.
3 Humans and machines, working together
Voya Machine Intelligence (VMI) combines machine learning insights with fundamental equity investing, bringing together the depth and rigor of traditional financial analysis with the breadth of quantitative analysis and the scalability of artificial intelligence. The VMI team, acquired by Voya in 2020, is among the industry's most experienced when it comes to AI-enhanced fundamental investing — having trained, tested, refined and validated the process for over a decade.

At a time of intense interest but little clarity around AI investing, we welcome the opportunity to share with you our experience of what drives success and failure with this emerging technology, and how we're deploying it across the Voya equity platform to empower portfolio managers.