ESG Investing
Our mission is to help our clients meet their investment objectives and enable them to invest across a spectrum of returns, risk and ESG objectives.
With our rich heritage of combining investment excellence with a culture of accountability and social responsibility, ESG considerations are an integral component of the value proposition that we offer our clients.
Integration
Incorporating ESG issues into the investment process is underpinned by the belief that it will improve the financial resilience of the portfolio over the long-term by generating more stable, sustainable long-term returns. Performance in ESG-related areas can impact financial strength, the risk of ratings downgrades and valuations. For these reasons, we diligently analyze how material ESG issues can affect a company's long-term outlook.
ESG considerations enhance our investment process by:
Deepening our fundamental research and analysis
Industry-focused issues and materiality

Regulatory landscape

ESG drivers of financial value
Broadening our relative value perspective
Peer-relative company ESG profile

Potential influences on market technicals
Strengthening portfolio construction
ESG policies supportive of the investment objective

Benchmarking of relevant metrics
Capabilities
Integration of material ESG considerations is core to our fundamental approach. Our investment in tools, people and processes allows us to offer client-directed customization and sustainability-focused portfolio solutions.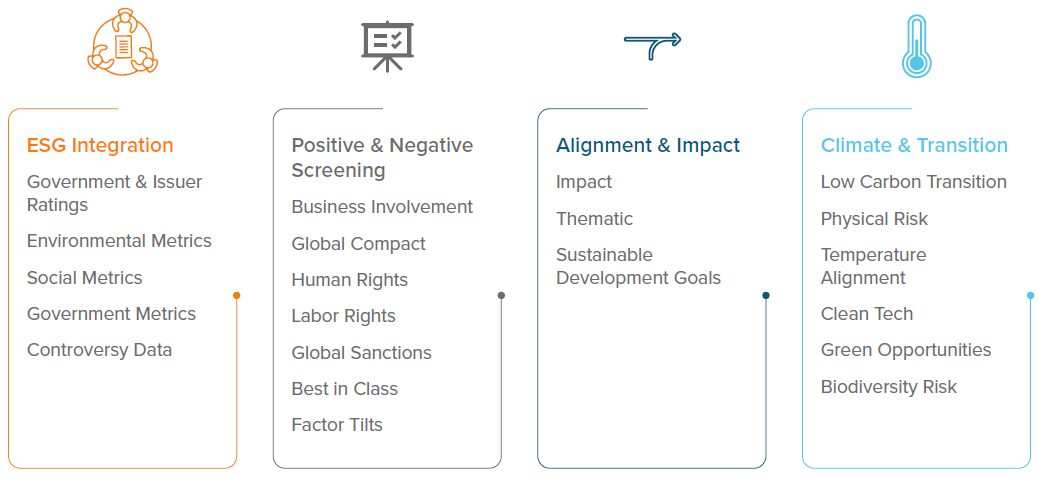 Memberships
We partner with like-minded market participants that advocate for improvements on shared ESG interests, including better disclosures, increased transparency and greater alignment with shareholder interests.
Climate-related industry groups
Other ESG-related organizations
Disclosures
Environmental, social and governance ("ESG") factors can impact the investment risk and return profiles of our investments. Investing based on ESG factors may cause a strategy to take risks or forego exposures available to strategies or products that do not incorporate ESG factors, which could negatively impact performance.  There is no assurance that investing based on ESG factors will be successful. Past performance is no guarantee of future results.