Specialized expertise and extensive resources allow us to partner with clients at all stages of the de-risking lifecycle
We believe successful Liability-Driven Investing (LDI) portfolio management requires a comprehensive knowledge of actuarial sciences as well as a deep understanding of financial markets. This belief explains our multi-dimensional approach to LDI that combines a Liability Strategy Development team with a team of experienced portfolio managers.
July 31, 2023
The Voya Enhanced Long Duration Government/Credit (ELGC) Strategy celebrated its fifth anniversary in March 2023. We explore what makes ELGC stand out.
July 12, 2023
U.S. pension funded status improved in 2Q23 to its highest level since 2007, increasing by more than 5% to 107% amid declining liabilities and increasing assets
January 19, 2023
Funding ratios rose again in 2022, putting plan sponsors in another surprisingly strong position.
November 18, 2022
The gilt crisis that brought down a UK prime minister also pummeled pension schemes and dialed up the heat on liability-driven investing
February 26, 2021
Recent rate volatility offers a rare opportunity, but if history serves as any guide the window to act will be fast to close.
Key Differentiators
Flexibility to Help Meet
Plan Sponsors' Evolving Needs
Ability to pivot from asset management to completion, overlay solutions over the de-risking lifecycle
Expertise in Specialty 
Fixed Income Sectors
Successful track record of incorporating specialty asset classes like investment grade private credit and securitized assets in an LDI framework
Liability Focused Risk
Management is in Our DNA 
Voya Investment Management's insurance heritage forms the foundation for our focus on risk management
LDI Solutions Value Proposition
Broad fixed income platform drawing on the expertise of more than 200 investment professionals
Actuarial resources embedded within the LDI Strategy Development team
Independent but integrated risk management team collaborates with portfolio management team
Focus on both investment (issuer concentration, spread volatility, bond supply/liquidity) and operational (counterparty, collateral) risks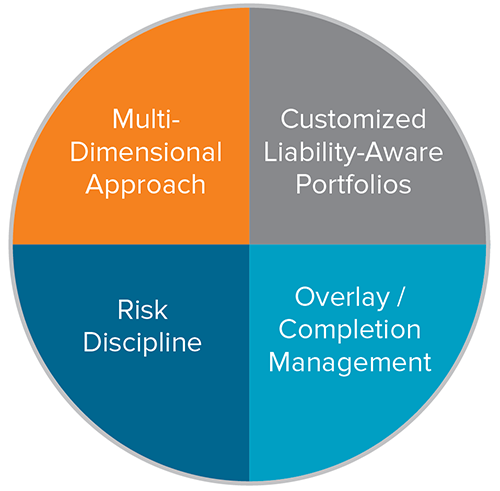 More than 45 years experience managing liability-aware portfolios 
Customized solutions optimized for liability defeasance throughout the lifecycle of the plan
Dynamic & cost effective overlay strategies to reduce funding status volatility, neutralize rate risk, create synthetic return exposures, and/or enhance risk/return profiles
Liability, key rate duration, and custom benchmark analysis
Voya offers plan sponsors a full suite of pension risk management solutions — from off-the-shelf strategies benchmarked to traditional market-based indices, to bespoke liability-matching portfolios with interest rate overlays.
Off-the-Shelf Solutions*

Bespoke Solutions: Tailored to Meet Specific Plan Needs
Our Liability Strategy team partners with clients to evaluate current plan conditions as well as end-state goals and objectives to develop and recommend strategies appropriate to achieve the desired objectives while balancing risk and return within the established risk profile of each client. 
Complete plan diagnostics and analysis 
Custom benchmark creation

Blend of market-based benchmarks
Liability-based solutions

Completion Portfolio Management

Duration extension
Key rate duration matching
Interest rate hedging

Tailored reporting packages

Summary plan overview
Asset and liability highlights
Asset and liability returns
Funded ratio history and attribution
Interest rate, curve, and quality hedge ratio analysis

Transition management as mandates evolve and benchmarks change
* Representative allocations; actual portfolios may vary.
Managing Pension Risk & Liabilities