CLOs – 4Q Review
In 4Q22, US CLO tranches exhibited strong returns across the stack as the loan market delivered positive returns in every month during the quarter. These returns registered 2.54%, 3.23%, 4.10%, 4.77%, 6.43%, 3.65% for AAA, AA, A, BBB, BB and B rating cohorts, respectively. For the full year, respective returns came in at 1.05%, – 0.17%, –1.67%, – 2.77%, –3.82%, –6.39%.
CLO fundamentals remained directionally favorable but slightly decelerated from the first half of the year. While overall metrics were still in check, tail risk in loan portfolios grew and were impacted by elevated downgrade activity (e.g., increasing weighted average rating factor and CCC exposures) and increasing shadow default list, including eroding structural metrics, such as BB overcollateralization (OC) and interest diversion (ID) tests in older vintage deals that started with thin cushions. Market value metrics, such as weighted average purchase price (WAPP), BB market value overcollateralization (MVOC) and equity NAVs slightly improved in 4Q, driven by the loan market rally in October and November.
In 4Q, CLO spreads were slightly wider. However, given the challenging arbitrage (arb), there is less room for any material widening. At the same time, levels can widen if macro volatility further accelerates from current levels. Both loan downgrades and shadow defaults increased in 2H22, which led to more price volatility and bifurcation in CLO tranches going into 1Q23. Unsurprisingly, CLO equity distributions decelerated in 4Q, compared to the very high levels experienced in 2021 and 1H22. This was attributed to various factors at play, including the rapid erosion of Libor floors, increasing 1M/3M Libor differential, borrowers switching to shorter tenors, and increasing Libor/SOFR basis. 2023 distributions are expected to stabilize and further increase as rates peak and volatility subsides.
CLO issuance hit $132 billion in 2022, which marked the second highest year on record (slightly ahead of 2018) and down roughly 28% from the record $187 billion issued in 2022. This issuance level, compared to a 65% decline in loan issuance, remains strong despite the challenging backdrop, difficult arb and persistent volatility in 2022. For 2023, initial issuance forecasts are in the $100–120 billion range.
CLO issuance was impacted by a difficult macro backdrop. During the first nine months, the fundamental view remained stable while the technical market challenges led to significant spread widening in both the primary and secondary CLO markets. Issuance was primarily dominated by large managers, with the largest 31 managers accounting for 40% of total issuance versus 35% in 2021.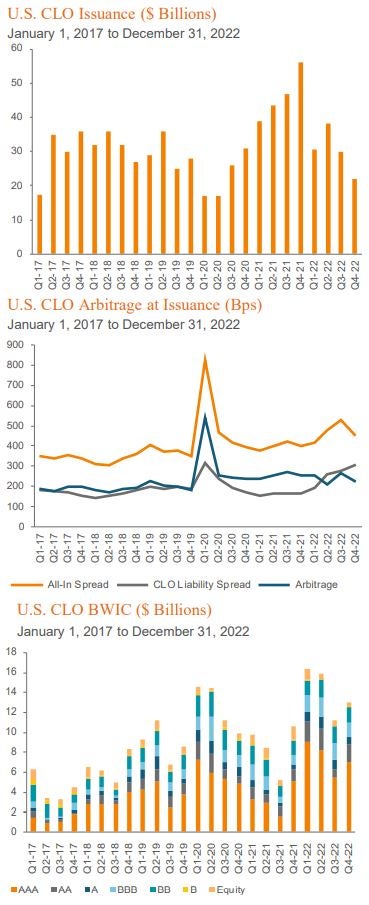 Sources: LCD, BofA Global Research, Ratings refer to original rating, and spreads are generic. Actual spreads may differ based on structure, WAL, collateral and manager.
CLO refinancing (refi) and reset activities, not surprisingly, were a record low in 2022 given the liability widening that occurred. We believe it will be interesting to follow how this segment of the market develops over the next year, given the quantum of CLOs exiting their end-of-reinvestment periods, which is estimated at $330 billion by year-end 2023 (approximately 40% of the entire US CLO universe). Any pickup in refi/reset market activity (and even redemptions) will be driven by tightening in liability spreads, as well as CLO equity IRR performance and whether loan prices can recover some ground.
In US, there are lot of moving parts that impact execution, such as weak interest only (IO) for regular deals, warehouse pressure resulting in uneconomic deals, principal only (PO) trade returning if loans sell off, and the state of the AAA investor base. The latter has been impacted by US banks' security holdings versus loan growth demand/capital ratios and sustainability of the recent surge in Japan's bid, despite higher hedging costs eroding US yield advantage.
We expect various themes from 2022 to carry into early 2023. Market technicals, wide liabilities, difficult arb, CLO AAA availability/depth of the buyer base, equity sourcing and CLO warehouse overhang will continue to put pressure on the primary. As such, large CLO managers will be better positioned to jumpstart issuance early in the year with structural/economics levers being key drivers.
In 2023, we believe CLO pricing will be driven by loan fundamentals and expect mezzanine prices to be pressured by any additional loan market and macro headwinds. The myriad of challenges, including corporate earnings, timing/depth of a recession, macro developments from inflation trajectory and US Federal Reserve policy will likely cause periods of volatility and spread widening. Given such a backdrop, we maintain a selective, opportunistic and defensive view, as well as positioning. CLO tranches look attractive due to historically wide levels, favorable coupons and yields, strong structural protections and ability to withstand mild recessionary stress scenarios. We continue to view the current wider yields on offer favorably and remain constructive on BBBs, with current yields into the high single-digits. As for BBs, we remain selective and still like the structural protections offered by high quality portfolios that are offering double-digit base case yields.

Sources: BofA Global Research, Morgan Stanley Research, and J.P. Morgan.
Leveraged Loans – 4Q Review
Broad market sentiment stabilized in 4Q22, helping buoy performance in the loan market and other risk assets, as the Morningstar® LSTA ® US Leveraged Loan Index (the Index) gained 2.74% during the period. The Index bid price increased by 24 basis points (bp) to 92.44, primarily attributable to the firmer trading levels in the first two months of the quarter, as December experienced some modest price declines. On a relative basis, loans trailed equities, investment grade and high yield (HY) bonds in December but notably outperformed for the full-year period given rising rate hedge. In 2022, loans were only down –0.6%, as compared to more than double digit losses experienced in fixed rate bonds (–15.7% and –11.1%, respectively for Morningstar US Corporate Bond Index and Morningstar US HY Bond Total Return USD Index).
In line with the prior two quarters, a continued flight to quality theme was evident, with returns for BB, single-B, and CCC rated loans coming in at 3.93%, 2.80% and –2.05%, respectively. The dislocation amongst different ratings buckets and liquidity profiles remained intact, with better-rated and liquid areas holding better relative to lower quality and illiquid names. On a full-year basis, double-B, single-B and CCC rated loans posted returns of 2.99%, –1.07% and –12%, respectively.
New loan supply remained limited, although increased to $35.7 billion (from $22.2 billion in 3Q22). Refi activity was the main driver of issuance, as higher-rated issuers looked to extend maturities. Total volume for the year amounted to $225 billion, which is below the record $615 billion issued in 2021.
CLO formation decreased to $22 billion given challenging liability backdrop and weaker demand from Japanese banks. Despite the lighter quarter, the full-year tally was the second most on record at $132 billion, as noted above. Drilling into the issuance figures, the US CLO market saw 287 new issue deals, 12 refis and 35 resets, totaling $132 billion, $4.5 billion, and $20.5 billion, respectively. New issue volumes were down 28% year over year (YoY), as compared to $187 billion in 2021. Refis are down 96% YoY (versus $111 billion), while resets are down 86% YoY (versus $140 billion).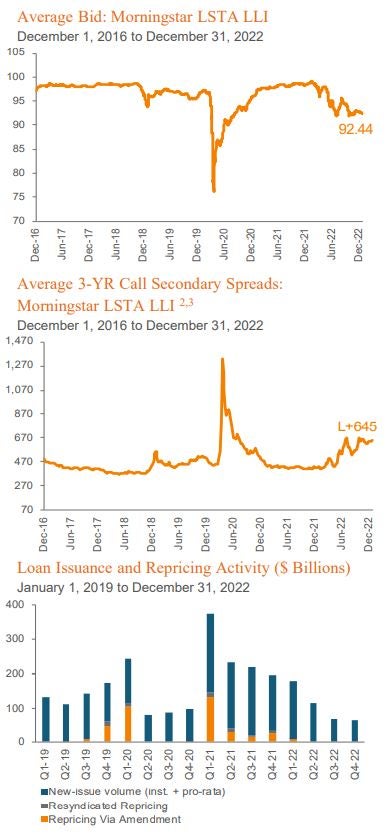 Source: LCD, The Morningstar ® LSTA ® Leveraged Loan Index. Additional footnotes and disclosures on back page. Past performance is no guarantee of future results. Investors cannot invest directly in the Index. *The Index's average nominal spread calculation includes the benefit of LIBOR floors (where applicable).
The global CLO market surpassed $1 trillion in 2021 and will likely reach $1.2 trillion sometime in 2023. Continued solid formation in 4Q further increased the size of the US CLO market, which currently stands above $944 billion as of 2022, equating to more than a 100% increase from the start of 2017.
Meanwhile, retail loan funds experienced $14 billion of redemptions during the quarter, bringing 2022 net outflow activity to $13.5 billion. After a net inflow of $24.5 billion through the first four months of the year, monthly redemption activity averaged close to $5 billion for the balance of the year. The strong reversal in flows was largely a function of macro uncertainties and general investor unease, which outweighed any demand tailwind from the strong rise in short-term rates – a historically positive driver of retail flows.
Default activity was non-existent in 4Q. As a result, the Index's trailing 12-month default rate by principal amount decreased by 18 bp to 0.72%. In general, defaults were relatively muted in 2022 (just eight Index defaults for the entire period) but will likely increase closer to historical averages in 2023 due to the anticipated economic downturn.
On the other hand, the ratio of downgrades to upgrades continued to accelerate, with the rolling 3-month downgrade-to-upgrade ratio increasing to 2.77x (from 2.28x in 3Q22). The cumulative effects of higher interest rates and increasing margin pressure began to weigh on highly leveraged balance sheets, which is a dynamic that we expect will continue in 2023. Rating agencies are focused on issuers with deteriorating credit metrics, including margin pressure from higher input prices, increased financing costs due to rising interest rates and lower consumer spending due to the drawdown of excess savings.
Looking ahead, we believe many of the issues that confronted the leveraged credit markets in 2022 will persist into 2023, though we hope to see resolution of certain issues as the credit cycle matures. Notable macro themes for 2023 include slower global growth with heightened recession potential, deceleration from peak inflation levels, less aggressive and less synchronous central bank policies, lower rate volatility and continuing geopolitical risks. While macro news will have an impact on technical factors, fundamental factors likely will be a bigger story. A weaker earnings environment raises the prospects of more downgrades and defaults and continued ratings and sector dispersion among weaker credit profiles, particularly among loans. Some of the downside potential already is reflected in current valuations, e.g., loan prices in the low 90s. Considering high starting all-in yields, we believe loans still offer fairly attractive relative value, but given the late-cycle backdrop, acknowledge the need for careful credit selection and monitoring.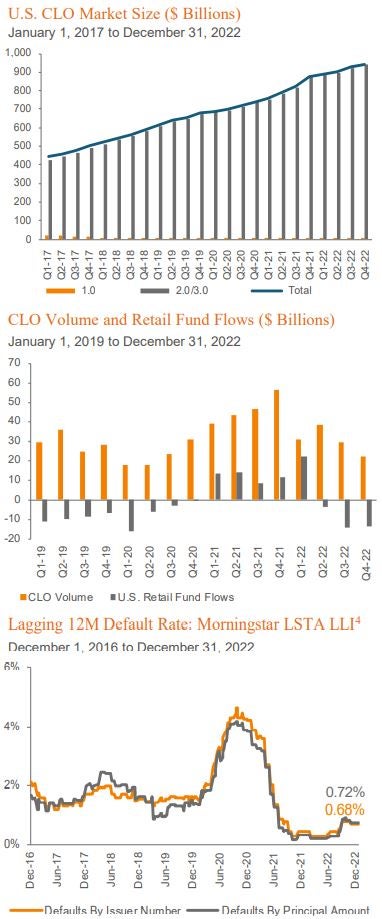 Source: BofA Global Research, LCD, Morningstar ® LSTA ® Leveraged Loan Index. Additional footnotes and disclosures on back page. Past performance is no guarantee of future results. Investors cannot invest directly in the Index.