Our research provides a framework for investors looking to include unconstrained fixed income as part of a strategic fixed income allocation
Executive Summary
Our research provides a framework for investors looking to include unconstrained fixed income as part of a strategic fixed income allocation
We believe blending 30% (unconstrained) with 70% (core/core plus) can serve as a starting point that may add consistency and reduce volatility
Unconstrained is a compelling alternative, and as the chart below shows, manager selection in this space is critical
Figure 1. Nontraditional Bonds: Compelling at Category Level, More So With Top Quartile Managers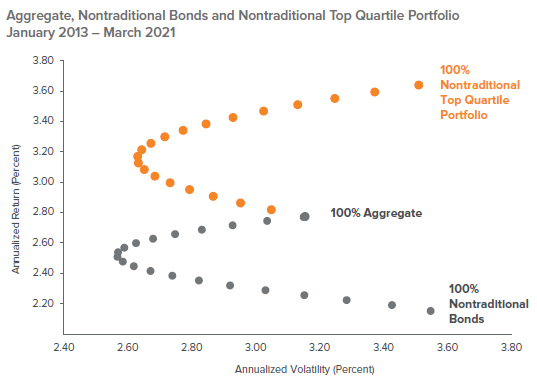 Source: Morningstar Direct, Bloomberg Barclays and Voya Investment Management. Nontraditional Bonds as represented by the Morningstar Nontraditional Bond Category. Aggregate as represented by the Bloomberg Barclays Aggregate Bond Index. Nontraditional Top Quartile Portfolio represented by an equal-weighted portfolio of Top Quartile ranked funds for the period Jan 2013 – March 2021, using Advisor, I-share, Institutional Share or cheapest share class if none of the previously listed were offered, rebalanced annually. Efficient frontiers as represented by blended portfolios using the Aggregate and Nontraditional Bonds (in grey) and the Aggregate and Nontraditional Top Quartile Portfolio (in orange) in 5% increments. Portfolios are re-balanced annually back to target weights at calendar year-end
Voya's Research Framework: Understanding How Unconstrained Can Complement Core Fixed Income
Unconstrained fixed income can play an important, complementary role in investors' fixed income allocations. Indeed, with uncertainty in global markets continuing to mount, we feel the key question is not if investors should allocate to unconstrained, but how much?
To answer this question, we analyzed the performance of different allocations between the Bloomberg Barclays U.S. Aggregate Bond Index (the "Agg") and the Morningstar Nontraditional Bond Fund category.
While Morningstar reports data for the Nontraditional category going back to 1996, the data for our analysis begins January 2013, when the category was more broadly adopted. This was also the year assets first crested $100 billion.
To help investors understand how to apply Unconstrained Fixed Income as a strategic allocation, we analyzed the Nontraditional universe through the lens of two objectives that we believe are essential to the role of bonds in investors' portfolios:
Focus on risk-adjusted returns: Maximize Sharpe Ratio
Bonds should act like bonds: Maintain rolling 12-month correlation >0.80 to the Aggregate and <0.50 to the S&P 500
Objective #1: Maximize Sharpe Ratio
Since our framework assumes the investor requires their overall fixed income allocations to serve as the anchor in their portfolios, one of our primary goals in this analysis was to identify a blend of the Agg and Nontraditional that maximized risk-adjusted performance.
"Using just Sharpe ratio, a 50/50 blend is a good starting point"
Figure 2 shows the Sharpe Ratios for the various blends in 5% increments for the period January 2013 – March 2021. Blending the Agg and Nontraditional for the time-period did indeed increase the portfolio's Sharpe Ratio. In fact, an equal-weighted 50/50 split between the Agg and Nontraditional produced one of the highest Sharpe ratios over the period.
Figure 2. Blending the Agg and Nontraditional increased Sharpe ratio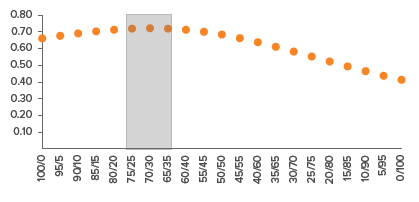 Source: Morningstar Direct, Bloomberg Barclays and Voya Investment Management Nontraditional as represented by the Morningstar Nontraditional Bond Category. Aggregate as represented by the Bloomberg Barclays Aggregate Bond Index Blended portfolios using the Aggregate and Nontraditional Bonds in 5% increments. Portfolios are re-balanced annually back to target weights at calender year-end.
Objective #2: Bonds Should Act Like Bonds
Now, if maximizing Sharpe Ratio was our only goal, we could simply split the allocation down the middle and be done with it. However, effectively implementing Unconstrained requires a more nuanced approach. Although risk-adjusted performance is an important metric to consider, it does not tell the whole story. How an allocation performs in relation to other asset classes is equally crucial for investors seeking to diversify their portfolios. With this in mind, we firmly believe that even in the case of a diversified or enhanced fixed income allocation, bonds should act like bonds, which, in the context of our framework, can be achieved via two core attributes:
Allocations should maintain a minimum correlation of 0.8 to the traditional fixed income benchmark
Allocations should maintain a maximum correlation of 0.5 to the broad equity market index
Rather than relying on a single correlation observation for the entire period, we reviewed the trailing 12-month correlations for the entire data set. We selected a 12-month period to align with the frequency of portfolio review meetings. In our view, maintaining these correlations best positions investors to consistently capture better risk-adjusted performance, while retaining key attributes required from a fixed income allocation.
"To maintain traditional bond characteristics, a 70/30 blend is a better starting point"
The dark blue line in Figure 3 plots the minimum trailing 12-month correlations observed versus the Aggregate and the maximum trailing 12-month correlations observed versus the S&P500. In both displays, our 50/50 portfolio fails on both of these tests. However, a 70/30 blend reveals a better starting point for blending the Agg with Nontraditional bond funds in order to achieve this correlation dynamic.
Figure 3. A Review of Correlations Raises the Bar and Lowers the Allocation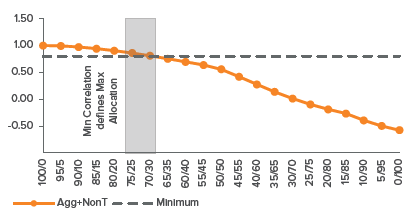 Source: Morningstar, Bloomberg Barclays and Voya Investment Management Aggregate as represented by the Bloomberg Barclays Aggregate Bond Index, Nontraditional as represented by the Morningstar Nontraditional Bond Fund Category and Multisector as represented by the Morningstar Multisector Bond Category. Each point represents the minimum trailing 12-month correlation to the Aggregate for each blended portfolio for the period Jan 2013-March 2021. Blended portfolios are re-balanced annually to target weights at calendar year-end.
Manager Selection: The Difference Between a Trade-off and a Trade-up?
So far, our recommendation for a 70/30 blend has focused on category level construction. However, there's a crucial dynamic that must be addressed: the importance of manager selection in the Nontraditional space. In "Unconstrained Bond Funds: Bad Idea or Good Idea Poorly Executed?" we highlighted the significant performance dispersion that occurs in the Nontraditional bond fund category. It is common to see a difference of nearly 1,000 basis points in manager performance when comparing the 5th and 95th percentile managers. While manager selection in all fund categories is important, we believe it is even more crucial within unconstrained approaches given the greater degree of discretion managers have.
An allocation to the Nontraditional category illustrates a typical risk-reward relationship, a nice reduction in volatility for a modest trade-off in performance. However, an allocation to a top quartile Nontraditional Bond strategy offers an even more provocative risk-reward relationship, as the performance of an equal-weighted portfolio of top quartile managers for the period Jan 2013 through March 2021 highlights a superior risk and return profile compared to the Nontraditional bond fund category and the Aggregate. Figure 4 summarizes key performance statistics for allocations to the general Nontraditional category as well as the Nontraditional top quartile portfolio.
Figure 4. Greater Return Dispersion Highlights Importance of Manager Selection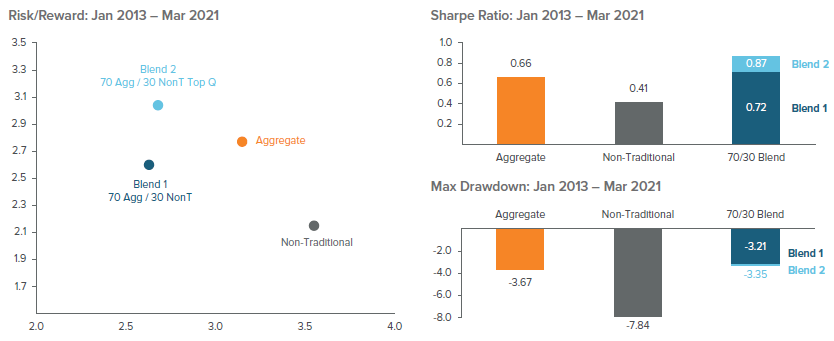 Source: Morningstar and Voya Investment Management Intermediate as defined by the Morningstar Intermediate-Term Bond Category Returns, Nontraditional as defined by Morningstar Nontraditional Bond Fund Category Returns and 50/50 Blend as defined by an equal-weighted portfolio of Intermediate-Term Bond and Nontraditional Bond Fund categories, re-balanced annually.
Figure 4 also illustrates how the disparity between a top-quartile 70/30 construction and a simple category level one can affect a portfolio. The left most illustration in Figure 4 shows that both blends offer a reduction in portfolio volatility, yet there is a superior risk-reward profile for the top-quartile allocation, shown in light blue.
Meanwhile the right illustrations indicate better Sharpe ratios and improvement in max drawdowns for both blends. Per Figure 4, while the 70/30 blend does make sense at the category level, prudent manager selection can make a "trade-off" a "trade-up".
Approaches to Implementation
Using the 70/30 traditional/Nontraditional blend as a starting point, the final question becomes: How can investors implement this approach? Figure 5 highlights four high level profiles that can help when making this decision:
Risk Delegator: delegates sector decisions and risk allocation to investment management partners; we believe the Delegator would be comfortable allocating 70% to Core/Core Plus strategies and 30% to Nontraditional Bond Funds
Risk Mitigator: generally comfortable risk-delegating and looks to diversify strategy risk. Nontraditional still makes sense; would want to introduce a second strategy by allocating equally between Nontraditional and Multisector
Risk Allocator: wishes to express sector views in fixed income allocations; similar to the Risk Mitigator, find Nontraditional interesting and will pair with single sector funds, i.e. High Yield, Emerging Markets, Securitized Credit, etc.
Risk Indexer: fully passive on fixed income, i.e. using an Aggregate ETF or other passive vehicle
Figure 5. Unconstrained Can Fit Into Various Allocations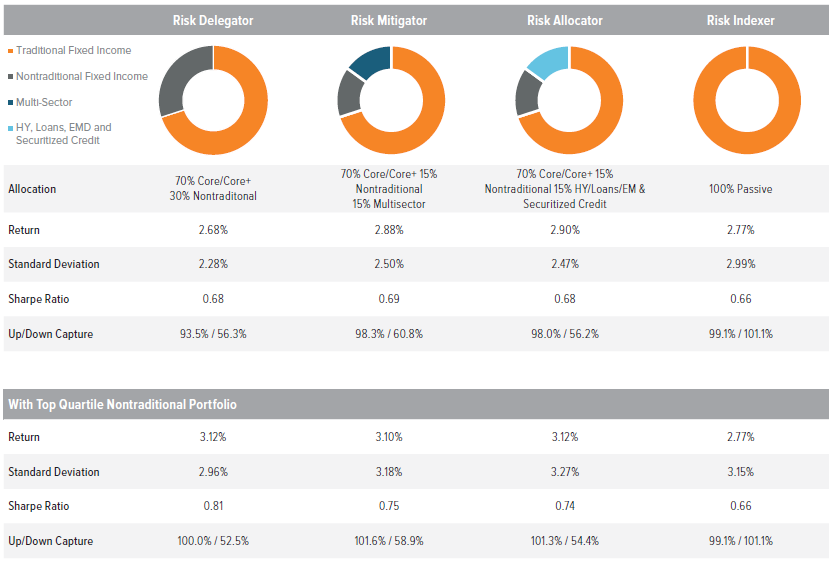 Balanced Flexibility in Today's Environment
Today, more investors are taking notice of the potential benefits of Unconstrained strategies. With many exploring how it might fit in a broader portfolio, we believe that a 70/30 blend of traditional and unconstrained fixed income is an effective starting point.
We believe ensuring that bond allocations behave like bond allocations is a key attribute to achieve objectives in fixed income portfolios. As a result, we maintain our view that Unconstrained is an important complement designed to diversify risks.
By complementing—not replacing—traditional fixed income allocations with well-understood and highly selective Nontraditional bond funds, investors - regardless of their proclivity to managing fixed income allocations and risk via delegation, mitigation, allocation or indexation - can better position their portfolios for through-the-cycle, long-term consistency.