Rethinking LDI Implementation
Executive Summary
Lower tax rates will increase the after-tax cost of debt issued by U.S. corporations, incenting them to de-leverage and decrease the supply of long-duration bonds
Yet pension plan sponsors are increasing their demand for long-duration bonds, to hedge the interest rate and spread risk exposures of their liabilities
The resulting supply/demand imbalances will prompt plan sponsors to expand their investible universes and consider substitutes for long-duration corporates
Voya advocates the use of investment-grade private credit and CMOs as substitutes
Growing Demand for Long U.S. Corporate Bonds
Regulatory and market conditions are encouraging corporate pension plan sponsors to continue de-risking their portfolios, and in some cases to accelerate the de-risking process by making additional contributions. U.S. corporate pension plan sponsors have four main incentives to make additional contributions and to invest those contributions in long-duration fixed income assets.
First, U.S. companies with calendar-aligned plan years have until September 15, 2018 to make a tax-deductible contribution for their 2017 tax year. Sponsors have a strong incentive to contribute more than the minimum required, or above the amount previously planned, to take advantage of the higher corporate tax rate one last time. Here is an example of how much DB plan sponsors will save by making an accelerated contribution now, considering a corporation that pays taxes at the highest marginal rate. If that sponsor contributes $100 million for the 2017 tax year, it will reduce its 2017 taxes by $35 million. One year later, that same contribution will reduce its taxes by only $21 million. Therefore, the tax savings is $14 million.
Second, plan sponsors can reduce their Pension Benefit Guaranty Corporation (PBGC) variable rate premiums by better funding their pension plans to reduce their shortfalls. PBGC variable rate premiums have increased sharply, from $9 per $1,000 of shortfall in 2008 to $38 per 1,000 in 2018; charges are likely to go even higher in coming years. These increases have occurred during times when pension deficits have been large in dollar terms, making this tax doubly painful.
Third, many pension plans have glide paths that trigger reallocation from return-seeking assets to liability-hedging assets as the plans become better funded. Making additional contributions is likely to cause plans to reach the next de-risking trigger point on their glide paths sooner, increasing the need for long-duration corporates.
Finally, the strength of the equity market over the last few years has encouraged plans to rebalance to stay compliant with their investment policy statements. Gains from equity holdings have improved plans' funded ratios, creating an incentive to lock in higher ratios by rebalancing. Even without additional contributions resulting from tax incentives or PBGC penalties, sponsors still would buy more long duration bonds to keep within acceptable allocation ranges as they reallocated from equity to fixed income.
Figure 1. The Global Picture: Foreign Investors also Have an Appetite for Long Credit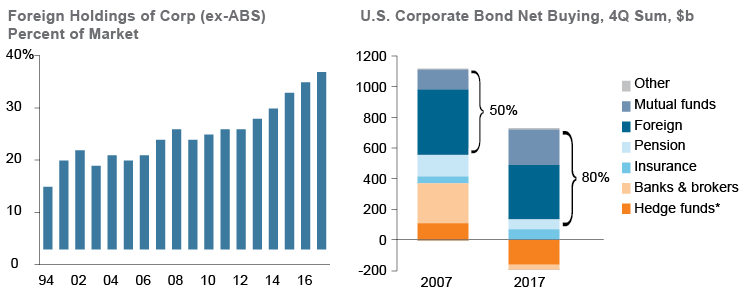 Source: Citi Research, Federal Reserve U.S. Treasury Department.
Source: Federal Reserve Flow of Funds, Haver Analytics. Data for 2017 represent 3Q17 and 4Q17. *Although described as "household" in Flow of Funds, this series likely is dominated by hedge funds.
As Figure 1 shows, demand for long-duration credit from institutional investors outside the United States also is continuing to grow. Yields for U.S. bonds are higher than local market yields, making the asset class more attractive to foreign investors.
Growth Rate of Corporate Bond Supply Expected to Slow Down
The decline in the U.S. corporate tax rate from 35% to 21% will increase the after-tax cost of debt issued by U.S. companies and incent them to de-leverage. Consequently, we expect the growth rate of long corporate bond supply to slow down.
According to Barclays Research, the profitability of domestic industrial companies — as measured by earnings before interest, taxes, depreciation and amortization (EBITDA) — has averaged 5% annual growth over the last decade. Assuming EBITDA continues to grow at a similar rate over the next decade, Barclays estimates that if net debt increases by no more than 2% per year, then overall leverage will decline by 25%.
There are several key implications: As Figures 2 and 3 show, the growth of the corporate bond index should slow down and the weight of the industrial sector in the index should decrease. The Bloomberg Barclays U.S. Credit index grew by about 8% per year over the last five years, led by domestic industrial debt. Only industrials grew at an average rate higher than 8% over that period — financials and others grew at less than 8% per year on average. If industrials grow at a rate less than 12%, as they have done over the last five years, and the other sectors grow at the same rate, then industrials will constitute a lower proportion of the index in the future.
Figure 2. Domestic Industrials Have Led the Growth in the U.S. Credit Index Amount Outstanding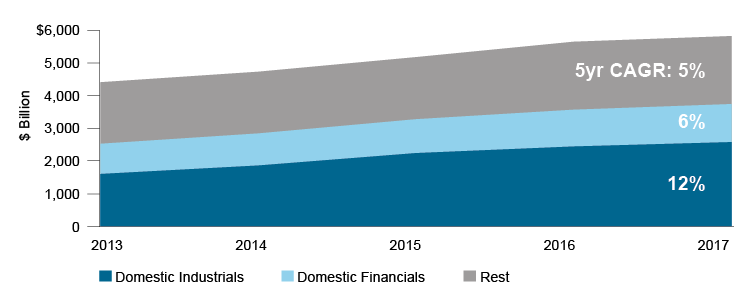 Source: Bloomberg Barclays Index, Barclays Research
Figure 3. Annual Index Growth Could Slow Down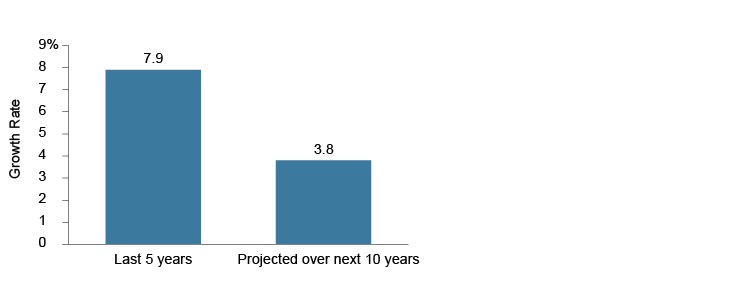 Source: Bloomberg Barclays Index, Barclays Research. Represents the Bloomberg Barclays U.S. Credit index
Figure 4. Breakdown by Maturity of New Issues for U.S. Industrials versus the U.S. Credit Index (past three years)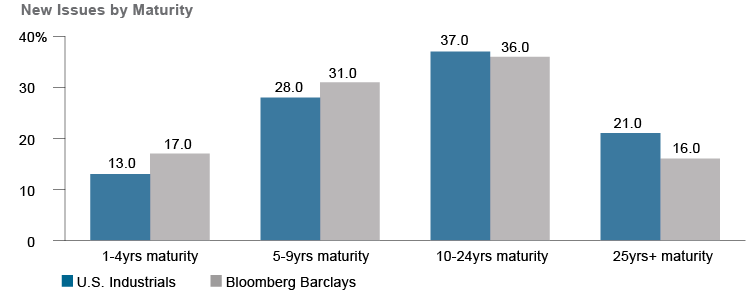 Source: Bloomberg Barclays Index, Barclays Research
Figure 5. Lower Industrial Issuance Could Reduce the Average Tenor of Index Supply Over the Next Decade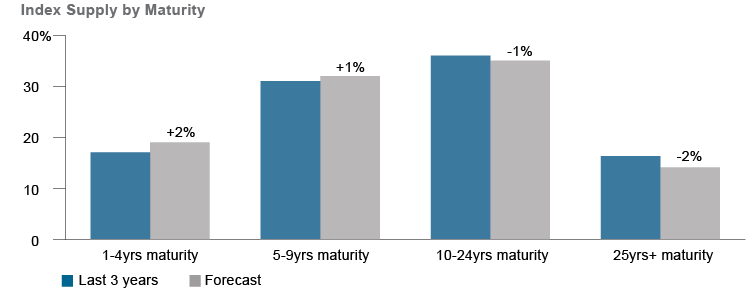 Source: Bloomberg Barclays Index, Barclays Research
As Figures 4 and 5 show, the supply of long-dated debt should decrease given that nearly 60% of domestic industrial issuance came with an initial maturity of 10 years or longer compared with 53% for the overall index over the past three years.
Going forward, this technical environment should encourage plan sponsors looking to de-risk to consider other options. Strong, increasing demand will support the valuations of these assets and put flattening pressure on the long end of the U.S. corporate yield curve.
Investible Universes Will Need to Expand
Long U.S. Treasurys and low quality corporate bonds are two common options available to plan sponsors to overcome the decreased availability of long U.S. corporate bonds.
Long U.S. Treasurys
We expect there to be ample supply of long U.S. Treasurys over the next several years given the U.S. government's projected budget deficits, including the most recent budget proposed by the Trump administration. Treasurys offer very high credit quality, but their yields will be lower than the high quality long U.S. corporate bonds used to calculate a plan's liability value.
Low Quality Corporate Bonds
Although such an approach would avoid the yield concerns with U.S. Treasurys, lower quality corporates will increase the downside risk of a plan's funded status. This is a serious disadvantage — as plan funded status improves, downside protection of that status becomes increasingly important.
Figure 6. The Attractive Relative Value of Investment Grade Private Credit and CMOs

* Subset of a long duration portfolio managed by Voya Investment Management
As of December 31, 2017.
Source: BBG Barclays; Bank of America Merrill Lynch; Voya Investment Management
Alternative Instruments
Voya believes instruments such as investment-grade private credit and collateralized mortgage obligations (CMOs) represent beneficial alternatives to long corporates. Investment grade private credit offer attractive yields relative to public IG bonds of the same rating, sector and maturity; and historically have exhibited significantly higher recovery rates than public bonds. While IG private credit may increase tracking error in normal times, during periods of low spreads and potentially increasing downgrade and default risks, having bonds with strong covenants that provide much higher recovery rates potentially can produce better returns than a portfolio limited to public bonds. Plan sponsors considering these instruments should evaluate how they affect the overall duration profile of their assets relative to their target. Meanwhile, CMOs generally offer attractive yields relative to U.S. Treasurys of the same maturity, while maintaining some degree of downside protection in a "risk-off" environment.
As Figure 6 shows, these alternative investments deliver more attractive relative value compared to long U.S. Treasurys and low quality long corporate public bonds.
Conclusion
LDI implementation strategies will continue to evolve to ensure that they take into account the changing regulatory and market conditions as pension plans become more mature. As liability cash flows become more predictable, i.e., when the large majority of
participants is in pay status, it will encourage sponsors to invest the bulk of their plan assets into fixed income strategies to match the liability characteristics tightly.
Supply/demand imbalances in the long-duration U.S. corporate bond market will prompt plan sponsors to expand their investible universes and consider substitutes for long corporates. Voya advocates the use of investment-grade private credit and CMOs as alternatives.
Disclosures
The Bloomberg Barclays U.S. Corporate Duration-Adjusted index includes both corporate and non-corporate sectors. The corporate sectors are industrial, utility and finance, which include both U.S. and non-U.S. corporations. The non-corporate sectors are sovereign, supranational, foreign agency and foreign local government. The index does not reflect fees, brokerage commissions, taxes or other expenses of investing. The index has been adjusted for duration to reflect a value that is more representative of the private credit universe. Investors cannot directly invest in an index. Source: Bloomberg and Voya Investment Management.
Principal Risks
All investing involves risks of fluctuating prices and the uncertainties of rates of return and yield inherent in investing.High-Yield Securities, or "junk bonds," are rated lower than investment-grade bonds because there is a greater possibility that the issuer may be unable to make interest and principal payments on those securities. The strategy may use Derivatives, such as options and futures, which can be illiquid, may disproportionately increase losses and have a potentially large impact on performance. Foreign Investing poses special risks including currency fluctuation, economic and political risks not found in investments that are solely domestic. Risks of foreign investing are generally intensified inEmerging Markets. As Interest Rates rise, bond prices may fall, reducing the value of the share price. Debt Securitieswith longer durations tend to be more sensitive to interest rate changes. Other risks include but are not limited to: Credit Risks; Other Investment Companies' Risks; Price Volatility Risks; Inability to Sell Securities Risks; and Securities Lending Risks.
Important Information
This commentary has been prepared by Voya Investment Management for informational purposes. Nothing contained herein should be construed as (i) an offer to sell or solicitation of an offer to buy any security or (ii) a recommendation as to the advisability of investing in, purchasing or selling any security. Any opinions expressed herein reflect our judgment and are subject to change. Certain of the statements contained herein are statements of future expectations and other forward-looking statements that are based on management's current views and assumptions and involve known and unknown risks and uncertainties that could cause actual results, performance or events to differ materially from those expressed or implied in such statements. Actual results, performance or events may differ materially from those in such statements due to, without limitation, (1) general economic conditions, (2) performance of financial markets, (3) interest rate levels, (4) increasing levels of loan defaults, (5) changes in laws and regulations, and (6) changes in the policies of governments and/or regulatory authorities.
Voya Investment Management Co. LLC ("Voya") is exempt from the requirement to hold an Australian financial services license under the Corporations Act 2001 (Cth) ("Act") in respect of the financial services it provides in Australia. Voya is regulated by the SEC under U.S. laws, which differ from Australian laws.
This document or communication is being provided to you on the basis of your representation that you are a wholesale client (within the meaning of section 761G of the Act), and must not be provided to any other person without the written consent of Voya, which may be withheld in its absolute discretion. 
Past performance does not guarantee future results. 
©2018 Voya Investments Distributor, LLC • 230 Park Ave, New York, NY 10169 • All rights reserved. 
For qualified institutional investor use only. Not for inspection by, distribution or quotation to, the general public.
CMMC-SDLCORPBOND 031418 • IM0312-40717-0319 • 200879