Key Takeaways
Today's steep drop in market values has been driven by rapidly rising interest rates as the Fed seeks to tame inflation.
Though rate increases negatively affect most bonds, stable value strategies are designed to help investors navigate a rising-rate environment.
Unlike in 2008, when market-to-book ratios dropped due to credit concerns, credit today is holding up well, playing to the strengths of stable value products.
Market-to-book ratios are at historical lows for many stable value portfolios, but this rate-driven move isn't cause for concern. These products are designed to ensure a stable return and income in volatile rate environments while replenishing market-to-book ratios over time.
Why are market-to-book ratios so low?
The market value decline troubling some fixed income investors has been driven by soaring interest rates (Exhibit 1). The primary driver of higher rates has been the US Federal Reserve, which is tightening monetary policy in an effort to push down stubbornly high inflation. The increase in rates has led to sharply negative total returns across fixed income markets (Exhibit 2).
Exhibit 1: The US yield curve has shifted significantly…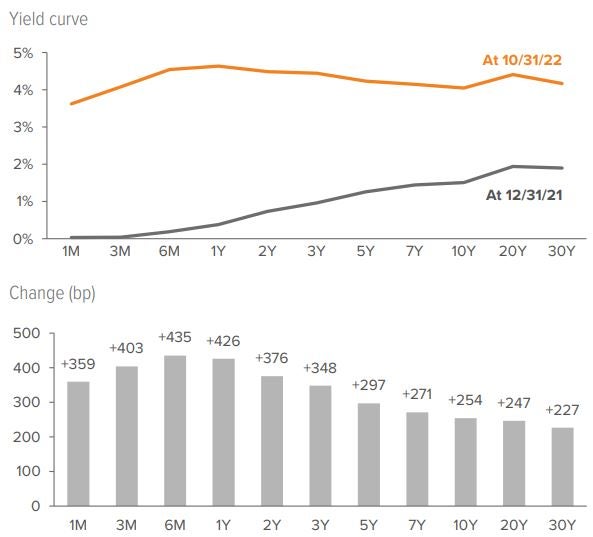 As of 10/31/22. Source: Bloomberg.
Exhibit 2: …leading to losses for most fixed income sectors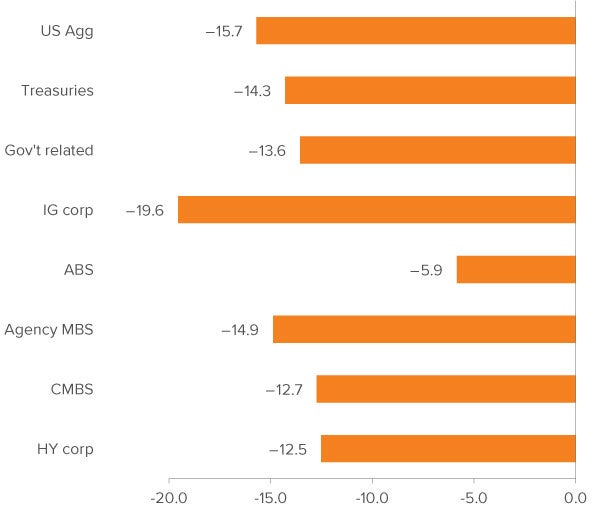 As of 10/31/22. Source: Bloomberg Index Services Limited, JP Morgan and Voya Investment Management. See disclosures for index information.
Here's how interest rate moves affect bonds
There's a simple metric that investors can use to measure a bond's interest rate sensitivity: duration. Generally speaking, the longer a bond's duration is, the more sensitive its price is to interest rate movements. Basic bond math dictates how this works: When rates rise 1%, a bond with a 10-year average duration is expected to lose about 10% of its value. Exhibit 3 shows how this might play out for a benchmark bond index given the actual year-to-date change in Treasury rates this year.
Exhibit 3: Duration is a key measure of rate sensitivity

As of 10/31/22. Source: Bloomberg. Index duration calculated using the BlackRock Aladdin analytics model.
In stable value strategies, credit is what matters — and today, defaults are low
In 2008, market values dropped significantly below book values because of a major global credit crisis. But what we're seeing now isn't being driven by credit concerns; rather, it's driven by interest rates.
Why does this matter to investors in stable value funds? While the market-to-book ratio may seem low, this is purely a function of how quickly and how much interest rates have risen this year. And default risk is a bigger threat to the long-term health of a stable value product than interest rate risk.
In fact, a stable value product can compensate for interest rate risk with a "self-repair" mechanism. Here's how it works:
1. If rates go up, the price of a portfolio's underlying bonds may go down, but the yields will also rise.
2. The crediting rate formula enables the portfolio to "self-repair" by crediting investors slightly less than the higher portfolio yield, and using that excess yield to build back its market value over time.
3. In many cases, including at Voya, these products may provide a book value guarantee and crediting rate to participants.
As shown in Exhibit 4, a key difference between today's environment and 2008's is that price drops due to interest rate hikes can largely be recovered, while price drops due to credit issues that lead to defaults largely cannot be.
That's why credit risk matters more to stable value funds than interest rate risk. Fortunately, stable value products are designed to "self-repair," and a rigorous security selection and monitoring process can help these funds minimize the risk of default. The ultimate goal is to provide above-benchmark returns while preserving investor capital.
Exhibit 4: Stable value products fare differently when selloffs are driven by rates vs. credit
Source: Voya Investment Management.
Bottom line
While the low market-to-book ratios on stable value portfolios are understandably worrisome, the circumstances today are very different from those in 2008. The same rate hikes that push down the prices of underlying bonds can also be used to repair market values over time, thanks to the built-in repair mechanisms on stable value products.