Introduction
Large institutional investors such as insurance companies, pension funds and certain other long-term investors seek specific fixed income assets that provide both long duration and potentially lower losses than other choices. Many of these investors now look to private credits, also known as private placements, to provide the duration they need along with potentially higher returns and lower losses. To foster better understanding of private credit opportunities, Voya presents this overview of typical covenants used to protect the interests of private credit investors.
Private Credit Compared to Public Bonds
Private credit (or private placement) bonds are debt offerings issued by corporate borrowers. They are similar to public bonds in that, for both asset classes, companies pay a fixed rate of interest over a set period.
However, private credit holdings may also achieve additional yield and return compared to corporate public bonds of similar credit quality and duration, due to contractual limitations in each deal.
Contractual Protections for Investors
Private credits are issued under the terms of a written contract — the note purchase agreement — which sets the interest rate to be paid by the borrower and puts limits on a borrower's business operations intended to enhance the probability that the lenders will be repaid. Such limitations, called covenants, are designed to monitor the financial health of the borrower and limit the borrower's ability to incur additional debt.
If the borrower violates these covenants, the note purchase agreement gives lenders the right to take certain actions against the borrower, ranging from increasing the interest rate on the note to calling the notes and requiring immediate repayment in full. Covenants are unique to each transaction, can vary widely depending on circumstances and are virtually nonexistent among investment grade public bonds.1 The private credit covenants are designed to maintain pari passu, i.e., equal, treatment with other senior creditors and to force prepayment while the credit is still financeable by its banks or other lenders. When an exit is not possible, lenders can renegotiate terms to increase the yield via fees and coupon rate increases, or improve recovery rates if payment default ultimately occurs. Generally, covenants provide three types of protection:
Protect the note holders' position in the capital structure
Protect against credit deterioration (financial covenants)
Protect against "event risk," or the company favoring its equity holders over its lenders
Private credit bonds are callable at any time by the borrower; however, the call is at a "make whole" price. While technically complex, the "make whole" concept allows the investor to maintain the initial yield of the investment over the remaining term regardless of whether interest rates have increased or decreased since funding. Hence, while privates are fully callable, they are not negatively convex. Figure 1 provides more detail on the different type of covenants and their advantages.
Added Value of Covenants
We estimate the long-term excess value of covenants generally to be 46 basis points versus non-covenanted public bonds. Value comes from amendment and waiver fees, pre-payment fees, coupon increases and lower losses in the event of default.
Figure 1. Type of covenants and their advantages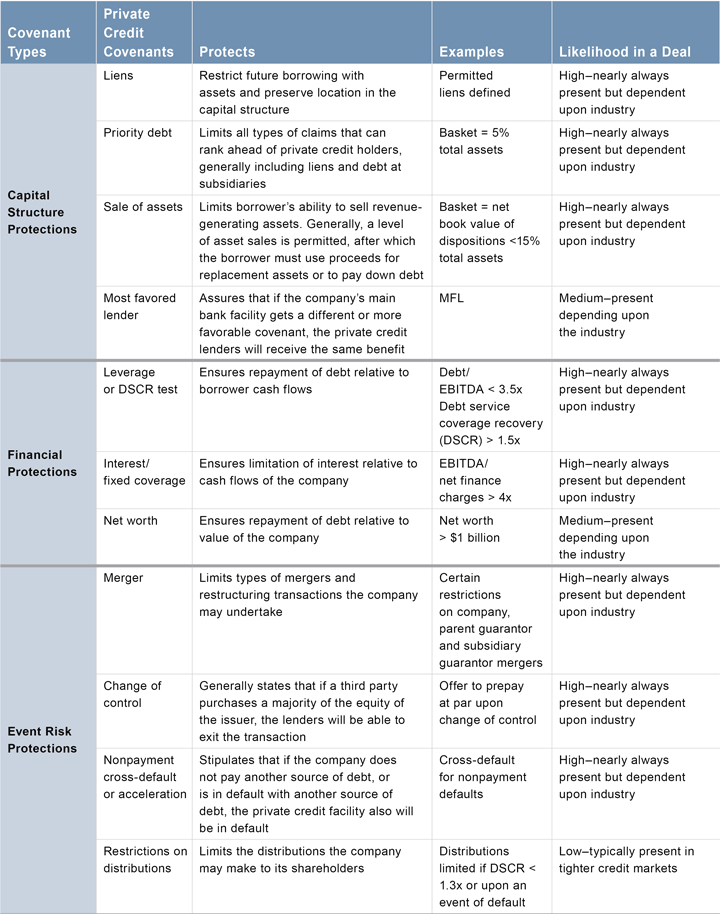 Source: Voya Investment Management
IM0425-41829-0419
This commentary has been prepared by Voya Investment Management for informational purposes. Nothing contained herein should be construed as (i) an offer to sell or solicitation of an offer to buy any security or (ii) a recommendation as to the advisability of investing in, purchasing or selling any security. Any opinions expressed herein reflect our judgment and are subject to change. Certain of the statements contained herein are statements of future expectations and other forward-looking statements that are based on management's current views and assumptions and involve known and unknown risks and uncertainties that could cause actual results, performance or events to differ materially from those expressed or implied in such statements. Actual results, performance or events may differ materially from those in such statements due to, without limitation, (1) general economic conditions, (2) performance of financial markets, (3) interest rate levels, (4) increasing levels of loan defaults, (5) changes in laws and regulations, and (6) changes in the policies of governments and/or regulatory authorities.
Voya Investment Management Co. LLC ("Voya") is exempt from the requirement to hold an Australian financial services license under the Corporations Act 2001 (Cth) ("Act") in respect of the financial services it provides in Australia. Voya is regulated by the SEC under U.S. laws, which differ from Australian laws.
This document or communication is being provided to you on the basis of your representation that you are a wholesale client (within the meaning of section 761G of the Act), and must not be provided to any other person without the written consent of Voya, which may be withheld in its absolute discretion.
Past performance is no guarantee of future results.