Executive Summary
For over 20 years, the Voya Investment Management Senior Loan Group has delivered to institutional and individual investors a dedicated style focused on loss avoidance with an emphasis on diversification and liquidity
Portfolio characteristics and returns-based statistics highlight the consistency of our investment style across changing market environments and illustrate our guiding investment philosophy
We reaffirm our style commitment in order to achieve our investment objective as we move into what appears to be the later part of this credit cycle
Voya's Strategy and Style
After more than two decades of managing senior loans, we continue to believe the asset class presents a long-term strategic investment opportunity.
Our experience over multiple market cycles suggests that default avoidance and loss mitigation are central to outperformance. We seek superior through-cycle, risk-adjusted returns, and do not seek to maximize short-term returns by materially changing the risk profile of our portfolios or deviating from our proven style. Traditional, fundamental credit underwriting and monitoring are at the heart of our investment philosophy and approach. Commitment to our style has been key to our success in achieving long-term outperformance. Since inception, we have:
Invested only in senior loans
Built highly diversified portfolios, with an emphasis on the larger, more actively traded loans in the market
Underweighted CCC and below-rated loans relative to the S&P/LSTA Leveraged Loan Index (the "Index")
Delivered attractive risk-adjusted returns
Pure-Play Loan Investing
Senior loans are one of the lowest volatility credit asset classes because they rank at the top of the borrower's capital structure, are floating rate, and are generally callable during a two- to four-year average life.
This profile has resulted in minimal duration risk, relatively less price volatility than many other credit asset classes, and better recoveries in instances of default than those experienced by unsecured debt holders. Our strategy provides investors with pure exposure to these structural characteristics of senior loans and allows us to put our focus squarely on the risk/reward trade-off of loans without the dilution effects of exposure to high yield bonds, structured assets or other asset classes.
Diversification
We seek broad diversification across sectors and issuers in order to minimize the impact of any one issuer default or a clustering of defaults in a given sector. We are able to follow this approach largely due to the size and experience level of our investment team. The benefits of diversification in loan portfolios are sometimes not appreciated by investors who are accustomed to evaluating equity managers who express conviction as concentration or high active share.
We believe that concentrating loan portfolios provides a poor risk/reward trade-off. Loans with the same credit rating offer comparable yields, so concentration does not typically result in any material increase in overall portfolio yield. It does, however, increase a portfolio's exposure to idiosyncratic corporate or sector risks. Increasing our risk profile without a commensurate adjustment in yield would not accomplish our long-term investment objective.
Size
We can more effectively trade and manage risk by owning the larger, more actively traded loans in the market. The larger, more actively traded loans in which we invest typically provide superior trade execution, especially in times of substantially reduced market liquidity. The average size of the loans in which we invest has historically been over $1 billion. Investing in loans of this size provides enhanced optionality when we seek to sell a loan in order to manage our risk exposure or meet redemption requirements.
Underweight Higher Risk
The risk profile of loans is asymmetric: an investor earns the credit spread, and risks a significant part of the principal balance in the event of a credit loss. The past seven years of highly accommodative monetary policy and steady U.S. economic growth have kept Index default rates significantly below the 19-year average of the lagging twelve-month default rate of 3.0% (by amount). While we believe that a material pick-up in overall defaults is not likely in the next year or two, the data reveals that investors are accepting less yield for the level of risk they are taking today than they were 2 years ago.
We examine the risk/reward trade-off in the loan market by first looking at average historical default rates by credit rating. This helps gauge the materiality of risk pick-up across the ratings spectrum. From 1970 to 2017, the average one-year default rates of Caa to C-rated issuers have been 11 times higher than Ba-rated issuers, and the average cumulative five-year rates during this same time period for Caa to C-rated issuers have been over four times higher than Ba (Figure 1).
Figure 1. Lower-Rated Issuers Have Experienced Significantly Higher Defaults, with Limited Yield Compensation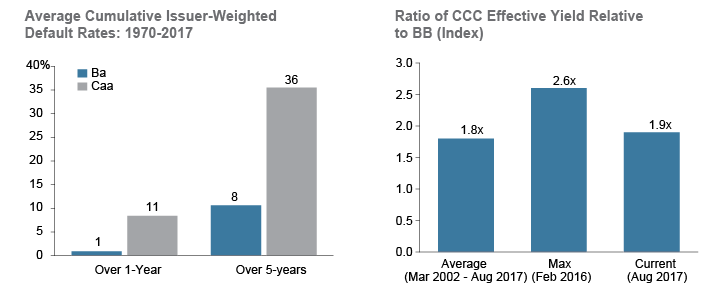 Source: Moody's Annual Default Study: Corporate Default and Recovery Rates, 1920-2017 study; S&P Global Market Intelligence www.lcdcomps.com
Next, we consider default probability in the context of yield. This helps to determine whether the given return per unit of risk is appropriate for our portfolios. The default information in Figure 1 is based on corporate issuer ratings. Because defaults occur at the issuer level, we can use this data to analyze yields between ratings cohorts in the loan market. One could reasonably expect—all else remaining equal—a considerably higher yield for a Caa/CCC-rated loan relative to a Ba/BB loan. Yet, as of December 31, 2017, the effective yield of CCC-rated loans in the Index shows that they are currently yielding only 1.9-times more than BB-rated loans. If we look at the average yield difference since March 2002, they have yielded approximately 1.8-times more than BBs. This is significantly below what one might expect given the historical default analysis shown in Figure 1.
Further, over the course of 2014-2017, we have seen CCCs yield over 2-times BB yields, going as high as 2.6-times BB yields in February 2016. However, the ratio has been trending down since February 2016. Assuming the risk of CCC loans has remained relatively constant over this period, the effective yield relative to the assumed risk has been declining since early 2016, and is today roughly equal to the long-term average.
For additional support, we can look at current price levels for CCCs relative to their long-term default experience and the average recovery levels of the asset class. As noted in Figure 1, CCC loans have experienced an average one-year default rate of 10.2% and an average five-year default rate of 34.7%. Despite this, the average bid price for CCC loans of 84% of par (as of 12/31/17) is above the average ultimate recovery level for the asset class of 80.4%1. In our view, this suggests that there is limited upside to investing in higher risk components of the Index.
1. Moody's Annual Default Study: Corporate Default and Recovery Rates, 1920-2017 study. Ultimate recovery is based on the value that a creditor actually receives at the resolution of the default, usually at the time of emergence from bankruptcy. Loan Ultimate Recovery Rate information is obtained from the Moody's Ultimate Recovery Database, which includes over 5,200 loans and bonds from more than 1,000 North American corporate defaulters. Criteria: Pre-1996: L+250 and Higher; 1996 to Date: L+225 and Higher; Prior to 2011, media and telecom deals were excluded. There were too few deals in 1991 to form a meaningful sample.
Scoring Our Strategy
Given our focus on risk mitigation and consistency of style, we can "score" our strategy using beta, r-squared, downside and upside market capture, and consistency ratios.
Metrics such as upside and downside market capture and consistency ratios help us to evaluate whether our strategy has been able to perform well over time while still maintaining a risk-adjusted focus (Figure 2). As shown, since 2010, we have experienced Index-level upside in the market, while capturing approximately 30% less downside. We have also maintained a 99% three-year consistency ratio and a 100% five-year consistency ratio since inception.
Figure 2. Index-level Upside with Historically Lower Downside Risk

Source: Voya Investment Management. Consistency ratios are for the since inception (April 1, 2001) period ending December 31, 2017 for the Voya Senior Loan Unleveraged Composite. Upside and downside capture statistics are for the 7 years ending December 31, 2017. The 3-year consistency ratio measures how often our strategy outperformed the Index over all rolling 36-month periods since inception (164 of 166 total observances). The 5-year consistency ratio measures how often our strategy outperformed the Index over all rolling 60-month periods since inception (142 of 142 total observances).
Beta and r-squared metrics evaluate how sensitive and correlated our portfolios have been relative to the Index. From January 2006 to December 2013, the Voya Senior Loan Unleveraged Composite's rolling 36-month beta hovered near 1.00, and had a significant decline in calculations inclusive of 2014-2016. At the same time, r-squared decreased (Figure 3). This indicates that the Composite's returns became less sensitive to market movements and less correlated to the Index. The change in sensitivity and correlation prompts some further digging into our portfolio composition and review of market context.
Figure 3. Voya Senior Loan Strategy: Beta and R-Squared Analysis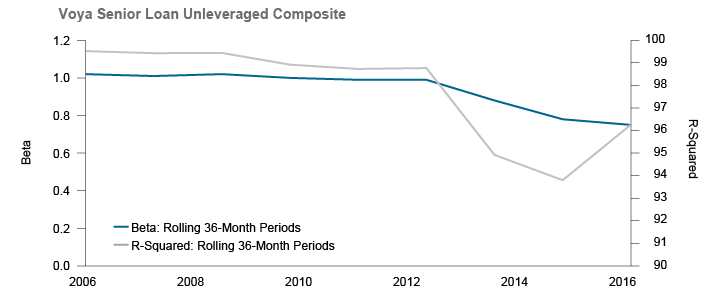 Source: Voya Investment Management. Represents rolling 36 month windows from January 2006 – December 2016 for the the Voya Senior Loan Unleveraged Composite.
Our relative performance in recent years has been the direct result of a consistent underweight to the riskiest parts of the loan market.
We have remained consistently underweight to loans rated CCC+ and below (Figure 4)
In recent years, Index returns have been driven by the returns of the riskiest market segments (i.e., CCC and Below) (Figure 5)
Figure 4. We Have Remained Underweight to CCC+ and Below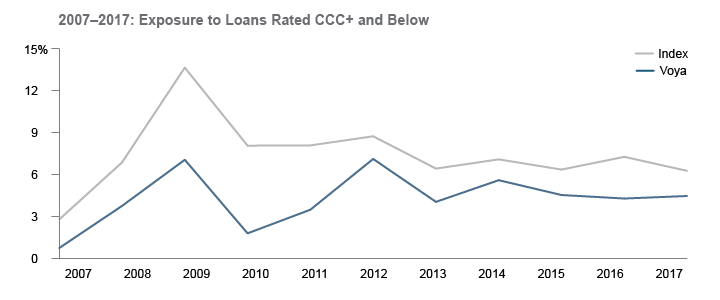 Source: Voya Investment Management, S&P/LSTA. As of December 31, 2017. Voya represents the Voya Senior Loan Unleveraged Composite. Index represents the S&P/LSTA Leveraged Loan Index.
Figure 5. Risky Market Segments Have Driven Recent Index Performance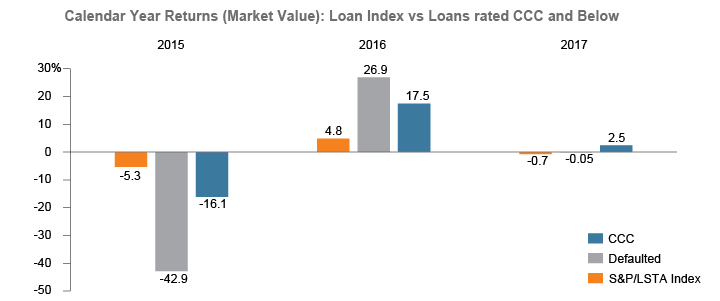 Source: Voya Investment Management, S&P/LSTA. As of December 31, 2017.
Conclusion
Like most investors, we agree the current credit cycle appears to be drawing closer to its later years. Spreads have tightened and valuations have become stretched making higher risk assets more vulnerable to a reset. This landscape presents continued opportunities for growth, even in consideration of political and macro uncertainties.
We deliver on our promise of reliable investing in uncertain times by:
Constructing pure-play loan portfolios that offer attractive risk-adjusted spreads, low sensitivity to rates and low correlation with government securities
Focusing on single B and above rated loans and investing in the more actively traded segments of the market. We believe this provides our investors better long-term value than the CCC and below-rated market segment, which is fully valued on a risk-adjusted basis compared to historical norms
Remaining committed to our investment style and through-cycle investment approach, which is appropriate for investors seeking outperformance through loss avoidance across the complete credit-cycle
Our performance and default track record demonstrate the success of this consistent approach over the last two decades.
Disclosures
The S&P/LSTA Leveraged Loan Index is an unmanaged total return index that captures accrued interest, repayments, and market value changes. The Index does not reflect fees, brokerage commissions, taxes or other expenses of investing. Investors cannot invest directly in an index.
General Risks for Floating Rate Senior Bank Loans
Floating rate senior bank loans involve certain risks. Below investment grade assets carry a higher than normal risk that borrowers may default in the timely payment of principal and interest on their loans, which would likely cause the value of the investment to decrease. Changes in short-term market interest rates will directly affect the yield on investments in floating rate senior bank loans. If such rates fall,the investment's yield will also fall. If interest rate spreads on loans decline in general, the yield on such loans will fall and the value of such loans may decrease. When short-term market interest rates rise, because of the lag between changes in such short term rates and the resetting of the floating rates on senior loans, the impact of rising rates will be delayed to the extent of such lag. Because of the limited secondary market for floating rate senior bank loans, the ability to sell these loans in a timely fashion and/or at a favorable price may be limited. An increase or decrease in the demand for loans may adversely affect the loans.
Important Information
This commentary has been prepared by Voya Investment Management for informational purposes. Nothing contained herein should be construed as (i) an offer to sell or solicitation of an offer to buy any security or (ii) a recommendation as to the advisability of investing in, purchasing or selling any security. Any opinions expressed herein reflect our judgment and are subject to change. Certain of the statements contained herein are statements of future expectations and other forward-looking statements that are based on management's current views and assumptions and involve known and unknown risks and uncertainties that could cause actual results, performance or events to differ materially from those expressed or implied in such statements. Actual results, performance or events may differ materially from those in such statements due to, without limitation, (1) general economic conditions, (2) performance of financial markets, (3) interest rate levels, (4) increasing levels of loan defaults, (5) changes in laws and regulations and (6) changes in the policies of governments and/or regulatory authorities. 
Voya Investment Management Co. LLC ("Voya") is exempt from the requirement to hold an Australian financial services license under the Corporations Act 2001 (Cth) ("Act") in respect of the financial services it provides in Australia. Voya is regulated by the SEC under US laws, which differ from Australian laws. 
This document or communication is being provided to you on the basis of your representation that you are a wholesale client (within the meaning of section 761G of the Act), and must not be provided to any other person without the written consent of Voya, which may be withheld in its absolute discretion.
Voya Compliance Approval ID  IM0710-43333-0719 • 179065
Past performance is no guarantee of future results.
©2018 Voya Investments Distributor, LLC • 230 Park Ave, New York, NY 10169 • All rights reserved.