Commercial mortgage loans, securitized assets and private placements can help plan sponsors diversify their exposure to long corporate bonds.
Executive Summary
At this stage in the credit cycle, many plan sponsors seeking to de-risk have concerns about maintaining sizeable allocations to long corporate bonds
Adding securitized assets and commercial mortgage loans (CMLs) diversifies corporate credit exposure without forcing plan sponsors to sacrifice yield and total return potential
Private Placements can reduce issuer concentration risk and offer downside protection through covenants
The Market Backdrop: Finding New Tools for Today's Challenges
Massive growth in the corporate credit markets since the crisis and the corresponding inflated prices, tighter spreads, and looser underwriting standards are raising concerns among plan sponsors with large allocations to long duration public corporate credit. With covenant protections and historically higher recovery rates, we believe private placements are especially effective during periods of low spreads and potentially increasing downgrade and default risks. Given the market backdrop and current spread levels for investment grade public credit, we believe private placements provide even more attractive relative value in long duration portfolios.
On the other hand, the mortgage debt cycle is significantly less advanced, underscoring the relative strength of the U.S. consumer and the potential diversification benefits of adding securitized assets to LDI portfolios.
Compared to Corporate Debt, Mortgage Debt Cycle Far Less Advanced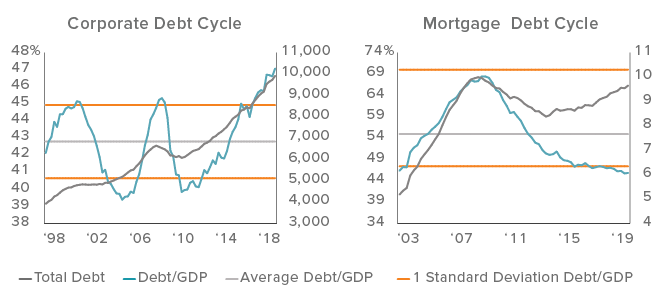 Source: Federal Reserve Bank of St. Louis, Federal Reserve Bank of New York, BLS and Voya Investment Management Corporate Debt as represented by Federal Reserve Bank of St. Louis Non-Financial Corporate Credit Instruments through March 31, 2019, Mortgage Debt as represented by Federal Reserve Bank of New York Survey of Household Debt & Credit through March 31, 2019
An Alternative to Treasuries: Securitized Assets and CMLs
Diversifying Credit Risk Without Sacrificing Yield and Total Return Potential
The efficient frontier below highlights the impact of differently sized securitized and CML allocations in a hypothetical pension portfolio. With a properly sized allocation to securitized assets and CMLs, plan sponsors can diversify credit risk and maintain the yield/total return potential of corporate credit allocations.
Efficient Frontier: Optimizing the Potential Risk/Reward Benefits of Securitized Assets and CMLs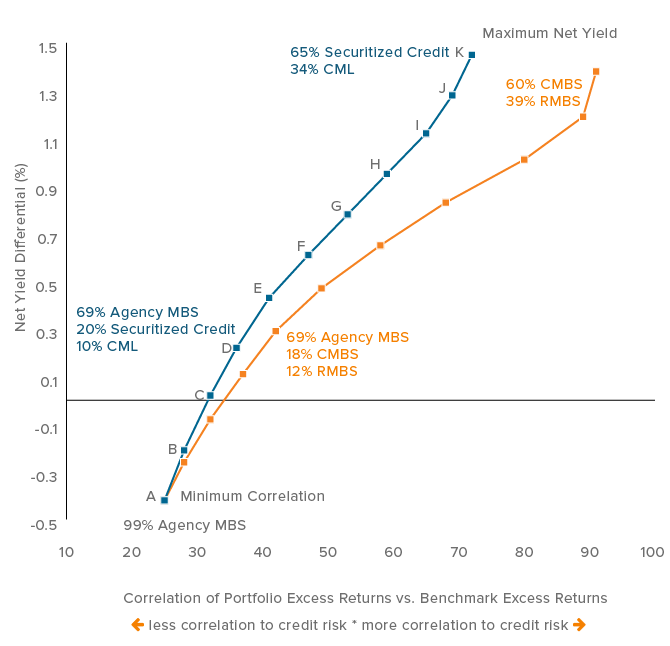 Source: Voya Investment Management, Bloomberg Barclays. Data as of 12/31/18. The efficient frontier represents differently sized securitized and CML allocations to a hypothetical pension portfolio in an attempt to minimize the correlation of portfolio excess returns with a high quality corporate bond index (the BofAML 10+ Year AAA-A US Corporate Constrained Index).
Improve the Risk Profile of Credit Allocations with Private Placements
Reduce Issuer Concentration Risk and Enhance Downside Protection
Plan sponsors with multiple long duration managers may think they are insulated from issuer concentration risk. However, a closer look under the hood often reveals that the public corporate holdings of many traditional long duration managers look exceedingly similar. As the tables below show, Voya's integrated credit platform can help plan sponsors reduce issuer concentration risk with allocations to private placements. Not only are Voya's top 20 credit holdings private placements, there is zero overlap between the issuers of these private placements and the issuers of the top 20 credits in the public credit index. Meanwhile, on the public side Voya is largely underweight the top issuers in the credit index, a combination that helps plan sponsors reduce their issuer concentration risk and diversify their credit exposure.
Voya's Integrated Credit Platform: Diversify Public Credit Exposure with Private Placements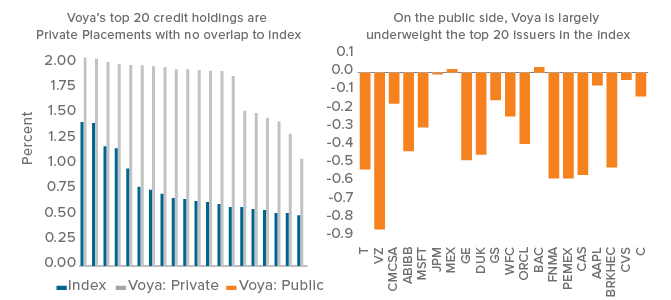 Source: Bloomberg Barclays and Voya Investment Management as of April 30, 2019. Characteristics are based on Voya's Enhanced Long Government/Credit strategy, which combines traditional long-duration instruments like public corporate bonds with alternatives like Private Placements and Securitized Assets.
IM914876
This commentary has been prepared by Voya Investment Management for informational purposes. Nothing contained herein should be construed as (i) an offer to sell or solicitation of an offer to buy any security or (ii) a recommendation as to the advisability of investing in, purchasing or selling any security. Any opinions expressed herein reflect our judgment and are subject to change. Certain of the statements contained herein are statements of future expectations and other forward-looking statements that are based on management's current views and assumptions and involve known and unknown risks and uncertainties that could cause actual results, performance or events to differ materially from those expressed or implied in such statements. Actual results, performance or events may differ materially from those in such statements due to, without limitation, (1) general economic conditions, (2) performance of financial markets, (3) interest rate levels, (4) increasing levels of loan defaults, (5) changes in laws and regulations, and (6) changes in the policies of governments and/or regulatory authorities. Past performance is no guarantee of future results.