Key Takeaways
CMLs are relatively low-risk fixed income investments, historically offering returns similar to those of CMBS but with half the volatility.
Among participants active in the CML market, life insurance companies and pension plans are the leading investors.
With a history of strong performance and favorable fundamentals, CMLs may offer an effective way to increase risk-adjusted return potential and diversify fixed income portfolios.
With a track record of strong and differentiated returns, commercial mortgage loans can be an effective way to diversify institutional fixed income portfolios.
Summary
Market overview 
Commercial mortgage loans (CMLs) consist of privately originated whole loans secured by mortgages on commercial properties, involving comprehensive underwriting prior to funding.
Investors categorize CML portfolios according to their risk profiles—either core, core plus or opportunistic—featuring progressively higher leverage, operational risk and associated compensation.
The CML market is dominated by patient, long-term institutional investors such as insurance companies, pension plans and banks.
New technologies and platforms have greatly improved CML liquidity, with secondaries often selling within eight weeks, even in periods of broader market turbulence.
Investment characteristics
CMLs have historically offered attractive and stable income, favorable risk-based capital treatment and higher spreads versus comparably rated corporate bonds.
Pension plans are turning to CMLs in stable value and liability-driven investment (LDI) programs due to their attractive yields, diversification benefits, structural protections and favorable risk profile.
In standard fixed income portfolios, adding CMLs may enhance risk-adjusted return potential due to their history of low correlations with other asset classes, strong returns, lower losses and reduced volatility compared with public bonds.
Market overview
What are commercial mortgage loans?
An investment in CMLs represents ownership of whole loans made to companies that own commercial real estate. Typical property types include offices, retail, industrial, apartments, hotel/motel, mixed-use and others. Unlike commercial mortgage-backed security (CMBS) pools, CMLs can be tailored to meet both the borrower's demands and the lender's underwriting criteria.
Comprehensive due diligence precedes the funding of each loan. The mortgage underwriting process often includes a financial examination of the prospects for the property and the property owner, as well as various third-party assessments, including appraisals, environmental reports and engineering reports. Typical underwriting factors include loan-to-value (LTV) ratios, debt-service coverage and debt yield, along with other details related to the location, property type and economic environment. According to the National Association of Insurance Commissioners (NAIC), underwriting of commercial mortgages tends to be conservative, with typical LTV ratios of 55–70%, compared with those of residential mortgages at 80–90% or more.
CMLs require hands-on management after closing. Standard servicing includes collection of updated rent rolls and operating statements, property inspections, and confirmation of paid taxes and insurance premiums. Properties may also encounter nonstandard matters that require lender review and analysis, including loan assumptions, eminent domain issues, lease approvals and tenant agreements, management of escrows, and transfer of ownership interests.
How are CMLs classified?
The distinct risks of different property types result in a wide variance in credit quality and underwriting criteria. For instance, a retail building featuring lease terms of 5–10 years and a diverse mix of tenants may be less exposed to cyclical fluctuations and therefore may bear less credit risk. By contrast, hotels—which have an effective lease period of one night—tend to be inherently riskier due to their volatile cash flows, capital intensity and high fixed operating costs (mostly maintenance staff). To account for the different risk profiles of various CML loan types and property sectors, investors typically divide the CML market into three categories: core, core plus and opportunistic loans (Exhibit 1).
Exhibit 1: The three categories of risk across the CML market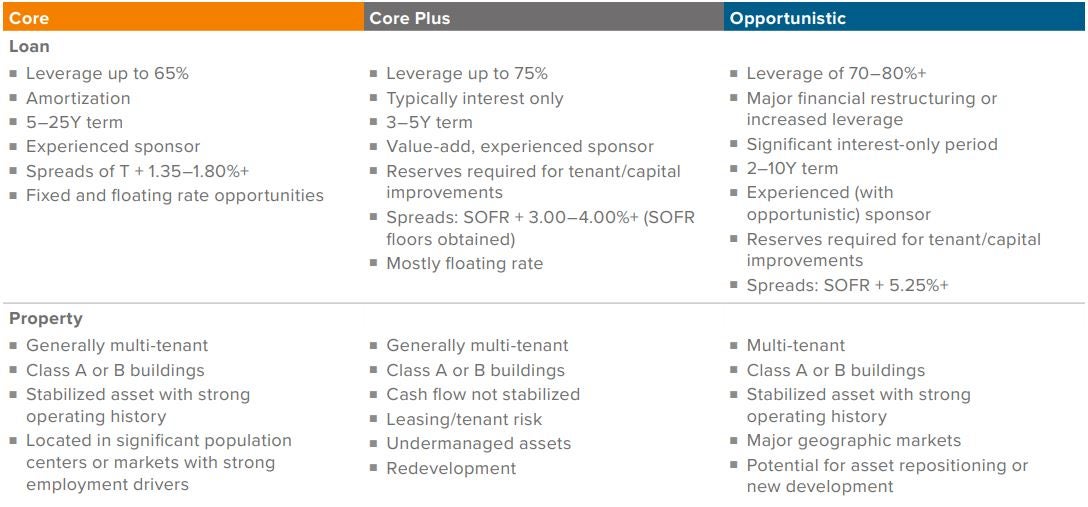 As of 08/31/22. Source: Voya Investment Management.
Terms for core loans vary significantly, allowing investors to tailor an allocation to fit specific objectives. Core properties generally have a strong operating history and produce stable cash flow—very little investment is needed to update or enhance the property. By contrast, transitional loans found in the core plus and opportunistic areas of the market have higher leverage, shorter terms and wider spreads. Many transitional properties require updates and renovations to attract tenants and stabilize cash flows. Other transitional properties can benefit from asset repositioning and/or new development.
Who are the typical investors in CMLs?
Large institutions such as life insurance and pension companies dominate the CML market. For insurance companies, the favorable risk-based capital treatment makes CMLs an efficient use of capital. Pension investors are drawn to the asset class for its potential diversification benefits, strong risk-adjusted returns and duration management. The availability of individually managed separate accounts—and, in some cases, direct co-investment alongside a professional manager and other investors—offers flexibility in positioning a commercial mortgage portfolio to effectively complement other asset classes in accordance with an investor's specific needs. For example, in recent years, many pension plans have used CMLs as diversifiers in liability-driven investment (LDI) programs.
For LDI investors, CMLs are becoming an increasingly attractive alternative to long corporate bonds. CMLs typically provide higher spreads compared to public corporate bonds with similar ratings and duration profiles. CMLs also provide structural protections that have historically translated into lower losses and higher recoveries than public corporate bonds. Many pension plans are also including CMLs in stable value programs to enhance yield and diversification.
How easy is it to sell CMLs?
Liquidity in the CML secondary market has improved dramatically in recent years. The technologies and platforms used to connect buyers and sellers have improved significantly since the 2008 financial crisis, easing many of the historical frictions of CML transactions. On average, notes sell in four to eight weeks, and sellers can find buyers even in periods of broader market turbulence. For example, through the recent Covid volatility, the secondary market remained active and liquid. (For more detail, see our report, Liquidity in Commercial Mortgage Loans.)
Investment characteristics
Risk/return
CMLs have historically provided steady returns above those of comparable public bonds. CML industry data is limited, and there is no universally accepted index for the asset class. However, in our experience, CMLs have the potential to deliver competitive returns with lower volatility compared to public investment grade bonds, CMBS and leveraged loans.
Embedded structural protections enhance the risk profile of CMLs. The attractive risk profile of CMLs may be attributed in large part to the loans' structural advantages, which include: 1) direct access to borrowers and primary due diligence, and 2) the ability to contact and directly negotiate with property owners during periods of volatility, which helps to drive workout and recovery. In addition, loan structures contain recourse carveouts and often include additional lender protections.
The structural protections of CMLs were on full display during the recent economic drawdown. Commercial real estate proved durable and experienced close to zero impairments despite the extraordinary disruption to economic activity that began in early 2020 (Exhibit 2). Looking at Voya's CML asset base, 9% of our portfolio completed forbearance requests. Furthermore, only 0.5% of holdings were impaired and sold. As of September 2021, all the remaining properties were out of forbearance and current on their payments.
Exhibit 2: CMLs experienced minimal impairments during Covid
Forbearance activity as a % of Voya CML portfolio assets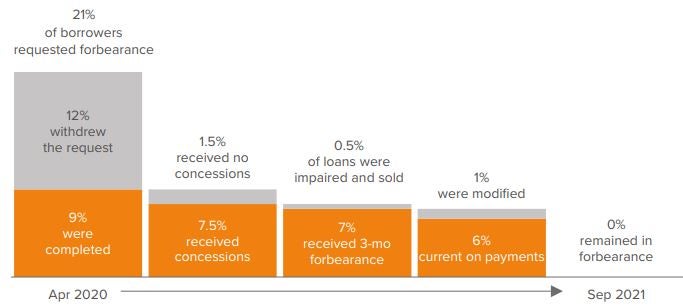 Source: Voya Investment Management. Data represents Voya's own Commercial Mortgage Investment Portfolio.
Income
CMLs offer the potential for attractive and stable monthly cash flows at yields exceeding comparable-term fixed income alternatives (i.e., corporate bonds of similar quality rating and average life). Since 2001, Voya's CML portfolio has delivered a weighted-average spread advantage of 123 basis points (bp) over comparably rated corporate credit investments and a 215 bp advantage over U.S. Treasuries (Exhibit 3).
CMLs have historically provided a 123 bp average yield advantage to similarly rated bonds, and current spreads are even wider.
Exhibit 3: CMLs offer attractive yield pick-up over corporates
CML asset spreads over Treasuries and comparable securities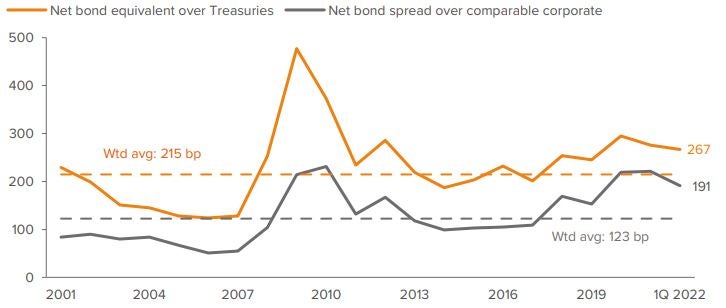 As of 06/30/22. Past performance is no guarantee of future results. Investors cannot invest directly in an index. Proprietary ratings model used to map commercial mortgage loans to an equivalent corporate bond rating. Data shown is for the total portfolio managed by Voya IM Real Estate Finance. Source: Voya Investment Management.
CMLs have been a reliable source of income. Most of the total return advantage from CMLs has historically been driven by the spread to comparably rated corporate credit. However, CMLs are also one of the few asset classes that generate fee income from prepayments, which can be a meaningful and consistent source of additional yield (Exhibit 4).
Exhibit 4: Prepayment fees offer a steady stream of additional income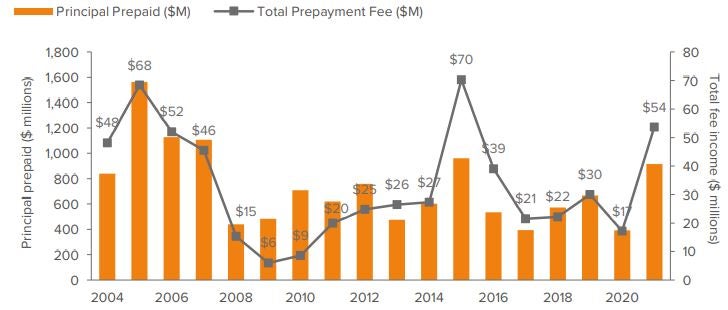 As of 06/30/22. Source: Voya Investment Management.