Executive Summary
Like many other fixed income asset classes, the Commercial Real Estate (CRE) market relies on LIBOR (London Interbank Offered Rates) as a reference rate in loan documentation.
At the end of 2021, LIBOR may phase out and no longer exist.
In response, regulators are proposing SOFR (Secured Overnight Funding Rate) as a replacement for LIBOR.
While this transition introduces significant uncertainty, there is good news: 83% of outstanding CRE contracts are expected to expire by 2021, the same time LIBOR is expected to phase out and transition to SOFR.
For the remaining 17% of CRE contracts and new contracts that will remain outstanding beyond the end of 2021, it is imperative that CRE market participants update LIBOR "fallback provisions" with clear guidelines for converting LIBOR to the new rates.
Background: Why is LIBOR going away?
LIBOR has played one of the most critical roles in the financial industry for over 50 years; over $200 trillion of financial contracts are pegged to LIBOR as of 2018 (see Figure 1). However, significantly reduced volumes of interbank unsecured term borrowing coupled with recent revelations of manipulations in LIBOR rates have undermined LIBOR's credibility — as well as its capacity — to continue playing the role of "world's most important number." On July 27, 2017, the United Kingdom's Financial Conduct Authority (FCA) announced that it will no longer require banks to submit quotes for LIBOR rates after 2021, indicating that LIBOR could phase out by end of 2021. The FCA's announcement, however, does not prohibit banks from voluntarily submitting the quotes or ICE Benchmark Administration from publishing the rates. If LIBOR continues to exist, there is a risk that LIBOR will no longer be the same, creating a great deal of confusion in the market. To avoid this confusion, the regulatory bodies around the world are committed to delivering new reference rates to successfully replace LIBOR (see Figure 2). The transition, however, will not be an easy one.
Figure 1. USD LIBOR Market Footprint by Asset Class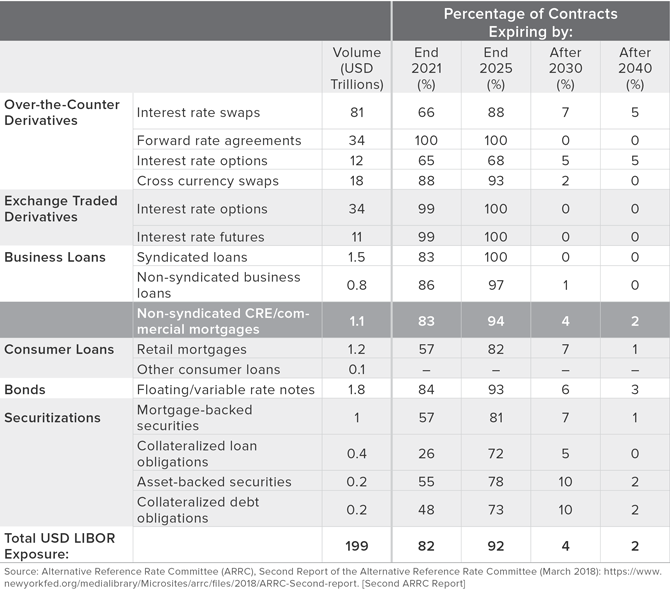 Figure 2. Alternative Reference Rates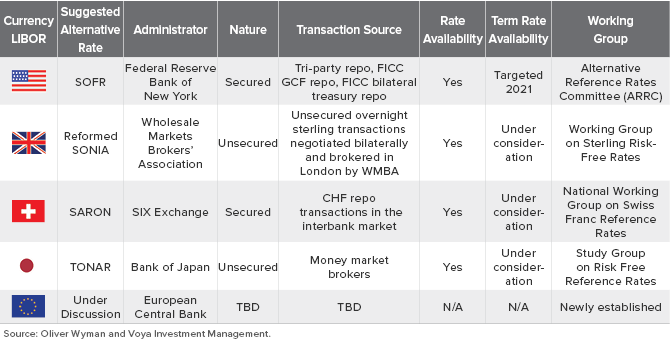 Implications To Commercial Real Estate Mortgage Market
The CRE sector is relatively well positioned for this transition. Currently, 83% of outstanding CRE contracts are expected to expire by 2021, providing some breathing room. However, it is imperative for CRE participants to take proactive measures now to resolve the remaining 17% of outstanding contracts as well as new contracts that will remain outstanding beyond the end of 2021.
Loan documentation—LIBOR "fallback provisions"
While we do not know how the transition will unfold, we believe it is imperative that loan documentation be properly drafted to anticipate this change. Our initial study shows that existing LIBOR fallback provisions lack strength and do not clearly articulate issues that could arise in the transition from LIBOR. If LIBOR just ceases to exist, there will be billions worth of commercial mortgage contracts pegged to LIBOR supported by fragile fallback provisions.
Without being able to see into the future, it is impossible to draft loan document provisions that address every scenario and nuance that may be associated with the replacement of LIBOR. However, we think it is important to be proactive to minimize headaches down the road. After scrutinizing various scenarios that could arise from this transition, we believe that current fallback provisions need to be updated with clear guidelines for converting LIBOR to the new rates. The new rates will, theoretically, be lower than LIBOR as the new rates exclude credit risk, and current fallback provisions do not provide much clarity in handling a spread difference between LIBOR and the replacement rate. The transition could become even trickier if the market adopts a new rate as its target index when LIBOR continues to exist. In this particular situation, can the lenders implement a change to the new rate if LIBOR is still being reported, even if LIBOR is no longer a viable rate? In the absence of a clear methodology in the loan documents for converting LIBOR to a "comparable rate", disputes over handling the new rate and LIBOR are likely unavoidable and could result in serious disruptions of payments to lenders and investors. Some of these disputes could even wind up in costly litigation. Voya is actively reviewing existing loan documentation to strengthen loan document provisions by obtaining as much flexibility and discretion as possible. We recommend that other lenders and investors do the same.
Risk Management—"Will LIBOR + 500 = SOFR + 500 ???"
Early empirical findings suggest shifting from LIBOR to SOFR will not be a simple conversion drill. Studies have found the spread between LIBOR and SOFR varied greatly depending on certain market situations. For example, while the overall average spread between LIBOR and SOFR was roughly 30 bps, the average spread skyrocketed to over 390 bps during the housing crisis. Compared with SOFR, LIBOR has also exhibited more instability historically, which creates additional challenges for the transition process. It is also important to remember that LIBOR may continue to exist beyond 2021. However, with lower transaction volume and no regulatory oversight, LIBOR may not exhibit the same behavior as it has in the past. In a non-regulated environment, market participants can expect more volatility and manipulations.
Operation/Treasury—"Cumbersome infrastructure updates"
LIBOR rates are traded with tenors of one, three, six and 12 months whereas SOFR is a daily overnight spot rate. This difference imposes a significant burden to back-office operations. LIBOR has provided reasonable predictability for future payments, but with SOFR being a spot rate, operation/treasury groups will likely face challenges on forward-looking cash flow management. Moreover, it will be difficult to align products with the new reference rates to existing operational infrastructure, which will create the potential for major overhauls. LIBOR has been utilized for decades without major changes, and many existing financial systems supporting LIBOR products are just as old as LIBOR. Implementing systematic updates can lead to headaches for the involved parties, and such updates frequently require prolonged periods of time for full implementation. Given the magnitude of system updates that may be required, we suggest that market participants commence the system update preparations now by examining existing systems and identifying potential areas of weakness or concern.
Figure 3. Road To SOFR – Difficult And Time Sensitive

Summary
Regulators around the globe are in the midst of transforming the market by replacing LIBOR with collateralized rates, which will be more stable and transparent than LIBOR. However, the details of the transition from LIBOR to new reference rates are still somewhat murky. When will the term structure of the new reference rates become available? If they do become available, will the market adopt the new rates and methodologies in a timely manner? If LIBOR continues to be reported beyond 2021, will it be a viable rate for market participants? How should we compare LIBOR products and products pegged to the new reference rates? The list of questions surrounding this transition is already lengthy and there are not that many of them with clear solutions.
We would like to emphasize that this transition could be very burdensome not just operationally but also financially, and it is too big of a gamble to sit on the sideline. To protect ourselves and our investors, we have started reinforcing the LIBOR fallback provisions in our loan documents; we have assigned people to study and track the mechanics of the new rates to properly value existing LIBOR products using the new rates; and we have been implementing updates on our system infrastructures and streamlining our back office operations to expedite the adoption process. In spite of our continued efforts, we anticipate unforeseen quandaries with varying complexities to continue to surface as this transition progresses. This transition will certainly be convoluted and has potential to do great harm if it is overlooked. We encourage all market participants to closely monitor this matter and start the preparation process now to embrace the new interest rate environment that currently is evolving.
IM859322
Investment Risks
All investments in bonds are subject to market risks. Bonds have fixed principal and return if held to maturity, but may fluctuate in the interim. Generally, when interest rates rise, bond prices fall. Bonds with longer maturities tend to be more sensitive to changes in interest rates.
All investing involves risks of fluctuating prices and the uncertainties of rates of return and yield inherent in investing. High Yield Securities, or "junk bonds", are rated lower than investment-grade bonds because there is a greater possibility that the issuer may be unable to make interest and principal payments on those securities. As Interest Rates rise, bond prices may fall, reducing the value of the share price. Debt Securities with longer durations tend to be more sensitive to interest rate changes. High-yield bonds may be subject to more Liquidity Risk than, for example, investment-grade bonds. This may mean that investors seeking to sell their bonds will not receive a price that reflects the true value of the bonds (based on the bond's interest rate and creditworthiness of the company).
Disclosures
This commentary has been prepared by Voya Investment Management for informational purposes. Nothing contained herein should be construed as (i) an offer to sell or solicitation of an offer to buy any security or (ii) a recommendation as to the advisability of investing in, purchasing or selling any security. Any opinions expressed herein reflect our judgment and are subject to change. Certain of the statements contained herein are statements of future expectations and other forward-looking statements that are based on management's current views and assumptions and involve known and unknown risks and uncertainties that could cause actual results, performance or events to differ materially from those expressed or implied in such statements. Actual results, performance or events may differ materially from those in such statements due to, without limitation, (1) general economic conditions, (2) performance of financial markets, (3) interest rate levels, (4) increasing levels of loan defaults, (5) changes in laws and regulations, and (6) changes in the policies of governments and/or regulatory authorities. Past performance is no guarantee of future results.