Key Takeaways
The demand for high-octane data has permeated every sector, with technology-related investments cited among CEOs' top business priorities.
Technology enablers create the infrastructure to rapidly process complex, historically unattainable data to identify secular trends and opportunities.
This theme is likely here for the foreseeable future; we seek to identify superior technology enablers for inclusion in our portfolios.
Big data is fueling, informing and empowering businesses globally. As growth-oriented investors, we see opportunities in best-in-class companies that are creating the technologies driving big data services.
When did data become "big"?
The concept of big data has been around for decades: massive, complex sets of real-time data streams that held the keys to previously unsolvable business problems and inspired a whole new set of questions. Executives could imagine tapping this treasure trove of information for precise consumer targeting, segmentation and data-driven product development.
But until recently, data was too expensive to store, processors were too slow, and traditional algorithms couldn't make sense of the unstructured mess. In recent years, advances in fields such as cloud computing, parallel processing and artificial intelligence have made big data tools more accessible and practical.
Today, big data is inextricably woven into our lives in ways we are often unaware of and rarely acknowledge. In the Age of the Customer, transparency in product pricing, quality and service are basic requirements for businesses, and the consumer experience is paramount. Companies are now using the insights and intelligence derived from big data to transform their businesses, using new technologies to reimagine or modify existing business processes, culture and customer experiences.
Capital spending on big data appears to be just getting started. As noted below in the Gartner® graphic (Fig. 1), technology-related investments are an increasing focus of CEOs and senior executives, mentioned by 36% of survey respondents as a top-three priority. That's a leap from just 20% in 2020, illustrating what we believe is the growing awareness of the importance of building a technology advantage.
Figure 1: Technology-related investments remain top of mind for CEOs globally
% of mentions among top three business priorities and change from 2020 survey

Source: Gartner, "Raise Your Game by Going 'All In' on Total Experience," May 4, 2021. Based on the top three responses of 465 actively employed CEOs and other senior executive business leaders of organizations with more than $50mn in annual revenue regarding their organizations' top five strategic business priorities for 2021–22. Source: Gartner®," Technology-related includes e-commerce/omnichannel, digitalization, digital transformation, technology innovation, business applications, enterprise resource management, core IT, digital products and services, artificial intelligence, integration, analytics and big data, automation, cybersecurity, workforce productivity, digital marketing, Internet of Things (IoT)-related, cloud-related, ecosystem and platform.
We see two primary approaches to capitalizing on the big data micro-trend: first, uncovering best-in-class technology enablers that provide the tools and technology; and second, identifying companies that are effective technology users that employ the data to their advantage in the most productive ways. We'll address users in a future article; for now, let's focus on the enablers.
Investing in the companies that make big data possible
Technology enablers are companies that support the infrastructure to process data more quickly and to identify trends and opportunities that were previously unavailable. They seek ways to integrate new forms of technologies, fast-track automation and improve business processes and customer experiences. Key enablers include artificial intelligence (AI), machine learning (ML), big data analytics (BDA) and the Internet of Things (IoT); these technologies require heavy computational power and storage space.
Cloud computing offers an ideal solution to integrate and optimize these technologies and make them more scalable. Thus, cloud computing has become the catalyst for digital transformation, paving the way for technology enablers, including cloud storage and data centers as well as parallel processing and software services.
Cloud storage
The rapid adoption of cloud storage and cloud data centers has resulted from the cloud's proven advantages in cost and productivity. Despite a large existing user base, the outlook for cloud storage revenue continues to accelerate (Fig. 2), highlighting under-penetration and additional upside potential from value-added services. Large mega-cap players in cloud storage have become the foundational platforms, key enablers and primary beneficiaries of organizations' move to the cloud.
We see considerable opportunity in cloud storage, focusing on identifying durable businesses and best-in-class innovators that are meeting the needs of and benefiting from this large and growing market.
Figure 2: The cloud shift is accelerating
Estimated enterprise IT spending on cloud vs. non-cloud services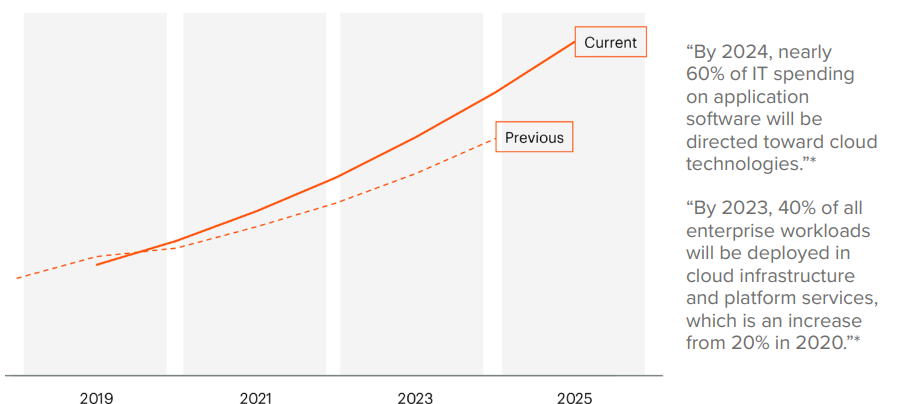 * Source: Gartner, "Actively Manage the Accelerating Shift to Public Cloud," March 23, 2022. Estimates based on calculations and categories derived from Gartner's published cloud forecasts. This illustration compares the current published iteration against the previous iteration, indicating the general extent of changes in expectations, and is not intended to be a direct comparison
Parallel processing
One thing that distinguishes the cloud is its ability to manipulate massive stores of data and speed up computations for AI and deep-learning workloads. This capability relies on next-generation server architectures that break up tasks and run the parts simultaneously across multiple processors. This approach saves time and money by executing code faster and more efficiently.
Increasingly, hardware companies are leveraging the parallel processing capabilities of GPUs—specialized computer chips originally designed to power video graphics cards, which are capable of handling billions of repetitive, low-level tasks per second. GPUs excel at parallel processing due to their many cores and higher memory bandwidth, which can accommodate massive data loads and deep-learning systems. Hence, they are used widely for data-rich applications, such as training AI models, rendering computer-aided design models, playing graphics-rich video games and enabling high-performance computing.
We believe parallel processing companies stand to benefit from the big data trend based on the tremendous need for storage and speed. We seek to invest in those businesses that possess superior fundamentals relative to their peers and those that continue to invest for the long term.
Software
To analyze the growing volume of data, more new software applications are expected to be built in the next three years than were built in the last half century (Fig. 3). Advancements in rapid-development models that require little to no coding have driven remarkable innovation in applications that enable task automation and workflow management, and the resulting efficiencies have become one of the strongest disinflationary forces in the economy. Accelerated innovation has also created a nearly incomprehensible amount of "digital exhaust," or data.
All these applications must connect to a database, be monitored for uptime and efficiency, and be secured.
We believe the need to acquire, extract and protect data will drive demand for software observability tools, breathe new life into the database market, and make cybersecurity spending non-optional.
Figure 3: Spending on artificial intelligence applications is accelerating
AI software market forecast, worldwide ($ millions)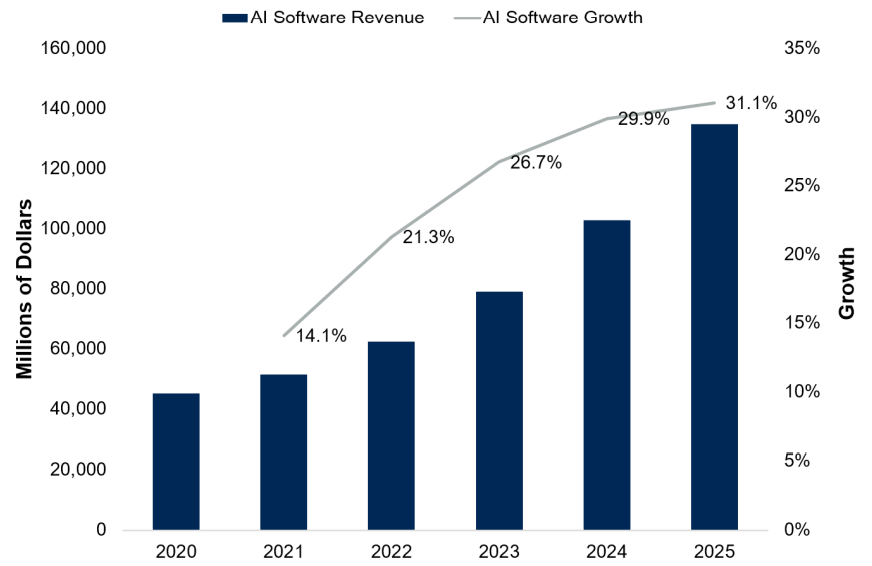 Source: Gartner, "Forecast Analysis: Artificial Intelligence Software, Worldwide," October 20, 2021.
Feeding the consumer beast
Technology enablers are producing the tools for companies to better target and serve their customers at a record pace, transforming the economy in the process. Companies are not only discovering ways to enhance their customer experience, but also realizing significant cost savings along the way. We believe customer-facing companies that own their data (rather than utilizing third-party data) stand to benefit the most from these investments. Health care tools are also beneficiaries of technology-enabled genetic sequencing and gene therapies.
In our next article, we'll explore the ways companies are capitalizing on big data to gain market share and achieve sustainable growth for the long term.