Alternate framework helps overcome limitations of common practices
Limitations of the Standard Approach
It is common to assess the current value of credit market spreads by comparing them to peak spread levels achieved during the last crisis or economic recession. Additionally, investors often introduce a time element into the assessment of cycle stage by measuring cycle lengths in terms of years elapsed since the last recession (Figure 1). 
Figure 1. Standard Credit Spread Analysis Imbeds Normative Assumptions about Peaks and Length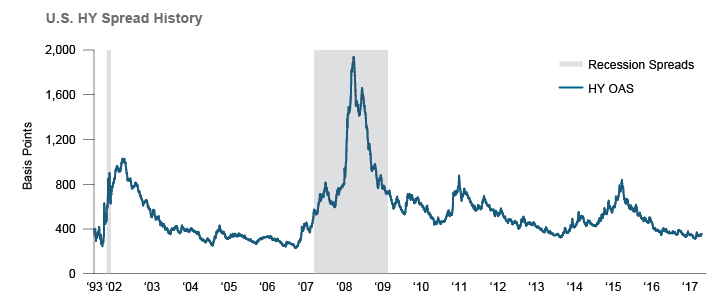 Source: Bloomberg data, analysis by Voya Investment Management, data as of February 2, 2018.
Including these two reference points in one's analysis can shape the conclusions reached using the market data. Measuring credit cycle lengths introduces the notion of a "normal" length, which may not be relevant to the current cycle. As spreads recover from their recessionary peaks, the use of peak levels as an anchoring point to assess valuations can lead to the inevitable conclusion that spreads are becoming increasingly rich as they trend lower.
From an investing standpoint this conclusion is not that helpful: it does not necessarily tie to forward looking excess return potential, provide insight into where spread levels might go or when spreads might be poised to widen sustainably.
Advantages of a Cycle-Based Approach
In our view, a better approach is to analyze spread valuations relative to the current or expected cycle stage. The historical spread ranges and median spread level for the current cycle stage provide a more useful context for assessing credit market valuations than comparing spreads to the prior recessionary peak. This approach provides a narrower range within which to assess spreads and also provides insight into a potential path of longer-term spread expectations. What's more, this cycle-based approach lends itself to better assessment of forward looking, excess-return potential.
There are multiple frameworks that can be used to define cycle stages. Voya's proprietary, quantitative Macro Radar indicator evaluates an array of economic and monetary variables, employing a systematic approach to assess the stage of the economic cycle. For example, assessing historical high yield market spreads using this indicator to define cycle states provides a cycle-oriented path of expectations for the range and median spread levels of the credit markets (Figures 2).
Figure 2. Voya's Macro Radar Offers More Insight into Credit Cycle Stage

Source: Bloomberg data, analysis by Voya Investment Management, data as of February 2, 2018.
Spread levels can be assessed relative to the median cycle spread and position within the historical spread range associated with the particular cycle state. A longer-term baseline outlook for spreads is also essentially provided by comparing current spreads to the median spread level for each cycle state.
A cycle-based approach to investing also lends itself well to a historical assessment of forward-looking excess return outcomes relative to the current cycle state (Figure 3). Despite sequentially lower historical median spread levels in the "recession" to "early" to "mid" cycle states, the median forward 12-month excess return has historically remained positive in each of these cycle states. While the median level of excess return cycles down in conjunction with the lower spread carry and diminished potential for spread tightening, the credit markets still tend to deliver positive excess returns. The late cycle state poses the biggest challenge for investors, as median spread levels tend to rise and forward-looking excess returns tend to be negative.
Figure 3. Voya Macro Radar Permits More Targeted Forecasting than Standard Modeling

Source: Bloomberg data, analysis by Voya Investment Management, data as of February 2, 2018.
Downside protection is a key focus of many investors. Utilizing a cycle-based approach to investing can help them resist the temptation to sell credit risk too early and can encourage investors to take more risk when spreads are near recessionary peaks. A cycle-based investment approach also can guide tactical risk adjustments as the cycle progresses, to help investors capitalize on spread fluctuations around the central tendency for the cycle stage. What's more, it provides investors an expected path for spread levels and potential excess returns and can inform the gradual adjustment of risk allocations in preparation for an eventual turn of the cycle.
Current Perspective
At this juncture, most market commentators characterize the credit cycle stage as "late," due in part to the amount of time that has elapsed. By contrast, Voya's Macro Radar indicator suggests that the economy is still in a mid-cycle stage (Figure 4).
Figure 4. Voya Macro Radar Points to Mid-Stage of Credit Cycle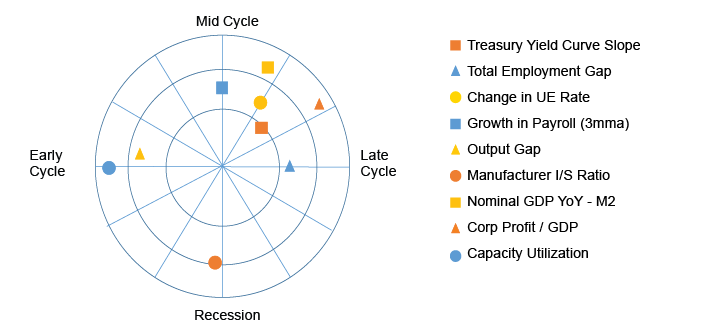 Source: Voya Investment Management, data as of February 2, 2018.
A variety of data supports our thesis. Looking at manufacturing, the last economic cycle progressed and the Federal Reserve kept hiking (white) even after the ISM Manufacturing (orange) and Non-Manufacturing (blue) employment indices peaked (Figure 5). The same is true with respect to the small business employment (yellow) series. These series currently are in stable to accelerating trends, which suggest more life in the economic cycle.
Figure 5. Manufacturing Data Point to Continuing Cycle Lengthening

Source: Bloomberg, data as of February 2, 2018.
Similar to the ISM employment series, the two ISM new orders were decelerating during the last cycle while the Fed continued to hike. Industrial production growth was more stable. The economic cycle marched on for several years despite the deceleration in new orders. Currently, new orders are in a stable to accelerating trend. Also during the last cycle, the change in small business sales and sales expectations were decelerating well before the cycle finally ended. Currently, these series are in stable to accelerating trends. Finally, as illustrated in Figure 6, payroll growth peaked (orange) and continuing jobless claims troughed (blue, inverse) in 2006 but the cycle continued before ending ugly.
Figure 6. Employment Metrics Still Point to Continuing Expansion

Source: Bloomberg, data as of February 2, 2018.
Continuing claims are still in a falling trend. Payroll growth has peaked but this may be a function of the lower level of unemployment — at some point, payroll growth has to slow as unemployment falls. In our view, job cuts are a more important signal of a cycle end than slowing payroll growth alone. The move higher in the unemployment rate (yellow, inverse) was a good warning signal. It's important, though to distinguish between increases in the unemployment rate due to rising labor force participation and moves higher due to job cuts.
Consumer sentiment was decelerating well before the cycle ended although consumer confidence was still rising. Currently, both of these series are in stable to rising trends. The homebuilder market index, home price appreciation and home sales all had rolled over before the Fed stopped tightening and before the economy ultimately rolled over. These indices are all still relatively stable.
Looking Forward
What are the implications of being mid-cycle vs. late-cycle? The mid-cycle state has the narrowest spread band and the lowest median spread level (Figure 2). While current credit market valuations are often characterized as rich, Voya's cycle-based approach to valuation indicates that spreads are only modestly inside the historical median for the mid-cycle stage. In our view, market valuations seem normal when volatility and default-rate expectations are taken into account.
That said recent market volatility injects an element of uncertainty into the relative valuation calculus. The pockets of turbulence seen lately in the high yield space were driven by interest-rate volatility, not credit-related events, but point to the need for a measured approach to industry and security selection.
Security selection alone cannot protect against a downside market move in the later cycle stages of the credit cycle. It may deliver outperformance versus a lagging industry but probably not relative to the market. Figures 7 and 8 illustrate the importance of industry selection: as the cycle progresses, more and more industries tend to move in opposite directions to the market (frequency dispersion). Mid and late cycle stages tend to have similar percentages of industries moving counter to the market. A key distinction between the mid and late cycle stages relates to the magnitude of that dispersion.
Figure 7. U.S. HY Excess Return Directional Dispersion by Cycle Stage

Source: Bloomberg data, analysis by Voya Investment Management, data as of February 2, 2018.
Figure 8. U.S. HY Excess Return Magnitude Dispersion by Cycle Stage

Source: Bloomberg data, analysis by Voya Investment Management.
Figure 9 uses the commodity crisis of 2014–2015 to illustrate the importance of industry selection from a different perspective. Despite the challenging market environment during that period, a comfortable majority of CUSIPs in the index outperformed the market. In contrast, the vast majority of CUSIPs within the commodity industries underperformed the market despite roughly half of the CUSIPs outperforming their respective industries.
Figure 9. Majorities of Commodity Issues Outperformed their Industries but Lagged the Market

Source: Bloomberg Index Services Ltd.
In other words, positive security selection relative to the industry still resulted in almost unanimous underperformance vs. the market. Our research indicates that virtually all periods of credit crisis involve the exposure of a problem industry or group of industries; e.g., telecommunications/accounting fraud in 2000–2002, housing/finance in 2007–2008 and commodities in 2014–2015.
For further information on these themes please see several earlier Voya publications, Anatomy of a Credit Market Sell-Off and Sidestepping the Relative Value Trap in Credit.
This commentary has been prepared by Voya Investment Management for informational purposes. Nothing contained herein should be construed as (i) an offer to sell or
solicitation of an offer to buy any security or (ii) a recommendation as to the advisability of investing in, purchasing or selling any security. Any opinions expressed herein
reflect our judgment and are subject to change. Certain of the statements contained herein are statements of future expectations and other forward-looking statements that
are based on management's current views and assumptions and involve known and unknown risks and uncertainties that could cause actual results, performance or events
to differ materially from those expressed or implied in such statements. Actual results, performance or events may differ materially from those in such statements due to,
without limitation, (1) general economic conditions, (2) performance of financial markets, (3) interest rate levels, (4) increasing levels of loan defaults, (5) changes in laws and
regulations, and (6) changes in the policies of governments and/or regulatory authorities.
Voya Investment Management Co. LLC ("Voya") is exempt from the requirement to hold an Australian financial services license under the Corporations Act 2001 (Cth) ("Act")
in respect of the financial services it provides in Australia. Voya is regulated by the SEC under U.S. laws, which differ from Australian laws.
This document or communication is being provided to you on the basis of your representation that you are a wholesale client (within the meaning of section 761G of the Act),
and must not be provided to any other person without the written consent of Voya, which may be withheld in its absolute discretion.
Past performance is no guarantee of future results.
©2018 Voya Investments Distributor, LLC • 230 Park Ave, New York, NY 10169 • All rights reserved.
CMMC-CreditCycle 042318 • IM0423-41751-0419