Despite increased fears of recession, BBBs are being rewarded for proactive deleveraging.
We've noted a few times over the past year our views on the growing glut of BBB-rated corporate debt and whether its expanse represents a mass of fallen angels in waiting or more of a gentle giant comprised of idiosyncratic risks. Our view continues to be the latter.
Reading between the spreads
Credit spreads have long been one of the many indicators of a potential recession down the road. With the trade war between the U.S. and China continuing to instill broad uncertainty in the markets, coupled with subsequent tariffs further squeezing the manufacturing sector across the globe, growth risks are abundant and recession fears are rising. This has been evidenced by the continued slowing in industrial activity, which has led to a reduction in hours worked and notably lower payroll growth. Furthermore, weakness is beginning to emerge within Services as evidenced by the recent decline in hours worked. Payroll growth has remained resilient but is also starting to slow.
Credit markets appear to be taking a benign view regarding the risk of recession and seem to be discounting the slowing growth as more of an equity market problem than a credit one. Two ways to analyze this are the BB-BBB spread differential and the BBB-A spread differential. As shown in Figure 1, the spread between BBs and BBBs, despite showing some signs of volatility this year, actually sits at all-time tights.
Figure 1: Corporate spread differentials at or near all-time tights

Source: Bloomberg Barclays
Additionally, the spread between BBBs and A-rated issuers has barely moved, suggesting little concern within the high grade market about recession risk. These spread levels, coupled with the outperformance year to date of the BBB and BB buckets (Figure 2), highlight the defensive demand for quality and yield.
Figure 2: YTD Corporate Returns by Rating (%)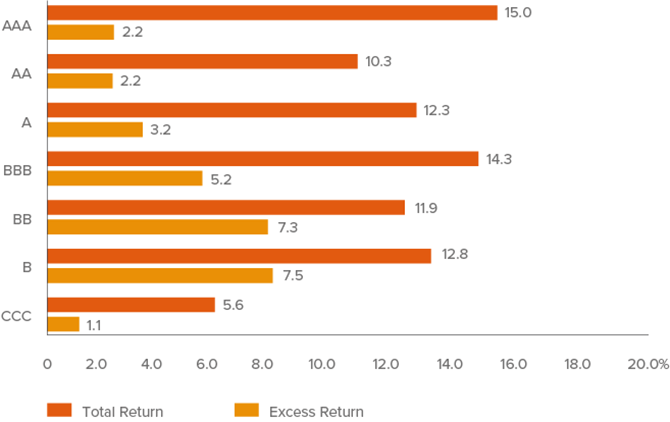 Source: Bloomberg Barclays as of 9/30/19.
With that said, there has been an increase in spread dispersion within both the investment grade and high yield markets. On the negative side, dispersion indicates growing challenges. On the positive side, however, dispersion illustrates the ability of the market to compartmentalize, particularly when there are directional differences in sector spread movements. This further stresses the importance of security selection. Another metric suggesting increased risk aversion within credit is the steepening of the 10-30s spread curve. This has been mostly driven by the flattening of the treasury curve, typically a negative economic signal.
Voluntary corporate belt tightening
The supply side of the story has also proven supportive for investment grade, and particularly BBBs, this year. Year-to-date, investment grade corporate issuance is down about 6%, while BBB new issuance is down a whopping 20% (Figure 3). This tells us that despite lower yields, corporations are refraining from issuing debt and instead are focusing on proactively deleveraging their balance sheets, a relatively rare proactive development.
Figure 3: USD Industrial BBB Cumulative Issuance ($bn)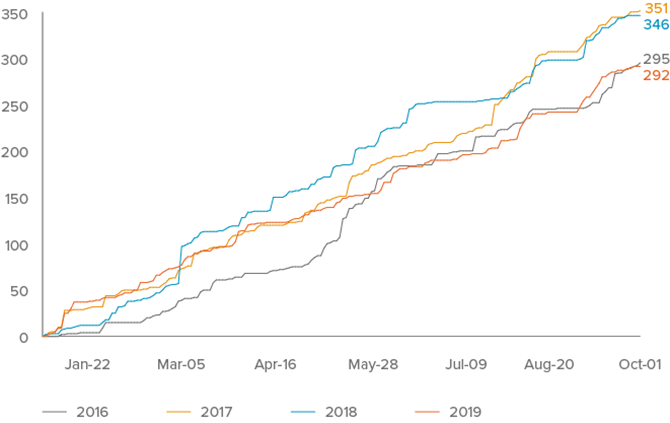 Source: Credit Suisse, as of 9/30/19.
When assessing the level of corporate leverage, it is important to look at the composition, as the details can often ease concerns. Despite the recent focus on balance sheet repair and declining leverage targets, credit metrics overall still showed additional deterioration as evidenced by 2Q19 earnings reports. EBITDA growth slowed, while overall debt growth increased, resulting in higher leverage and weaker interest coverage. Furthermore, cash payouts to shareholders increased. Overall, this led to a deterioration in credit ratios, but diving deeper, much of this deterioration was driven by M&A and weaker trends in Utilities. About two-thirds of the year-over-year growth in debt came from 8 issuers, who raised over $10 billion due to M&A. Stripping these issuers out reveals that leverage growth would have been flat rather than up 0.2x year-over-year, highlighting that the deterioration in leverage metrics has largely been driven by voluntary decisions rather than market factors. In Utilities, negative impacts from tax reform on revenue and high capex resulted in weakening leverage and coverage ratios.
Looking at leverage trends by tier reveals that credit metrics have actually stabilized or improved for issuers that had the highest leverage two years ago. As highlighted in Figure 4, gross leverage has actually declined for the top 33% of issuers based on gross leverage as of 2Q19, while net leverage has trended sideways. In contrast, leverage has increased for the bottom 66% of issuers.
Figure 4: Gross Leverage (ex-Utilities and Commodities)/Net Leverage (ex-Utilities and Commodities)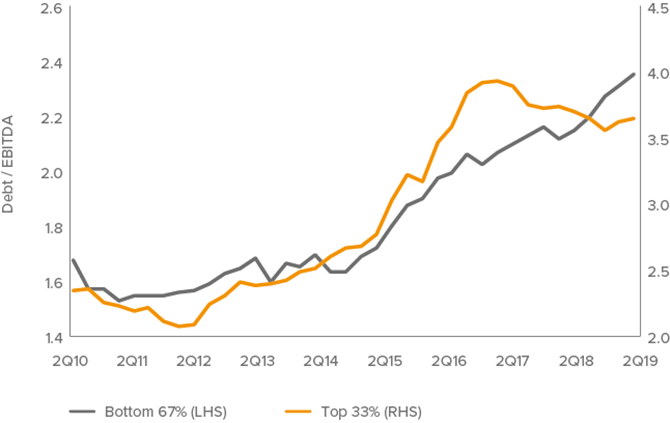 Source: JP Morgan, as of 6/30/2019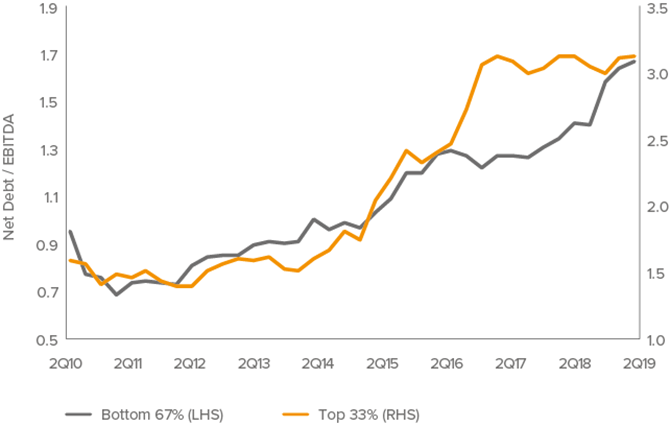 Source: JP Morgan, as of 6/30/2019
Strengthening credit metrics
From a quality perspective, credit metrics of BBB issuers have actually deteriorated less over the past year than for A-rated issuers. BBB issuers have seen faster growth in EBITDA while remaining more cautious in issuing debt or increasing shareholder payouts, further reflecting efforts to de-lever and avoid a downgrade to high yield.
This prudent approach has led to a net positive shift in rating-change trends among non-financial issuers. Through the first half of 2019, the amount of debt upgraded within investment grade, including rising stars (debt upgraded from high yield to investment grade) exceeded the sum downgraded, including fallen angels (debt downgraded from investment grade to high yield). More specifically, and detailed in Figure 5, 2% of the par outstanding was downgraded within investment grade and 0.1% was downgraded to high yield. On the other hand, 5% of par was upgraded within investment grade, with an additional 1% upgraded from high yield, leading to a net positive rating change of 4% for 1H19. Importantly, about 66% of the downgrades within investment grade were from A- to BBB+, while 43% of the upgrades moved from BBB- to BBB, and 35% from BBB to BBB+.
Figure 5: Non-Financial Net Upgrades Outpacing Net Downgrades in 2019

Source: Worldscope, Bloomberg, UBS, as of 9/30/2018
What continues to matter most in this environment? Security selection
These ratings change trends further reiterate the desire for issuers to maintain their investment grade rating by focusing on balance sheet repair and reducing overall leverage. This should prove supportive in preventing a premature mass wave of downgrades. The need to avoid idiosyncratic risks is ongoing, but investment opportunities remain as larger BBB issuers continue to reassure their creditors about their creditworthiness.
IM876570
Disclosures
This commentary has been prepared by Voya Investment Management for informational purposes. Nothing contained herein should be construed as (i) an offer to sell or solicitation of an offer to buy any security or (ii) a recommendation as to the advisability of investing in, purchasing or selling any security. Any opinions expressed herein reflect our judgment and are subject to change. Certain of the statements contained herein are statements of future expectations and other forward-looking statements that are based on management's current views and assumptions and involve known and unknown risks and uncertainties that could cause actual results, performance or events to differ materially from those expressed or implied in such statements. Actual results, performance or events may differ materially from those in such statements due to, without limitation, (1) general economic conditions, (2) performance of financial markets, (3) interest rate levels, (4) increasing levels of loan defaults, (5) changes in laws and regulations, and (6) changes in the policies of governments and/or regulatory authorities. Past performance is no guarantee of future results.