Earlier this month yields reached their highest level in more than four years. Equity market turmoil soon followed. Yet one catalyst is noticeably absent.
Ten-year Treasury yields jumped above 3.20% in early October, the highest level in more than four years. While headlines were quick to highlight bond-market turbulence, the reaction was somewhat muted compared to the volatility that roiled markets in the first quarter of this year. Noticeably absent from the October yield spike was inflation. Recall that rising inflation expectations set the stage for the volatility earlier this year, as investors believed a strong February payroll report would accelerate the pace of inflation, prompting a more aggressive policy stance from the Federal Reserve. Fast forward to today where the pace of inflation is much less of a concern. The latest jobs report showed an economy that is continuing to eke out higher wages, which is unlikely to dissuade the Federal Reserve from raising rates at its current pace.
Looking more broadly at the economy, recent headlines regarding housing prices, sales and starts seem to refute our view that mortgage debt is much earlier in its cycle than corporate debt. Borrower behavior in the mortgage space, however, remains strong as delinquency rates and foreclosures are low. We continue to favor securitized credit given the sector's U.S. focused, consumer and housing/ real estate-centric risk drivers.
From a positioning standpoint, the U.S. continues to look more attractive than other parts of the world. Of note, this month the Fed will officially end all reinvestments of Treasurys and mortgage backed securities. This is another reminder of the Fed's relative strength compared to other central banks. The lack of rate hikes in Japan and Europe likely will make dealing with the next downturn that much harder. Meanwhile, as we highlighted in our themes for 2018, developed market central bank actions continue to expose pockets of vulnerability in emerging markets. We continue to identify idiosyncratic opportunities created by this volatility.
Spreads, Returns and Yields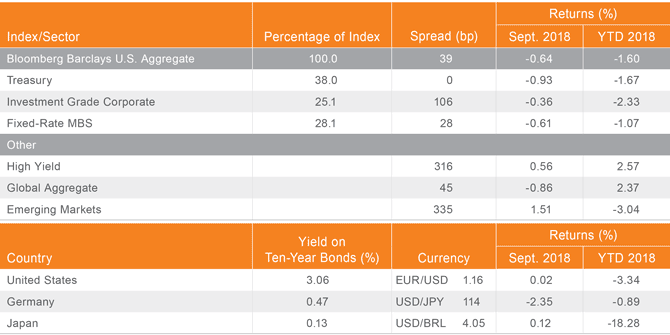 Source: Bloomberg, JPMorgan, Standard & Poor's. All spreads are to U.S. Treasurys and are option-adjusted except for emerging markets, which are nominal. All returns are total returns including dividends, expressed as percentages, in U.S. dollars.
Bond Market Outlook
Global Rates: U.S. yields rise, trade in new, higher range but Federal Reserve keeps its measured pace of rate increases
Global Currencies: U.S. dollar strength should level off against euro, select EM currencies
Investment Grade: higher rates support spreads, so long as they are driven by solid growth and manageable inflation
High Yield: yields remain in the 6% range, decent but arguably not cheap
Securitized: spreads for agency RMBS more attractive; securitized credits to continue to benefit from U.S. economic, consumer strength
Emerging Markets: developed market central bank actions continue to expose pockets of EM vulnerability, creating idiosyncratic opportunities
Sector Outlooks
Global Rates and Currencies
The Federal Reserve raised interest rates by another 0.25% in September and is on track to hike one more time this year in December. This will keep upward pressure on the yield curve. We expect the 10-year U.S. Treasury rate will increase and trade in a 3.00-3.25% range. We remain confident that stronger U.S. growth fundamentals will take yields higher. What's more, we believe effects from fiscal stimulus may offer continued support for U.S. consumers.
We expect eurozone rates to trade higher, with 10-year Bunds to trade in a 30-60 basis point (bp) range. Along with other factors that could bring euro rates higher, the increase is likely to correlate with expectations for higher rates in the United States. Risks surrounding Italy's politics and budgetary process will continue through the end of November. Parliamentary debate and approval will take place before October 20 with the European Union budget review to take place on November 30. Funding sustainability is in question given sovereign credit rating reviews.
Investment Grade Corporates
The outlook for credit remains healthy with earnings reinforcing a supportive fundamental picture and technical factors still favorable longer term. The yield differential between U.S. and global rates continues to support the story for foreign buying of U.S. credit, despite higher hedging costs. We believe higher rates, so long as they are driven by solid growth and manageable inflation, should continue to support credit spreads. Valuations continue to look more full than cheap, but near-term spread moves are likely to be dominated by technical forces.
High Yield Corporates
Spreads are now materially tighter on the year. Yields remain in the 6% range, decent but arguably not cheap. Spread on BB-rated bonds appear tapped out, unless something breaks in relation to rates or the economy. Therefore, we anticipate low single-digit returns for the second half of the year, which may provide decent carry but offer limited potential for price appreciation. With a strong equity market as a backdrop, risk appetites are healthy; nonetheless, valuations at these spread levels keep us in a neutral stance.
Securitized Assets
Similar to other spread sectors, agency residential mortgage-backed securities (RMBS) ground tighter throughout the month and outperformed. Fundamentals remain solid with subdued prepays while the Federal Reserve's transparency has helped the market adjust to the additional supply. The technical landscape will become more challenging entering the fourth quarter.
Non-agency RMBS continue to be driven by housing market expansion and mortgage credit availability that recovers. In our view, potential upside remains as credit availability increases, home ownership increases and the Millennial demographic continues to engage.
The outlook for asset-backed securities (ABS) remains positive, with credit performance strong across almost all sub-sectors. We expect ABS to outperform, supported by the strong state of U.S. consumers. We maintain our cautious short-term view for collateralized loan obligations (CLOs) as we expect persistent supply pressures through the October payment date. The sector continues to benefit from demand for floaters, as well as the tailwinds afforded by strong underlying credit performance. This suggests that the predicted drawdown will be technical in nature.
We continue to like commercial mortgage-backed securities (CMBS) and believe a favorable technical environment should lead to outperformance. Fundamentals remain strong as commercial real estate prices continue to climb and defaults and delinquencies remain manageable. Certain subordinated parts of the CMBS capital structure appear rich versus their senior counterparts, but remain attractive relative to other asset classes.
Emerging Market Debt
We expect the growth differential between emerging and developed economies to narrow as EM growth moderates relative to DM in the second half of 2018. Strong oil markets have helped exporting countries such as Russia and Colombia, while penalizing those that subsidize gasoline. Trade uncertainty remains the dominant issue, but the jury is still out on its real economic impact: exports are showing weakness in some but not all countries. Heightened political risks, notably around Brazil's election, U.S. tariffs against China and international sanctions against Russia, add noise to investor strategies. Even though the economic impact of these concerns has yet to be determined, we believe that investor sentiment will remain subdued until trade tension and sanction risks abate.
IM1016-45664-1019
Past performance does not guarantee future results.
This commentary has been prepared by Voya Investment Management for informational purposes. Nothing contained herein should be construed as (i) an offer to sell or solicitation of an offer to buy any security or (ii) a recommendation as to the advisability of investing in, purchasing or selling any security. Any opinions expressed herein reflect our judgment and are subject to change. Certain of the statements contained herein are statements of future expectations and other forward-looking statements that are based on management's current views and assumptions and involve known and unknown risks and uncertainties that could cause actual results, performance or events to differ materially from those expressed or implied in such statements. Actual results, performance or events may differ materially from those in such statements due to, without limitation, (1) general economic conditions, (2) performance of financial markets, (3) interest rate levels, (4) increasing levels of loan defaults, (5) changes in laws and regulations, and (6) changes in the policies of governments and/or regulatory authorities.
Voya Investment Management Co. LLC ("Voya") is exempt from the requirement to hold an Australian financial services license under the Corporations Act 2001 (Cth) ("Act") in respect of the financial services it provides in Australia. Voya is regulated by the SEC under U.S. laws, which differ from Australian laws.
This document or communication is being provided to you on the basis of your representation that you are a wholesale client (within the meaning of section 761G of the Act), and must not be provided to any other person without the written consent of Voya, which may be withheld in its absolute discretion.
©2018 Voya Investments Distributor, LLC • 230 Park Ave, New York, NY 10169 • All rights reserved.