Recent events suggest the Fed has satisfied its appetite for delivering market-upsetting news—yet plenty of "hyenas" remain.
A year ago, we highlighted the importance of positioning portfolios to avoid downside velocity and our bias towards "selling into strength." Late in 2018, as markets experienced significant volatility, we began to shift course. Repricing in corporate credit markets in December offered compelling entry points among investment grade and high yield corporate bonds, which we took advantage of. Since then, markets have rallied, confirming the sell-off was more fear-driven than tied to a systemic issue. However, investors continue to face uncertainty across a number of fronts. Brexit, China/U.S. trade tension, U.S. political gridlock and Italy to name a few.
While these potential catalysts for volatility are formidable and certainly warrant monitoring, we view them more as "hyenas" lurking on the perimeter of the global economic jungle — a negative outcome from just one or two of these sources of uncertainty is unlikely to have much of an impact on the trajectory of the broader global economy. Central bank policy remains the lion atop the food chain. The good news for investors is the Federal Reserve's appetite for delivering market-upsetting news appears, for now at least, to be satisfied.
The Fed's January meeting shifted market expectations from a hiking cycle on pause to signaling the end of the hiking cycle. The signal is particularly strong given supportive economic data releases in the United States, risk market stabilization and easing financial conditions since the last meeting. Introduction of a risk-reward framework in thinking of rate hikes is new and creates a high hurdle to resuming hikes. The mention of potentially ceasing balance sheet unwinding earlier than expected further solidified the dovish message and appeased those calling for a slowing of quantitative tightening.
Elsewhere, we continue to favor the U.S. consumer over U.S. corporations. Consumer debt is picking up modestly but still trends broadly sideways relative to GDP, particularly compared to the continued growth of corporate debt. In the corporate space, BBBs continue to grab headlines and it's important to remember that not all BBB risk is created equal. Security selection in this segment will be more critical than ever going forward.
Spreads, Returns and Yields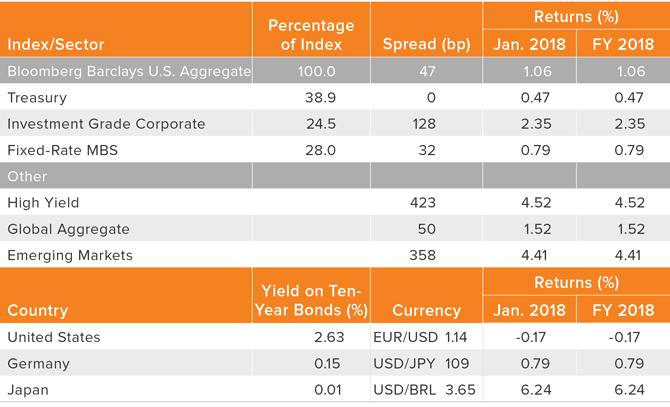 Source: Bloomberg, JPMorgan, Standard & Poor's. All spreads are to U.S. Treasurys and are option-adjusted except for emerging markets, which are nominal. All returns are total returns including dividends, expressed as percentages, in U.S. dollars.
Bond Market Outlook
Global Rates: Fed to pause interest rate hikes in 1H19, with hikes possible in 2H19
Global Currencies: U.S. dollar stays range-bound against major DM, opportunities in select EM currencies
Investment Grade: valuations look fairer now but the path of least resistance should still be tighter IG spreads
High Yield: we expect attractive total return this year, but principal appreciation will be tougher to come by after January rally
Securitized: maintain preference for nonagency RMBS and CMBS
Emerging Markets: expect further slowing of growth momentum in 1H19 but look for pick-up in 2H19
Sector Outlooks
Global Rates and Currencies
The Federal Reserve's January meeting has shifted market expectations toward an end to the hiking cycle and slower quantitative tightening; we believe there remains a possibility for the Fed to step back in with a hike in 2H19. Against this backdrop, we expect the ten-year U.S. Treasury yield to range between 2.60% and 2.90%, as the two- to ten-year yield curve steepens 20-30 basis points (bp). We think the U.S. dollar will remain range-bound versus developed market currencies.
Eurozone growth continues to slow, declining to 1.2% in 4Q18 from 2.8% in 3Q17. The European Central Bank's January meeting was decisively dovish, citing Brexit, protectionism, emerging market (EM) vulnerabilities and financial market volatility as downside risks. We look for ten-year German Bund yields to range between 15–40 bp, expect the euro to trade in a narrow range relative to the U.S. dollar.
Investment Grade Corporates
Investment grade (IG) spreads staged a dramatic rally in January after the Fed signaled a pause and the market priced in no hikes for 2019. As BBB debt growth continues to grab headlines, it is important to remember that not all BBB risk is created equal. While the market tends to focus on leverage, we also take account of market fundamentals and characteristics unique to this credit cycle. Although leverage has increased for IG companies, much of this increase has resulted from M&A transactions by larger companies that have several ways to ensure they remain investment grade. Going forward, we feel the greatest longer term value will be found among issuers that may be slightly more leveraged but with solid fundamentals, versus those that may currently have healthy balance sheets but poor fundamentals.
High Yield Corporates
January saw a massive bounce-back in high yield from December; partly recovery from oversold conditions, but there also was an underlying bid for risk. We see a healthy return of new issuance well met with demand. While fundamentals present a mixed picture, the clear pause by the Fed has alleviated concerns that it would choke off growth. Given the magnitude of the recovery and resulting spread levels, our expectation of a potentially attractive total return year looks solid so far; but principal appreciation will be tougher to come by from here.
Securitized Assets
Strong fundamentals associated with the U.S. consumer have us leaning toward asset-backed securities (ABS). We expect that investors will continue to embrace risk over the next month, to the advantage of other sectors; nonetheless, we believe ABS will remain well bid and offer outperformance opportunities when market beta is negative.
Agency residential mortgage-backed securities (RMBS) had their best relative performance in over a year as interest-rate volatility dropped through January. Mortgage performance should remain tied to volatility with little change to solid underlying fundamentals. Lack of Fed demand should impair performance and financing rates for production coupon bonds, but slower prepays should buffer premium coupons.
Our outlook for non-agency RMBS is mixed, with subsectors such as credit risk transfer securities (CRTs) expected to outperform legacy and other sectors over the near term. Overall sector attributes — mortgage credit backdrop, negative net new issuance and shrinking spread duration — continue to resonate with investors even as weaker housing market dynamics challenge sentiment. We believe attractive relative value and well-orchestrated new supply will prove supportive for CRTs.
Non-agency RMBS will continue to be driven by housing market expansion. Upside remains as credit availability improves, home ownership increases and the burgeoning millennial demographic engages. These dynamics will wind down the legacy universe while fueling issuance in various submarkets.
We remain positive on commercial mortgage-backed securities (CMBS), believing the sector should continue to benefit from the broader relief rally and offer attractive "carry." CMBS credit spreads were materially tighter in January but the sector underperformed corporate credits. With reasonable investor interest, manageable new issuance and supportive fundamentals, we look for CMBS to perform well.
Emerging Market Debt
We expect further slowing of EM growth momentum in 1H19 but look for a pick-up in 2H19. China is expected to ramp up infrastructure spending and cut taxes further, to offset the negative impacts of its ongoing trade war with the U.S. and its housing market slowdown. The magnitude of China's economic stimulus will determine the path of commodity prices and consequently the outlook for EM corporate debt fundamentals. The Fed's policy pause boosts expectations for better financing conditions and credit metrics. Political risks will gradually increase regarding reforms in Brazil, and elections in Nigeria, Ecuador, Turkey, Ukraine and Thailand.
IM744504
Past performance does not guarantee future results.
This commentary has been prepared by Voya Investment Management for informational purposes. Nothing contained herein should be construed as (i) an offer to sell or solicitation of an offer to buy any security or (ii) a recommendation as to the advisability of investing in, purchasing or selling any security. Any opinions expressed herein reflect our judgment and are subject to change. Certain of the statements contained herein are statements of future expectations and other forward-looking statements that are based on management's current views and assumptions and involve known and unknown risks and uncertainties that could cause actual results, performance or events to differ materially from those expressed or implied in such statements. Actual results, performance or events may differ materially from those in such statements due to, without limitation, (1) general economic conditions, (2) performance of financial markets, (3) interest rate levels, (4) increasing levels of loan defaults, (5) changes in laws and regulations, and (6) changes in the policies of governments and/or regulatory authorities.
Voya Investment Management Co. LLC ("Voya") is exempt from the requirement to hold an Australian financial services license under the Corporations Act 2001 (Cth) ("Act") in respect of the financial services it provides in Australia. Voya is regulated by the SEC under U.S. laws, which differ from Australian laws.
This document or communication is being provided to you on the basis of your representation that you are a wholesale client (within the meaning of section 761G of the Act), and must not be provided to any other person without the written consent of Voya, which may be withheld in its absolute discretion.
©2019 Voya Investments Distributor, LLC • 230 Park Ave, New York, NY 10169 • All rights reserved.