When valuations reflect good news, risk is generally skewed to the downside. Investors beware: There is no shortage of good news in today's market.
The December market volatility and subsequent rally to start 2019 remind us that when valuations reflect bad news, it is generally a good time to buy. On the flipside, when good news is already priced in, risk is generally skewed to the downside. Investors beware: There is no shortage of good news in today's market. Uncertainty surrounding China/U.S. trade tensions has moderated. Washington, D.C. is back open for business after an extended shutdown and European Central Bank policymakers finally seem to grasp that Europe needs economic stimulus; ECB President Draghi confirmed that any policy tightening is off the table under his watch. Most impressive of all is what can only be described as a "complete 180" by the Federal Reserve. In December, Fed Chairman Powell's "tightening on auto-pilot" language sent markets into a tailspin. This is a far cry from Powell's recent, extremely dovish communication that the Fed is beginning to hone in on something akin to nominal GDP targeting or price level targeting.
Meanwhile, the February jobs report generated negative headlines, with much focus on the 20,000 jobs, the smallest number in over a year. Digging deeper, we believe the increase in unit labor costs is more significant. Upward trending unit labor costs bolster the current economic cycle and help offset the longer-term risk of populism, spurred in part by growing income inequality.
Short-term tactical portfolio positioning remains critical in the current environment. With so much good news already reflected in valuations, we are once again focused on avoiding downside velocity. Inflation is one area where we see potential for larger-than-expected volatility. While most market participants have declared inflation dead, the market for Treasury inflation-protected securities implies that risk is not off the table. The Fed may allow inflation to slightly overshoot its long-held 2% target, leading to an uptick of inflation expectations and subsequently higher break-even rates. A metric to watch is wages: the latest print, coupled with a continued tight labor market and plateauing productivity, could begin to pressure inflation in the coming months. Any significant upside surprise of inflation will amplify volatility.
Spreads, Returns and Yields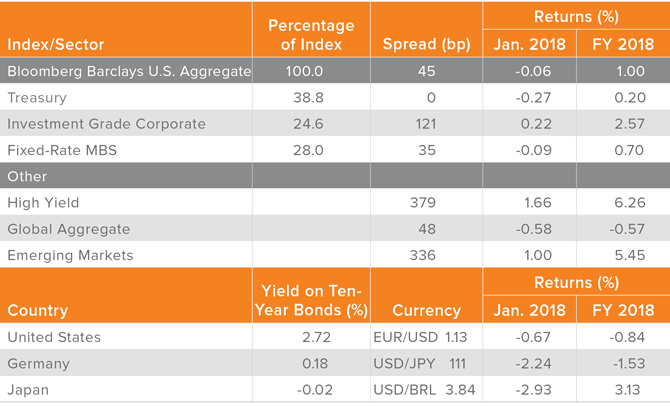 Source: Bloomberg, JPMorgan, Standard & Poor's. All spreads are to U.S. Treasurys and are option-adjusted except for emerging markets, which are nominal. All returns are total returns including dividends, expressed as percentages, in U.S. dollars.
Bond Market Outlook
Global Rates: Fed pause in rate hikes in 1H19 all but confirmed, hike possible in 2H19
Global Currencies: U.S. dollar stays range-bound against developed market currencies, slightly weaker versus emerging markets
Investment Grade: valuations fair at current spread levels, bias towards front end of the credit curve
High Yield: fundamentals mixed after Q1 earnings season, YTD rally limits further spread tightening
Securitized: maintain bias for consumeroriented risk; prefer ABS, non-agency RMBS and CMBS
Emerging Markets: inflation broadly muted across EMs, growth expected to rebound in 2H19
Sector Outlooks
Global Rates and Currencies
Federal Reserve Chairman Powell recently confirmed the Fed is highly data dependent and patient, waiting to see how previous interest-rate tightening flows through the economy. In our view, the bar for another rate move is set quite high. Updated dot-plot and economic forecasts at the March 20 meeting will provide insight into the degree of market accommodation the Fed has granted, or whether growth expectations have fallen. Fed balance sheet discussions continue, with a buffer of $1 trillion or more identified as a starting point. The balance sheet unwinding could slow as it approaches its end-point, perhaps later this year.
We expect the ten-year U.S. Treasury yield to range between 2.60% and 2.90%, as the two- to ten-year yield curve steepens 10–25 basis points (bp). We think the U.S. dollar will remain range-bound versus developed market currencies.
At its March meeting, the ECB maintained its dovish tone, cutting its 2019 forecast for European GDP from 1.7% to 1.1%. The ECB also unveiled a new round of TLTRO funding (targeted longer term refinancing operations), the third since 2016. Market expectations of a rate hike have shifted to September 2020. We look for ten-year German Bund yields to range between 5–30 bp, and expect the euro to trade in a narrow range relative to the U.S. dollar.
Investment Grade Corporates
IG spreads continued their rally in February, albeit at a slower pace than January, tightening by 7 basis points (bp) to an option-adjusted spread of 121 bp. Spreads are now back to mid-November levels and the rally has slowed noticeably, with valuations close to full levels. Technical factors remain supportive, with U.S. yields attractive for overseas investors and hedging costs easing. Fourth-quarter earnings were decent, though growth was a bit stronger for BBB-rated than for higher quality issuers. There are signs of slower growth ahead, however, which poses risks for highly leveraged issuers.
High Yield Corporates
The 2019 rally continued into February, though the pace of gains slowed. From current valuation levels we do not see much more potential from spreads in higher quality, particularly among BB- and B-rated credits. There is still decent yield among lower quality credits. Fundamentals present a mixed bag, but still we see only pockets of weakness: autos, technology and now energy. Capital continues to flow back into high yield away from senior loans and we see a healthy return of the new issue market.
Securitized Assets
Agency residential mortgage-backed securities (RMBS) recoiled from tight spreads and heightened volatility in early February, but rallied as rates settled and REIT demand picked up. Performance should remain tied to volatility with little change to solid underlying fundamentals. Lack of Fed demand will impair performance potential and financing rates for production coupon bonds, but slower prepays should buffer premium coupons.
We remain positive on non-agency RMBS, as we perceive consensus building for the sector's relative value and stability across periods of increased volatility. Overall sector attributes — mortgage credit backdrop, negative net new issuance and shrinking spread duration — continue to resonate with investors despite slowing housing market dynamics. We believe attractive relative value and well-orchestrated supply will prove supportive for credit risk transfer securities.
We remain positive on commercial mortgage-backed securities (CMBS), believing they will continue to benefit from a lagged response to the relief rally and offer attractive "carry." CMBS credit spreads were tighter in February as the sector outperformed the broader market, but with mixed results against corporate credits. With decent investor interest, manageable issuance and supportive fundamentals, we look for more senior CMBS to continue to perform well over the next month.
Expecting that risk markets will face increased volatility in coming weeks, we take a positive view of asset-backed securities (ABS). The outlook for ABS remains a function of broader risk sentiment: we believe ABS will remain well bid and offer outperformance opportunities when market beta is negative. Strong fundamentals associated with the U.S. consumer remain supportive.
Emerging Market Debt
We expect a pick-up of EM growth momentum in 2H19, which should then boost bank fundamentals and bond performance. Consumer and business sentiment are mixed but expected to bottom out in the near term. The magnitude of China's economic stimulus will determine the path of commodity prices and the outlook for EM corporate debt fundamentals. Inflation should remain muted for the next few months; any further downward pressure could turn central banks more dovish, with some likely to pencil in rate cuts over 2H19.
IM776385
Past performance does not guarantee future results.
This commentary has been prepared by Voya Investment Management for informational purposes. Nothing contained herein should be construed as (i) an offer to sell or solicitation of an offer to buy any security or (ii) a recommendation as to the advisability of investing in, purchasing or selling any security. Any opinions expressed herein reflect our judgment and are subject to change. Certain of the statements contained herein are statements of future expectations and other forward-looking statements that are based on management's current views and assumptions and involve known and unknown risks and uncertainties that could cause actual results, performance or events to differ materially from those expressed or implied in such statements. Actual results, performance or events may differ materially from those in such statements due to, without limitation, (1) general economic conditions, (2) performance of financial markets, (3) interest rate levels, (4) increasing levels of loan defaults, (5) changes in laws and regulations, and (6) changes in the policies of governments and/or regulatory authorities.
Voya Investment Management Co. LLC ("Voya") is exempt from the requirement to hold an Australian financial services license under the Corporations Act 2001 (Cth) ("Act") in respect of the financial services it provides in Australia. Voya is regulated by the SEC under U.S. laws, which differ from Australian laws.
This document or communication is being provided to you on the basis of your representation that you are a wholesale client (within the meaning of section 761G of the Act), and must not be provided to any other person without the written consent of Voya, which may be withheld in its absolute discretion.
©2019 Voya Investments Distributor, LLC • 230 Park Ave, New York, NY 10169 • All rights reserved.