It was just this summer when many pundits (and some investors) cited over-levered corporations as an ominous sign for corporate bonds. These headlines have largely disappeared. So what happened?
News of negative rates in the U.S., recessionary fears, and U.S.-China trade negotiations continue to grab headlines. However, on the stage of doom and gloom, one actor is noticeably absent: Unsustainable leverage on corporate balance sheets. It was just this summer when many pundits (and some investors) cited over-levered corporations as an ominous sign for corporate bonds. These headlines have largely disappeared. So what happened?
Since 2018—when headlines about a growing glut of BBB-rated debt first started to appear—we have viewed risk in the corporate bond space as idiosyncratic, not systemic. Recent developments indicate that our investment thesis is largely playing out. Among corporations, much of the recent uptick in leverage is coming from companies that are levering from a very low starting point, and has mostly been driven by voluntary M&A rather than market factors. Leverage trends for more highly leveraged companies are sideways, indicating that many of these companies are focusing on balance sheet repair. These developments are being reflected in ratings, as upgrades have outpaced downgrades in the investment grade space thus far in 2019.
At current levels, credit spreads also appear to be taking a benign view of recession risk and seem to be discounting slowing growth as more of an equity than a credit market problem; despite increased recession fears, BBB-rated bonds are being rewarded for proactive deleveraging. This is in line with our broader macro view that the U.S. consumer will remain resilient in the face of weakening industrial activity. Accordingly, we expect an industrial-driven slowdown, not a recession in 2020.
We continue to favor securitized credit given the sector's exposure to the relative strength of the U.S. consumer. Tactically, we will continue to implement our relatively benign credit outlook to monetize volatility, an approach that has benefited our portfolios over the last year as periods of spread widening have ultimately been driven by fear rather than a deterioration in fundamentals. Said another way: We believe securitized credit offers sector and security opportunities, whereas corporate credit potential is more limited to security selection. In the corporate space, it's a bond picker's world.
Returns, Spreads and Yields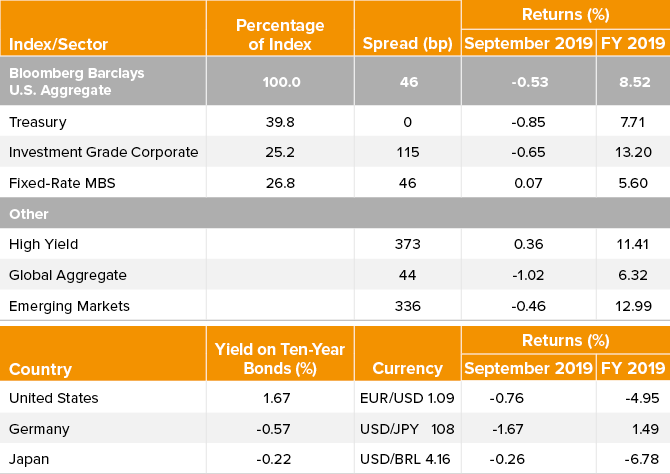 Source: Bloomberg, JPMorgan, Standard & Poor's. All spreads are to U.S. Treasurys and are option-adjusted except for emerging markets, which are nominal. All returns are total returns including dividends, expressed as percentages, in U.S. dollars.
Bond Market Outlook
Global Rates: U.S. rates remain lower, Federal Reserve to cut 25bps before year-end
Global Currencies: U.S. dollar steadies against developed market currencies, emerging markets
Investment Grade: Negative yields elsewhere attract non-U.S. investors, offset trade pressures
High Yield: Current spread levels are not compelling, favor higher quality over CCCs
Securitized: Attractive sector and security opportunities, particularly among residential mortgage-backed securities
Emerging Markets: EM GDP growth will remain subdued in 4Q19 and into 2020
Sector Outlooks
Global Rates and Currencies
The Federal Open Market Committee (FOMC) cut the Fed funds rate by 25 basis points (bp), citing global developments, growth uncertainties and muted inflationary pressures. Dissent among FOMC members makes easing more difficult but the majority still favors further cuts. We look for the ten-year U.S. Treasury yield to range between 1.50–1.90%, while strength in the U.S. dollar peaks out.
At its September meeting the European Central Bank (ECB) delivered a 10-bp rate cut, slightly less than expected, and announced a new round of corporate bond purchases (quantitative easing). Markets have priced a further 10 bp cut, from -60 to -70 bp. Despite President Draghi's characterization of a unanimous decision, nine of 25 members have expressed dissent with quantitative easing. We expect the ten-year German Bund yield to remain in negative territory and the euro to continue to trend weaker.
The Bank of Japan (BOJ) plans to re-examine developments at the October meeting. Potential developments include a continuation or extension of the commitment to keep rates low "at least through around spring 2020."
Investment Grade (IG) Corporates
IG spreads tightened 5 bp in September as the market shrugged off rising geopolitical risk, heavier than expected supply and weaker global economic data. The strength came from persistent demand among overseas investors, who must contend with negative yields in their domestic markets. The technical picture will remain positive heading into Q4. Despite the outperformance of the long end and BBB-rated credits, we still see value in the long end of the curve at these steeper levels. Given the current balance of risks in the market, however, we think spread upside is limited.
High Yield (HY) Corporates
September was a decent month for HY as it finished 20 bp tighter. Single-B-rated credits led, followed by BB credits. CCC-rated bonds took another hit as pressures intensified on more leveraged credits. The new issue market bounced back from a slow August to about $30 billion. A turnaround in the trade rhetoric seems the most obvious catalyst for risk appetites, but slowing global manufacturing may outweigh rhetoric. Current levels do not seem to offer sufficient compensation for the risks, so our bias is toward risk reduction.
Securitized Assets
Agency residential mortgage-backed securities (RMBS) recovered after the August rally, outperforming Treasurys as implied volatility declined and rates sold off. Spread levels remain attractive versus rates and credit, and should soften the impact of elevated refinancing. We expect performance will remain closely tied to interest rate volatility and directionality.
Performance of non-agency residential mortgage-backed securities (RMBS) will continue to be driven by housing market expansion and recovering mortgage-credit availability. Upside remains as credit availability becomes increasingly efficient, home ownership increases and the burgeoning millennial demographic engages. In our view, current spread levels imply a risk-adjusted, relative value advantage versus other fixed income alternatives.
We maintain our overweight to commercial mortgage-backed securities (CMBS) given continued strong fundamentals and positive commercial real estate growth. While a steady flow of new issuance could limit outperformance in the near term, we expect various parts of the CMBS universe such as select subordinated credit and interest-only paper to offer uncorrelated sources of positive returns.
The outlook for asset-backed securities (ABS) remains a function of broader risk sentiment, offering outperformance potential when market beta is negative and vice versa. While questions loom around subprime borrowers, U.S. consumers generally are strong. With the expectation that October ushers in a return of volatility and a degraded risk backdrop, we expect ABS to outperform.
Emerging Market (EM) Debt
EM GDP growth will remain subdued in 4Q19 and into 2020 as current consumption fails to offset sluggish investment and weakening exports. U.S.-China trade tensions are unlikely to be resolved before the 2020 U.S. presidential election. Commodity demand faces a headwind as China's economic growth model transitions from investment- to more consumerdriven. The slowdown of Chinese growth is structural. China will continue to support the economy via infrastructure spending and tax cuts. The trajectory of overall EM corporate credit metrics remain stable thanks to China's monetary/fiscal stimulus and conservative corporate financial policies. Monetary policy is likely to remain supportive as EM central banks continue to follow the lead of G10 policymakers.
IM988697
Past performance does not guarantee future results.
This commentary has been prepared by Voya Investment Management for informational purposes. Nothing contained herein should be construed as (i) an offer to sell or solicitation of an offer to buy any security or (ii) a recommendation as to the advisability of investing in, purchasing or selling any security. Any opinions expressed herein reflect our judgment and are subject to change. Certain of the statements contained herein are statements of future expectations and other forward-looking statements that are based on management's current views and assumptions and involve known and unknown risks and uncertainties that could cause actual results, performance or events to differ materially from those expressed or implied in such statements. Actual results, performance or events may differ materially from those in such statements due to, without limitation, (1) general economic conditions, (2) performance of financial markets, (3) interest rate levels, (4) increasing levels of loan defaults, (5) changes in laws and regulations, and (6) changes in the policies of governments and/or regulatory authorities.
Voya Investment Management Co. LLC ("Voya") is exempt from the requirement to hold an Australian financial services license under the Corporations Act 2001 (Cth) ("Act") in respect of the financial services it provides in Australia. Voya is regulated by the SEC under U.S. laws, which differ from Australian laws.
This document or communication is being provided to you on the basis of your representation that you are a wholesale client (within the meaning of section 761G of the Act), and must not be provided to any other person without the written consent of Voya, which may be withheld in its absolute discretion.