We continue to believe that risk-assets are worth the discomfort of uncertainty.
Equity market weakness in September was broad based, ending an otherwise solid third quarter for stocks on a sour note. The consolidation, which some viewed as overdue and potentially even healthy, has been followed by a strong October showing in which the S&P 500 briefly made a run at its all-time high before falling back. This month's rally has been most pronounced in the U.S. small cap space, which tends to outperform in the early upswing of recovery when economic growth is in the early innings of improving. The data are clear, the recession – the shortest on record – is over. But this has been a highly unusual economic contraction and the recovery is shaping up to be equally abnormal. What is sure to be different, however, is the time over which it unfolds. The recent market action seems to reflect a growing concern in September that the economic rebound was on the brink of being derailed or at least delayed, while the October gains express more optimism. Given the mixed bag of economic data and election related news flow, investor perplexity is understandable.
National polling data have shown at least a 5% point lead for presidential candidate Joe Biden since late August, with the latest data reaching a 7% lead. We'll be watching polls up to the evening before the election; if Biden maintains the current lead, historical analysis would predict a decisive election result. However, what may be of even more interest than the presidential election are the senate races. If the democrats fail to capture a majority in the senate, the fiscal policy plans Biden has talked about, which are key to his growth agenda, may not be politically feasible. With murkier data on the senate race outcomes, that agenda becomes a toss-up in our view. The most pro-growth agenda will be produced by a sweeping, "blue wave" Biden win and democratic senate, or by a Trump reelection with a Republican senate. However, from an economic perspective, the primary point of confusion continues to be the state of the COVID-19 pandemic, as the spread of SARS-CoV-2 in the United States and globally has accelerated over the last month (Figure 1).
Tactical Indicators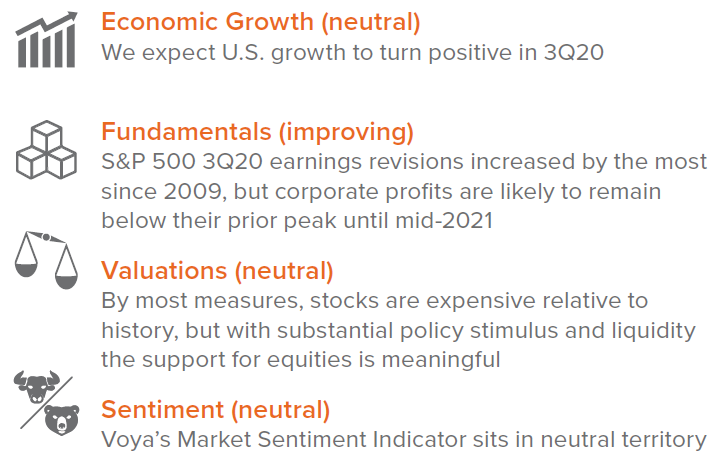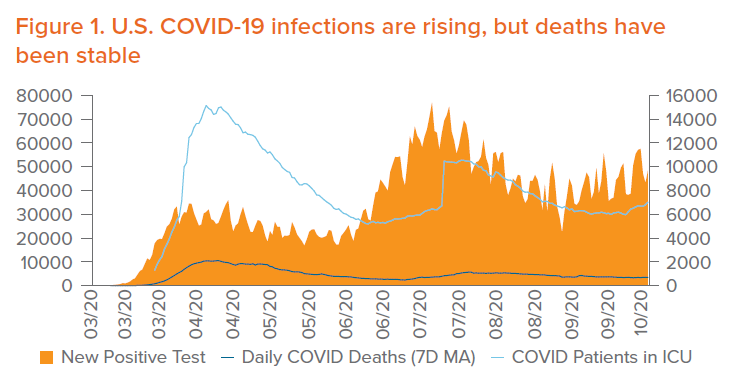 Source: Centers for Disease Control and Prevention, as of 10/14/20.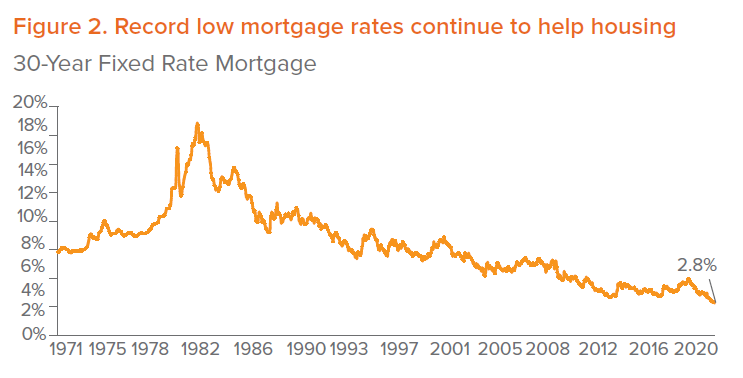 Source: Federal Reserve Bank of St. Louis, as of 10/15/20.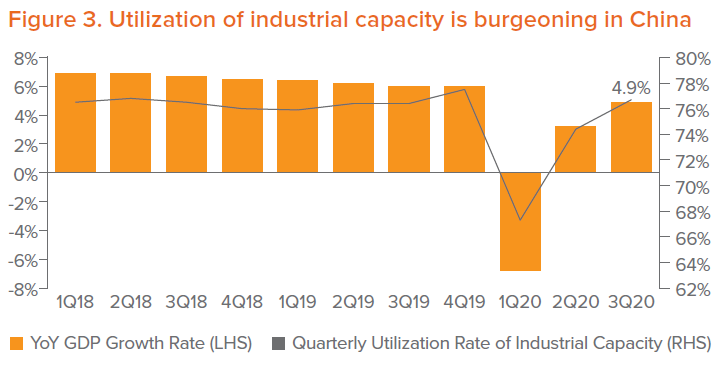 Source: Bloomberg, Voya Investment Management, as of October 22, 2020.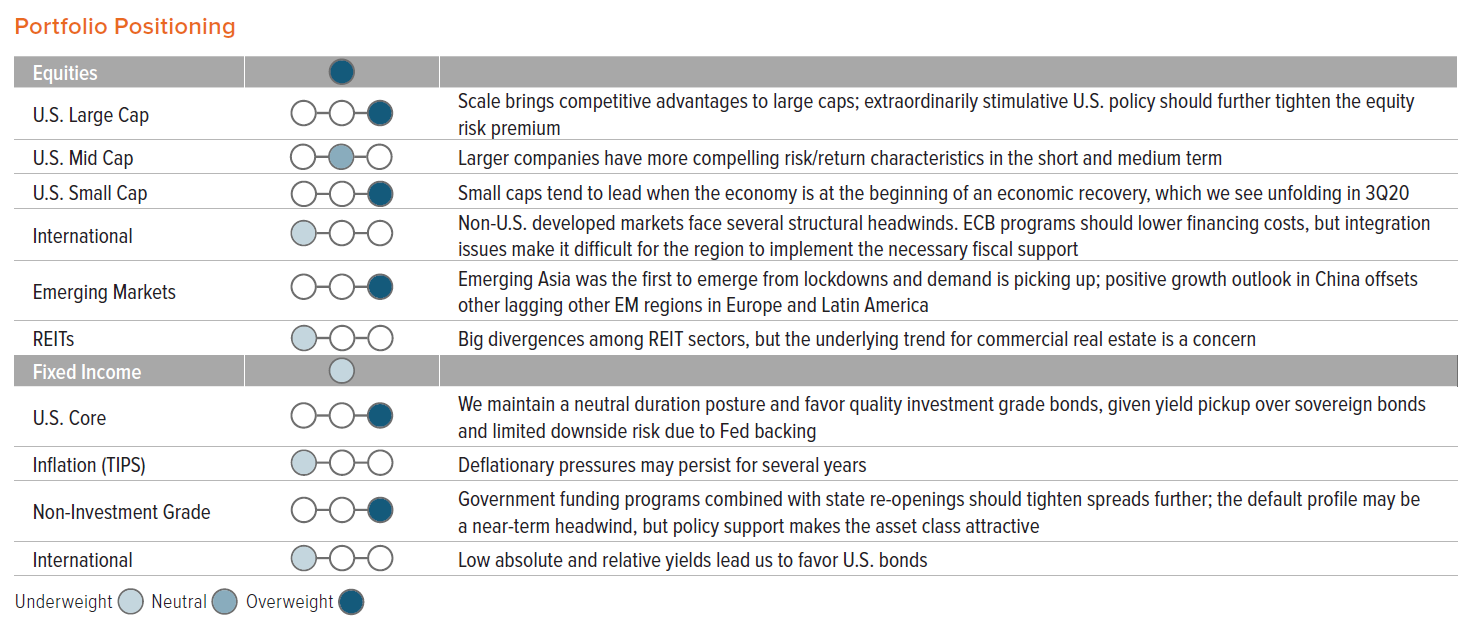 Investment Outlook
While COVID-19 infections are on the rise, a lot of progress has been made since the first wave of infections. Much more effective treatments are available, resulting in a significantly lower death rate; more people have been infected and recovered, which lowers the probability of transmission; and we are closer than we were to finding an effective vaccine. Still, the timing remains uncertain as to when we decidedly turn the corner and economic activity resumes unimpeded by government imposed public health safety measures.
Despite the far from ideal economic backdrop, we continue to believe that investors will be rewarded for holding a risk-on posture. The significance of the change in the Federal Reserve's objective is difficult to understate. Its explicit commitment to reducing employment shortfalls and inciting inflation amounts to a meaningful regime shift in monetary policy that makes it less risky to own stocks. The Fed has the means — plenty of room on its balance sheet for additional asset purchases — and Fed officials are motivated to act; Chairman Powell recently stated that policy risks are asymmetric, and the Fed will err on the side of intervention. In addition to this comforting message, the real fed funds rate is -1.5% and the government bond market is trading at yields so unenticing, it's difficult to be anything but overweight equity and credit risk.
From a fundamental standpoint, the recovery has slowed, but we don't think there will be a retreat. The labor markets are still soft. Companies hindered by social distancing measures haven't hired back many, if any, employees. This has led to droves of individuals being reclassified from temporary to permanently unemployed. Weekly initial unemployment claims have fluctuated around 800,000 for about three months now, showing a loss of the momentum achieved in the summer months. Nevertheless, consumer spending has been surprisingly resilient. September retail sales notched their fifth straight month of positive growth and significantly outperformed expectations. Gains in retail were driven by increased clothing and auto sales; the latter have been aided by extraordinarily low rates on car loans.
Housing also continues to be helped by record low rates (Figure 2) and wide availability of credit. September housing starts were a little less than expected but building permits, a leading economic indicator, rose 5.2% to a 14-year high of 1.55 million. The permits increase suggests housing should remain strong into the end of the year. Although many companies and individuals face very difficult times, we think those that are fine will continue to hold consumption afloat and help keep output above recessionary levels.
A fiscal policy mistake remains a risk, but everyone seems to want stimulus; so we think markets will tolerate the bureaucratic logjam with the idea that delay will be made up for in size. When it does come, we want to be in the U.S.; we believe that unemployment assistance payments will be immediately injected into the system, hiring will resume. What's more, we expect a revival of business investment to drive growth above trend and trigger a cyclical stock rally, which we think will play out best among small caps. We also like U.S. high yield. Corporate balance sheets are strong enough that we don't fear a pervasive pickup in defaults, and spreads are wide enough for us to venture out of investment grade. However, we prefer to remain up quality, mostly BB segment, and think active management has a better than normal environment to capture alpha through clever security selection.
Portfolios are further geared to a rebound in growth through an overweight to emerging markets (EM) equities. The U.S. economy just posted its largest fiscal deficit since 1945, swelling the debt and setting up the U.S. dollar to weaken against currencies of the faster growing developing economies, which would be a tailwind for EM assets. We expect EM equities will be driven by Asian stocks, particularly China. With several data points and indicators showing continued acceleration in Chinese business activity, such as non-manufacturing PMIs jumping to seven-year highs and rising industrial capacity utilization (Figure 3), the country appears to be experiencing a remarkable V-shaped rebound in growth that should bode well for its local equity market and have positive effects that spill over to Asian neighbors.
IM1386592
Past performance does not guarantee future results.
This commentary has been prepared by Voya Investment Management for informational purposes. Nothing contained herein should be construed as (i) an offer to sell or solicitation of an offer to buy any security or (ii) a recommendation as to the advisability of investing in, purchasing or selling any security. Any opinions expressed herein reflect our judgment and are subject to change. Certain of the statements contained herein are statements of future expectations and other forward-looking statements that are based on management's current views and assumptions and involve known and unknown risks and uncertainties that could cause actual results, performance or events to differ materially from those expressed or implied in such statements. Actual results, performance or events may differ materially from those in such statements due to, without limitation, (1) general economic conditions, (2) performance of financial markets, (3) interest rate levels, (4) increasing levels of loan defaults, (5) changes in laws and regulations, and (6) changes in the policies of governments and/or regulatory authorities.
The opinions, views and information expressed in this commentary regarding holdings are subject to change without notice. The information provided regarding holdings is not a recommendation to buy or sell any security. Fund holdings are fluid and are subject to daily change based on market conditions and other factors.
This document or communication is being provided to you on the basis of your representation that you are a wholesale client (within the meaning of section 761G of the Act), and must not be provided to any other person without the written consent of Voya, which may be withheld in its absolute discretion.