Entering the first half of 2020, our portfolios are positioned to reflect six key themes.
Political Uncertainty: Slower global growth has exacerbated ongoing tensions arising from the increasingly unequal distributions of income and wealth, fueled in part by global trade and central bank policies. The resulting rise in populism across the political spectrum creates uncertainty that will stifle near-term confidence and business investment.
Central Banks: Fear of limited conventional monetary capacity will extend the current accommodative stance in pursuit of elusive inflation goals. Increasing concerns about the attendant costs from prolonged negative policy rates will lead central banks to favor other forms of unconventional policy.
Fiscal: The growing belief in the ready willingness to employ additional fiscal capacity, in response to any slowing in growth, fortifies confidence and provides downside protection. Fiscal expansion will modestly support global growth.
Growth: Consumer resilience globally will continue to insulate the services sector from lingering manufacturing weakness and provides a floor to growth. While the lagged benefits of global monetary policy easing supports growth, the upside will be uneven and constrained by ongoing political and business uncertainty.
Inflation: While price inflation remains tame, diminishing spare capacity (of appropriately skilled labor) and populist forces, will support wage growth. Limited ability to pass through higher costs poses a threat to corporate profit margins.
Markets: Improving global dynamics will prove supportive to spread product. Given relatively limited upside from current asset valuations, disparate outcomes in growth favor idiosyncratic opportunities over broad market risk taking.
Returns, Spreads and Yields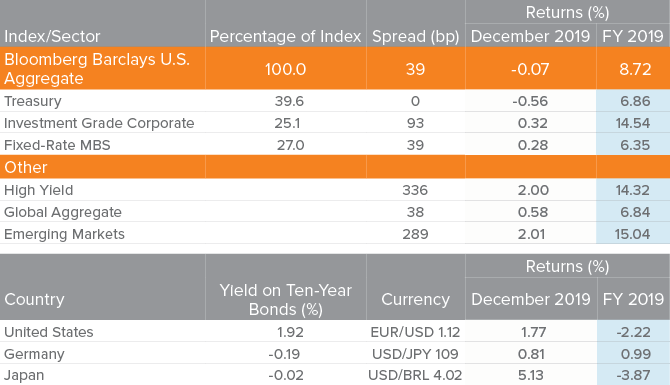 Source: Bloomberg, JPMorgan, Standard & Poor's. All spreads are to U.S. Treasurys and are option-adjusted except for emerging markets, which are nominal. All returns are total returns including dividends, expressed as percentages, in U.S. dollars.
Bond Market Outlook
Global Rates: Benign inflation, negative global rates, and declining recession risk to keep U.S. rates range bound
Global Currencies: U.S. dollar weakens against euro, emerging market currencies
Investment Grade: Further spread compression limited, but select value remains in long end of credit curve, BBBs vs single-As
High Yield: 2019 performance leaves little upside potential, energy and CCCs still lag
Securitized: Agency RMBS attractive relative to other high grade assets; securitized credit sectors still offer attractive opportunities
Emerging Markets: EM to continue to be supported by accommodative global central banks, while EM GDP growth expected to accelerate in 2020
Sector Outlooks
Global Rates and Currencies
While certain core underpinnings of the U.S. economy have eased, we note that the slowing is buffered by encouraging dynamics. Although the all-important manufacturing sector has been disappointing in recent months, most indicators are trending sideways, not downward. Furthermore, global indicators have been trending higher, suggesting that a recovery could be forthcoming. And while consumption has also slowed, higher savings rates have accounted for roughly half of the retracement.
In terms of monetary policy, the bar for the Federal Reserve to act is relatively high, with the odds still in favor of cuts versus hikes this year. We expect to see the Fed more focused on the potential for an inflation catch-up strategy and funding operations as bank reserves rebuild.
The weight of low bond yields globally will keep the 10-year yield in the 1.60 - 2.20% range. Holding the 10-year yield below 1.50% would require ongoing stress to the U.S. economy, a scenario we believe is unlikely.
In the Eurozone, overall growth continues to show signs of stabilization. While European Central Bank Chair Christine Largarde recently reaffirmed the ECB's dovish stance and acknowledged the stabilization, she noted that inflation forecasts are still short of the ECB's goal. The ECB will also be conducting its own strategic review with more consideration being given to housing related costs, which could boost the inflation calculation.
Investment Grade (IG) Corporates
Fundamentals are in reasonable shape as we believe earnings and revenue growth have broadly bottomed, thus primed for a rebound in 2020. While leverage remains elevated and bears watching, much of the growth continues to be driven by single-A, less levered issuers, while leverage has trended sideways for riskier, BBB issuers whose management teams have become increasingly focused on deleveraging plans and balance sheet repair. Technicals will provide a tailwind for the market, as domestic demand remains robust and low global yields coupled with declining hedging costs will lead to an increase in foreign flows. Furthermore, new issuance declined in 2019 and is expected to decline further in 2020. Overall, improving global growth dynamics will be supportive of spreads. Despite the outperformance of the long end and BBB-rated credits, we still see value in the long end of the curve at these steeper levels. Given the current balance of risks in the market, however, we think spread upside is limited.
High Yield (HY) Corporates
Credit fundamentals are reasonable as mixed data is showing some early signs of stabilization in manufacturing. Earnings growth has slowed but we expect a recovery in 2020. Additionally, credit statistics remain stable outside Energy given intentional leveraging and other typical late-cycle behavior has been limited. Technicals remain well-supported as a rebound in issuance in 2019 was well-absorbed and flows into the asset class were robust. Valuations look rich, but with the absence of a recession in 2020, the next market-wide default cycle remains beyond the horizon. We continue to prefer single-B risk, with select opportunities among higher-rated CCC issuers. Given the continued strength of the U.S. consumer, we prefer domsetically-oriented sectors, as well as sectors that will benefit from the upcoming election cycle and Olympics. We maintain an underweight to Energy given our bearish view on natural gas and belief that the recent oil rally was overdone.
Securitized Assets
Agency mortgages ended the year on a strong note with most of the performance occurring in the fourth quarter, as volatility fell and rates sold off. From a technical perspective, spreads are relatively attractive despite the continuation of the Federal Reserve run-off, as multiple sources of demand remain. Fundamentally, prepayment concerns have begun to ease with Treasury rates trading sideways as of late. Going forward, mortgage performance will remain closely tied to interest rate volatility an directionality.
Entering 2020, amidst signs of improved economic growth, especially outside the United States, we believe this positive outlook will prove supportive to spread sectors. We also believe geopolitical and monetary policy uncertainty, coupled with somewhat rich valuations across many sectors, will limit potential upside.
Reflecting back for context, 2019 enjoyed a glorious run for risk, led by equities, but with duration holders also participating, markets were left more expensive entering the year. Securitized Credit did not participate to the same degree, leaving us with a favorable set up for 2020, especially when filtering for fundamentals. A tight labor market and low rates are of particular benefit to key collateral exposures such as the U.S. housing market (think CRT and non-agency RMBS), commercial real estate (think CMBS) and the consumer (think certain ABS sub-sectors).
Falling out of that, we see opportunities in Non-Agency RMBS, CMBS and ABS as an attractive source of durable yield with low volatility. We also expect new opportunities to emerge, as securitization technology will continue to offer new risks and attachment points to take risk in various markets. Lastly, and more tactically, CLOs, after a year of lagging performance, again look attractive, but we expect the sector to be a source of volatility in the long run.
Emerging Market (EM) Debt
Emerging markets GDP growth is expected to accelerate in 2020, albeit below the long-term average. Global trade balances are showing signs of bottoming, fiscal policy and social spending in response to social unrest should help drive growth and consumption. China's policy mix will focus on potential downside risks and preserving healthy domestic growth environment. Meanwhile, EM central banks may show policy divergence as their economies take on different inflation paths and improving global growth outlook, coupled with conservative financial policies should help EM corporates maintain their healthy credit metrics.
Past performance does not guarantee future results.
This commentary has been prepared by Voya Investment Management for informational purposes. Nothing contained herein should be construed as (i) an offer to sell or solicitation of an offer to buy any security or (ii) a recommendation as to the advisability of investing in, purchasing or selling any security. Any opinions expressed herein reflect our judgment and are subject to change. Certain of the statements contained herein are statements of future expectations and other forward-looking statements that are based on management's current views and assumptions and involve known and unknown risks and uncertainties that could cause actual results, performance or events to differ materially from those expressed or implied in such statements. Actual results, performance or events may differ materially from those in such statements due to, without limitation, (1) general economic conditions, (2) performance of financial markets, (3) interest rate levels, (4) increasing levels of loan defaults, (5) changes in laws and regulations, and (6) changes in the policies of governments and/or regulatory authorities.
The opinions, views and information expressed in this commentary regarding holdings are subject to change without notice. The information provided regarding holdings is not a recommendation to buy or sell any security. Fund holdings are fluid and are subject to daily change based on market conditions and other factors.
©2020 Voya Investments Distributor, LLC · 230 Park Ave, New York, NY 10169 · All rights reserved.