Risks are rising: the Fed must thread a narrowing needle-eye to stop inflation without causing a recession. We've lightened equity positioning and reduced risk within fixed income segments of portfolios.
It was a bruising first half of the year for financial market participants, with U.S. and global stocks entering bear market territory while core bonds, generally considered "safe-haven" assets, declined by double digits. Russia's war on Ukraine continues to warp market dynamics, and inflation is running at the highest level in over 40 years, which adds more than a pinch of salt to a gaping real return wound. Unfortunately, pain has not provided clarity; the prevailing market narrative has shifted again with further deterioration in the global macro backdrop. From visions of transitory inflation to views of a prolonged period of Federal Reserve rate hikes, the consensus is now that some price pressures will abate primarily due to a rapid slowdown in demand, which will force the Fed to quickly reverse course and cut rates next year.
Weakening economic growth has not emerged out of nowhere. U.S. real GDP declined by 1.5% in 1Q22 and is expected to be negative again in 2Q22, which would meet the technical definition of recession (two consecutive quarters of declining GDP), but may not be officially classified as such.* Regardless, the pullback in output reflects a substantial fiscal drag after massive quantities of pandemic-related government spending. This pullback has resulted in weakening inventory investment and net exports, which have been hampered by a persistently stronger U.S. dollar. The new orders component of the ISM Manufacturing Purchasing Managers' Index (PMI) points to fading activity in goods sectors. Consumer spending, the foundation of the U.S. economy, remains healthy, with strong household balance sheets and rising wages, but it is showing signs of strain. Whether spending cracks depends on the extent to which excess demand for labor can cushion the blow from tightening monetary conditions.
Tactical indicators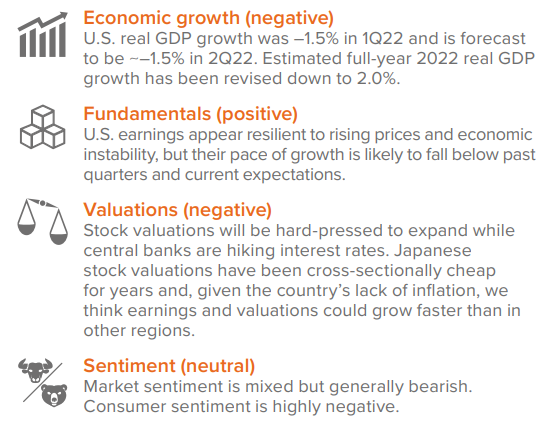 Figure 1. By some measures, consumer confidence is nearing all-time lows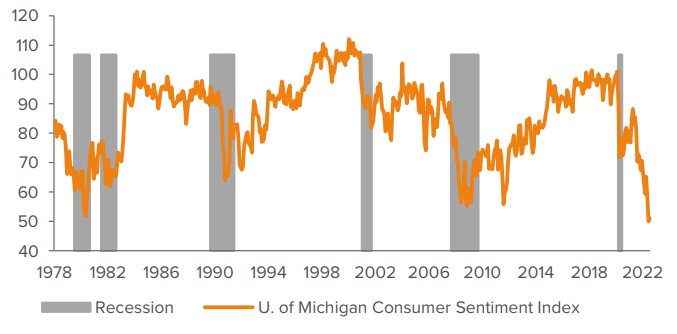 Source: Bloomberg, as of 7/18/22.
Figure 2. Equity markets have repriced; forward price earnings (PE) multiples have dropped by nearly 40%
S&P 500 index, 12-month forward PE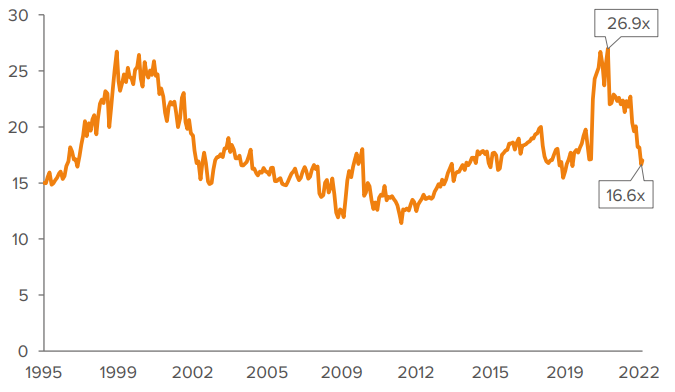 Source: Bloomberg, as of 7/18/22.
Figure 3. Natural gas prices have skyrocketed in Europe
Netherlands Title Transfer Facility: natural gas one-month forward price in euros per megawatt hour
Source: Bloomberg, as of 7/18/22.
* The National Bureau of Economic Research maintains an official chronology of U.S. business cycles. Its decisions are not formulaic but emphasize that a recession involves a significant decline in economic activity that is spread across the economy and lasts more than a few months.
Portfolio positioning


Investment outlook
Direct fallout from the pandemic — infections, hospitalizations and deaths — has faded, but collateral damage continues to be inflicted through other means. With intractable inflation holding well above the comfort zone, central banks will resume withdrawing liquidity and further the global growth slowdown, which we expect will extend well into 2023. Higher prices, tightening money supplies and geopolitical tensions have cooled the economic climate everywhere, and these interrelated headwinds are unlikely to dissipate soon. In the United States, massive shortages of goods, a production ramp-up and a consumer spending shift toward services have left aggregate inventories well stocked, which doesn't bode well for new orders of durable goods.
After a torrid runup, housing looks shaky, as home affordability has plummeted due to the sharp rise in rates and still-low supply. Consumer spending also is decelerating, and some measures of confidence are near all-time lows (Figure 1). Consumers' personal balance sheets and incomes are strong, however; the U.S. labor market remains a bright spot, adding 372,000 jobs in June and holding the unemployment rate near a half-century low of 3.6%. This strength should give the Fed confidence to move forward with its next 75-basis-point (bp) rate increase at the end of July, putting the fed funds rate on track to reach 3% by year-end.
On the one hand, it's encouraging that people are not only holding onto their jobs, but payrolls are increasing. On the other hand, financial markets may view this good news as bad news, because it increases the probability and magnitude of additional rate increases, leading to higher costs of capital and tighter financial conditions. The pessimists posit that this will build up and break the back of an already feeble economy running on fumes, cascading into a crisis. Although our outlook is not that dour, we acknowledge these risks and realize that the Fed needs to thread an increasingly narrow needle. As a result, we've lightened positioning within equities and taken down risk within the fixed income segment of our portfolios.
While the downdraft has been painful, it's somewhat encouraging that expectations and prices have become better aligned to the less rosy environment. Earnings revisions have come down meaningfully as analysts have recalibrated their models, and equity markets have repriced, with the 12-month forward PE on the S&P 500 dropping from over 26x at the start of 2021 to 16.6x today (Figure 2). In our view, earnings probably have more corrections to come, and multiples won't rise until inflation decidedly trends down. We still think the U.S. will retain a stability premium relative to the rest of the world, and we believe larger firms at home will maintain better margins than most as S&P 500 companies continue to more effectively pass through higher costs.
In Europe, the situation is similar but mostly worse: growth is also slowing, but the inflation bite is more severe. They don't have the same wage pressures, but energy prices have skyrocketed, with natural gas up 700% (Figure 3) since the start of last year. 1 Yet the European Central Bank and fiscal policymakers are constrained by the weakest links in the Eurozone periphery, and this limits their ability to manage the demand side of the economy. Japanese stocks, however, look more attractive given yen weakness, which should boost exports and earnings. Because Japan doesn't have domestic inflation issues, the BoJ is not raising rates or taxes, potentially creating further benefits for stocks.
Reducing low-quality credit exposure within fixed income has been helpful, as spreads have widened meaningfully. Early in the equity market selloff, high yield held up well, but these cross-asset betas have readjusted closer to historical norms given continued weakening in macro fundamentals. Because we don't see a near-term reversal in these trends, we maintain our underweight position.