After a stormy period of rising rates, insurance companies have a real opportunity to increase portfolio book yield or future carry.
With the Federal Reserve's latest 0.75% rate hike, the fed funds rate is near a 15-year high and the 2-year Treasury yield has topped 4%. Bondholders have undoubtedly felt the pain of rising Treasury yields and widening credit spreads.
But on the bright side, it could've been worse.
One of my big fears prior to the pandemic was that we would get a credit cycle before a rate cycle. In that scenario, insurance companies would have felt years of book yield pressure — new-money rates would have lagged portfolio book yields, but insurers wouldn't have been able to add in the higher investible yields that could buffer the balance sheet ahead of a turn in the credit cycle. As I said, it could have been worse… much worse.
The current environment also comes with a silver lining. While there are more rate hikes to come, we believe most of the pain is likely behind us, as the Fed indicated it will likely reach the end of its hiking cycle in 2023. As the chart below shows, that leaves us with fertile ground to capture compelling risk-adjusted yields. Many insurance company balance sheets have careened from large unrealized gains to unrealized losses. That shift means that marginal purchases can be made at a higher book yield than the prevailing market yield for the risk profile of an insurer's current portfolio.
That escalated quickly
US yields by credit quality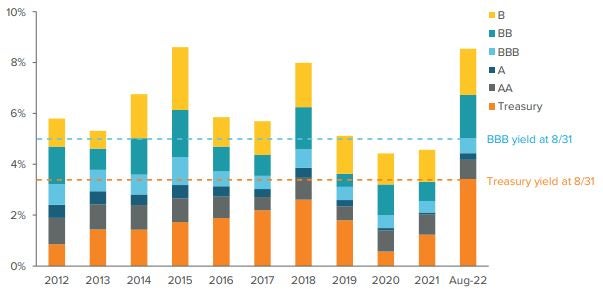 As of 08/31/22. Source: Bloomberg Index Services Limited, Voya Investment Management. Treasury: Bloomberg US Treasury Index; yields by credit quality: Bloomberg US Corporate Aa (AA), A (A) and Baa (BBB) subindices, Bloomberg US High Yield Corporate 2% Issuer Cap Ba (BB) and B (B) subindices.
After a stormy period of rising rates, we see a real opportunity to increase portfolio book yield or (for more total return–focused insurance investors) to increase future carry.
Insurance investors have six levers they can pull to generate returns: credit, duration, structure, liquidity, equity/alts and leverage. Whichever levers insurers choose to use, one thing is now clear: a lack of spread and yield is no longer a headwind.