We expect inflation to ease despite a surprisingly high CPI reading for August, allowing the Federal Reserve to temper its aggressive pace of rate increases.
Inflation is likely to be the driving market force through mid-2023 at least. The August US Consumer Price Index (CPI) numbers, though somewhat higher than expected, don't change our outlook for inflation or Fed policy, and we're looking for both to moderate. We anticipate a gradual easing in inflation that should allow the Fed to pause rate hikes early next year. The latest CPI report revealed that prices for shelter rose 0.7% during August and boosted core CPI, but most of the other components were in line with expectations.
If a Fed pause in rate hikes depends on inflation, cutting rates next year will depend on labor. For now, the job market remains strong. Consumers have benefited from full employment and rising wages, with excess savings steady, and debt delinquencies remain at low levels. While corporations remain healthy as well, signs of a gentle downshift are emerging. Industry fundamentals are still positive but not quite as energetic as they were just a few months ago. The aggressive Fed actions to date, with more moves likely on the horizon, increase the likelihood that economic slowing will intensify (Figure 1).
Figure 1: Historically, higher short-term yields have led to slower growth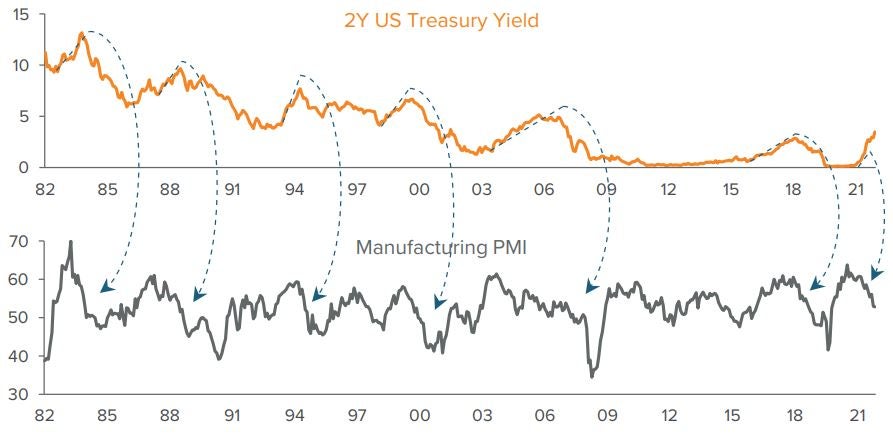 As of 07/31/22. Source: Federal Reserve, Institute for Supply Management, Voya Investment Management.
The upshot of this economic environment is that fixed income assets are becoming more attractive. US Treasury yields are at their highest point in more than a decade, with some segments of the bond market offering attractive return opportunities. Corporate bond yield spreads are somewhat higher than their long-term averages but are unlikely to rise dramatically from here unless there is a severe recession. Meanwhile, rising rates have nearly eliminated prepayment risks for mortgage investors. From a portfolio perspective, we expect the correlation between stocks and bonds to decline as inflation moderates. Therefore, we believe this is an opportune moment to increase portfolio allocations to fixed income.
Bond Market Outlook
Global rates: Rapidly rising international interest rates are increasing the odds of recession across developed and developing economies.
Investment grade corporates: Bond volatility remains high, keeping spreads at lofty levels, but barring a more serious recession we expect spreads to be constrained.
High yield corporates: Although spreads are increasingly attractive, they're roughly in line with long-term historical averages, and likely have further to widen.
Senior loans: Fundamental credit concerns remain foremost, with sector and ratings dispersion likely a continued theme moving forward.
Securitized assets: Non-agency residential mortgage-backed securities (RMBS) seem well positioned to continue outperformance, with issuance light and credit fundamentals remaining supportive.
Emerging markets (EM): Despite recent outperformance, the global backdrop continues to challenge EM assets. Valuations are attractive but come with a fair amount of risk.
Rates, Spreads and Yields
Fixed income sector total returns as of August 31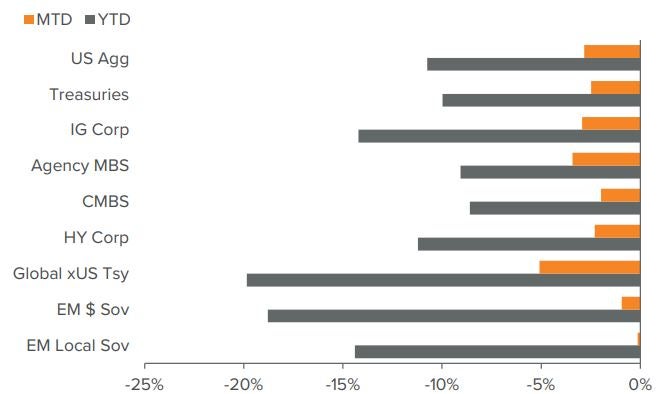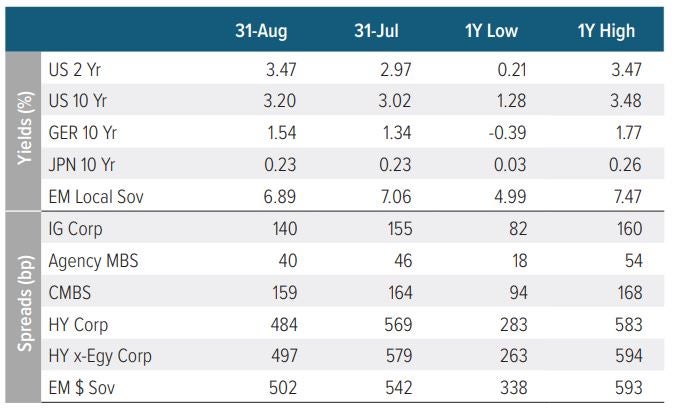 As of 08/31/22. Source: Bloomberg, J.P. Morgan and Voya Investment Management. Past performance is no guarantee of future results.
Sector outlooks
Global rates and currencies
The rise in interest rates is a global phenomenon, with 10-year rates in the United States and Germany, for example, both rising by nearly 2% from the beginning of the year. The rate spread between the two markets has been remarkably stable, virtually unchanged at about 170 basis points (bp). This stable spread points to a global rise of inflation and rates due to regionalization of trade, the economic rebound following Covid, the effects of broken supply chains and the spike in energy costs.
Despite the stable 10-year US–Germany rate spread, the US dollar index has remained strong, up more than 14% year to date. This dollar strength is a hindrance not only to the US economy but also for those of emerging markets. We expect this currency strength to endure for some time, due primarily to aggressive Fed policy. Although a rising dollar complicates the economic outlook, over time the currency could work to lower inflation.
Investment grade (IG) corporate bonds
Rate volatility remains elevated, putting pressure on IG spreads. The Fed's move away from forward guidance and towards a more data dependent stance should keep volatility at higher levels. As illustrated in Figure 2 below, bond volatility, as represented by the MOVE index, and corporate bond spreads have been closely aligned. Rising yields have led to outflows from IG, though spreads are supported by yield-based buying. In terms of supply, August's issuance of $111 billion was well above expectations as lower rates and tighter spreads attracted issuers. The issuance was reasonably well absorbed, with investors preferring higher quality issuers. September supply looks set to continue at a brisk pace with nearly $100 billion expected, leading to large dealer inventories. We think spreads have yet to top and remain concerned that dealers will not be able to support the IG market in the event of a selloff.
Figure 2: The relationship between corporate bond volatility and spreads has been consistent
MOVE Index vs. U.S. Spread: 01/01/2021 — 08/31/2022
As of 08/31/22. Source: Bloomberg Index Services Limited, BofA, Voya Investment Management. The MOVE Index measures Treasury bond market volatility based upon the prices of one-month Treasury options. Past performance is no guarantee of future results.
High yield corporate bonds
Despite the recent widening, high yield corporate spreads are slightly wider than their historical averages and we believe have room to widen further. There is also the growing possibility of a more significant recession that could lead to a more material selloff. Earnings growth has been slowing and profit margins are retreating, though from quite high levels. New issuance is light and we see spreads remaining stable for the time being.
Senior loans
The senior loan market put in another great month, rising 1.54% following July's 2.14% gain. As is typical for the peak vacation month, new issue loan supply issuance in August was relatively light at $5.8 billion compared to the monthly average of $22.6 billion year to date. Issuance of collateralized loan obligations (CLOs) was light, about 35% below average. Default activity picked up during the month, with three Index issuers defaulting, increasing the trailing 12-month average to 60 bp, but still well below historical averages.
A key focus in the near term is the resumption of new issue supply, which has already been active through early September. Thus far, the uptick in primary market activity has not had a material impact on secondary trading levels. Fundamental credit concerns remain foremost, with sector and ratings dispersion likely a continued theme moving forward. Given the uncertainty in the economic backdrop we will continue to closely assess our credit selection and positioning in the near term.
Securitized assets
In the non-agency residential mortgage-backed securities (RMBS) market, spreads have been volatile for most of the year but the outlook is now favorable. Issuance recently dropped and slowing originations have lightened the pipeline looking forward. Spreads tightened substantially during the month but remain relatively wide. With credit fundamentals remaining supportive, we expect outperformance to continue.
The CLO space is a different story. Despite a slightly positive performance for the month, we believe the risk of CLO borrower defaults is higher than other securitized sectors, as the number of CLO warehouses (short-term lending facilities established by lenders to fund initial CLO investments) is historically elevated. Although secondary supply is expected to be muted, we are less optimistic spreads will tighten from today's relatively wide levels.
Among asset-backed securities (ABS) our outlook remains positive, with elevated yields and continued sponsorship. Most recently, the curve flattening has significantly improved yield/ spread profiles and is driving more attention from income-focused buyers. Resilient underlying collateral performance and the buoyant labor market are providing a strong foundation for stable prices. Fundamentals should prove supportive in the medium term, as seasonality keeps most payment performance metrics (DQs, defaults, recoveries, prepayment rates) at or inside of pre-covid levels.
Among commercial mortgage-backed securities (CMBS), volatility was high, driving down performance last month; we expect that turbulence to limit the asset class' ability to outperform. Future supply is expected to be on the light side, however, which should limit the risk of underperformance. What's more, there are few signs of coming distress.
Emerging market debt
EM bonds put in a good month, with spreads on the major indexes tighter. The rally that began in July continued into the first half of August before giving back some of the gains into the close. Despite recent outperformance, continued inflation pressures, declining growth expectations, tightening financial conditions and a strong US dollar remain challenges for EM assets. Valuations are attractive but come with a fair amount of risk. EM fundamentals have not rebounded from the July weakening. Chinese economic activity continues to face significant challenges, evidenced by PMIs remaining in contractionary territory, a flare-up in Covid lockdowns and underwhelming GDP stimulus measures.