Stable interest rates, low inflation and near-trend growth point to continued equity performance and moderately higher Treasury rates.
Central Banks vs Inflation
Central banks around the world have waged a successful campaign for the past few decades to tame inflation. World inflation averaged 18% per annum from 1979–1999, but is now down to 4%. Persistently low inflation seems to be part of a globalizing world economic system, where vigilant central banks, outsourcing and import competition keep inflation low. Other structural drivers of disinflation include labor saving innovations and the sharing economy, while demographics are still creating downward price pressure, as is the excess supply of savings in the world economy.
Why It Matters Now
Inflation rates are expected to remain below target over the short term at least. Market expectations are for the maintenance of accommodative monetary policies with the U.S. market pricing in the possibility of a fed funds cut by spring 2020. Stable interest rates and slowing-but-near-trend growth rates are supportive of continued equity performance. Upside surprises to growth or inflation have the potential to cause broader market volatility. Upside growth risk is especially attenuated in the United States, given market expectations for a rate cut.
Stable interest rates, low inflation and slowing-but-near-trend growth rates argue for continued equity performance and moderate rises in Treasury rates. Risks to the outlook are upside surprises to growth (more likely) or inflation (less likely), though both have the potential to cause broader market volatility as they are absorbed. Upside growth risk can cause some temporary market agita in the United States given expectations for a rate cut. In the short run, low inflation rates raise the risk of deflationary shocks, especially in the Eurozone and Japan. What's more, they add uncertainty over the timing and impacts of quantitative tightening and prolong a somewhat sluggish global economy.
How We Got Here
Acceptance of a "New Normal" of low inflation/slowed growth has taken hold. G-3 trend inflation has been below target consistently for 20 years, with outright deflation recorded in the past 10 years. Similarly, due to demographic factors, trend growth rates have fallen over the past decade. The combination of low inflation/deflation/slow growth gave rise to quantitative easing (QE) policies as interest rates were cut to zero. Despite these unconventional monetary policies, G-3 inflation is still well below the 2% target commonly used by central banks. While growth is slowing, recessions in 2019–20 still seem unlikely.
Policy Outlook Remains Accommodative but how will the Great QE Experiment End?
Actual inflation rates and market-based measures of expected inflation in the G-3 stubbornly run below the 2% target rate of each area. The Federal Reserve and other central banks have been surprised by the seeming break between low unemployment rates and inflation, in a Phillips curve-type analysis. As a result, the Fed, the European Central Bank and the Bank of Japan are all still accommodative, given ongoing concerns over deflation risk and stumbling growth rates.
While accommodative G-3 policy stances have recently calmed markets, the question remains how will this experiment end? Will central banks get their houses in order in time to combat the next recession? Longer term, this is something we will be closely monitoring.
After a turbulent end to 2018, accommodative policy in Europe, Japan and the U.S. has calmed markets
Negative shadow rates signal easy monetary policies in the Eurozone and Japan

Source: Bloomberg, Voya IM as of 04/15/2019.
Low fed funds rate says U.S. policy is still accommodative

Source: Bloomberg, Voya IM as of 04/15/2019.
Shadow rates utilize developments in interest swap markets to assess the impact of unconventional monetary policies and express them as an interest rate measure equivalent to the risk-free policy.
Given the risk profile of their balance sheets and current economic conditions, the BoJ and ECB will have a very difficult time unwinding without significantly exacerbating market volatility
The Legacy of QE: Magic Bullet or Ground Zero?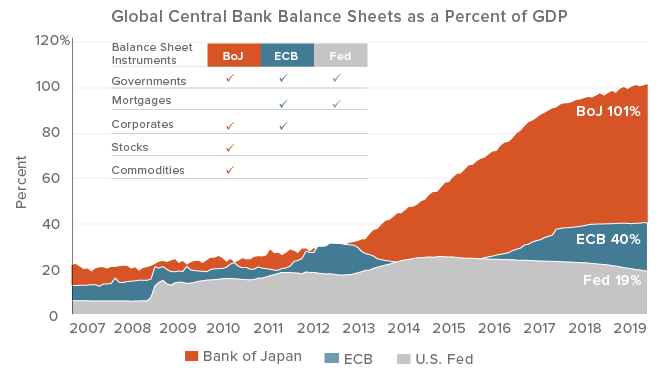 Source: Bloomberg, Bank of Japan, European Central Bank, U.S. Federal Reserve and Voya Investment Management. As of February 28, 2019.
Disclaimer
Voya Investment Management has prepared this commentary for informational purposes. Nothing contained herein should be construed as (i) an offer to sell or solicitation of an offer to buy any security or (ii) a recommendation as to the advisability of investing in, purchasing or selling any security. Any opinions expressed herein reflect our judgment and are subject to change. Certain of the statements contained herein are statements of future expectations and other forward-looking statements that are based on management's current views and assumptions and involve known and unknown risks and uncertainties that could cause actual results, performance or events to differ materially from those expressed or implied in such statements. Actual results, performance or events may differ materially from those in such statements due to, without limitation, (1) general economic conditions, (2) performance of financial markets, (3) interest rate levels, (4) increasing levels of loan defaults (5) changes in laws and regulations and (6) changes in the policies of governments and/or regulatory authorities. Past performance is no guarantee of future returns.
The opinions, views and information expressed in this commentary regarding holdings are subject to change without notice. The information provided regarding holdings is not a recommendation to buy or sell any security. Fund holdings are fluid and are subject to daily change based on market conditions and other factors.