Investors continue to face a market fraught with uncertainty. As far as catalysts go, the usual suspects remain. Trade war concerns, the potential for a yield curve inversion and emerging market volatility continue to grab headlines. Against this backdrop, differentiating between idiosyncratic and potentially systemic risk is critical. The current emerging markets environment is a prime example. While individual countries such as South Africa, Turkey, Brazil and Argentina face idiosyncratic challenges, a strengthening U.S. dollar is creating downside pressure across the entire emerging market space.

The dollar's recent role as catalyst for emerging market volatility reminds us of a systemic question regarding global central banks' position on the health of the world economy: After flooding the world with easy money, are central banks in a position to combat the next crisis? While the Fed continues along its path of tightening, uncertainty remains as it unwinds the unprecedented response to the 2008 crisis. Real yields in Europe and Japan linger within or near negative territory. The lack of rate hikes makes dealing with the next downturn that much harder. As the latter innings of the market cycle approach, fixed income investors will need to monitor possible answers to this question closely.
It is important to remember that no two market cycles are alike. Anchoring portfolios to the risks of the previous cycle may not help investors successfully navigate the path ahead. History rhymes, as the saying goes, but does not repeat. A closer look at the data reveal that mortgage debt — the epicenter of the 2008 crisis — is actually earlier in its cycle than corporate credit. The debt-to-GDP ratio of corporate debt has risen above its long-term average, while in the mortgage space this ratio is falling. From a positioning standpoint, this means we continue to favor securitized credit given the sector's U.S. focused, consumer and housing/real estate-centric risk drivers.
Spreads, Returns and Yields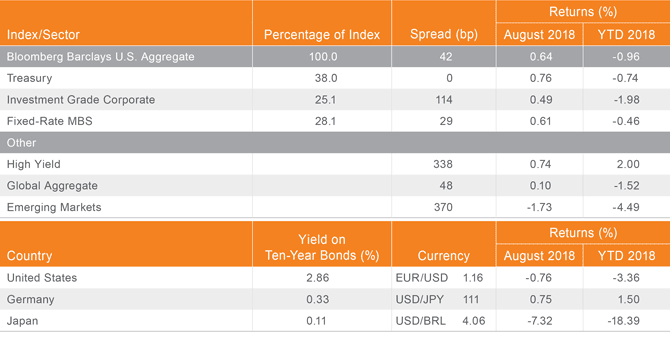 Source: Bloomberg, JPMorgan, Standard & Poor's. All spreads are to U.S. Treasurys and are option-adjusted except for emerging markets, which are nominal. All returns are total returns including dividends, expressed as percentages, in U.S. dollars.
Bond Market Outlook
Global Rates: U.S. yields to trade range-bound as trade concerns limit upward momentum, eurozone rates tick higher
Global Currencies: U.S. dollar strength to begin to wane, particularly against euro, select EM currencies
Investment Grade: outlook remains stable given solid fundamentals; technical picture mixed
High Yield: fundamentals remain supportive but new issuance and emerging market weakness leave it susceptible to volatility
Securitized: spreads for agency RMBS more attractive; securitized credits to continue to benefit from U.S. economic, consumer strength
Emerging Markets: investor sentiment will remain subdued until trade tensions and sanction risks abate
Sector Outlooks
Global Rates and Currencies
We believe the Federal Reserve (Fed) will hike two more times, totaling four hikes, in 2018, followed by two additional hikes in 2019. This will keep flattening pressure on the yield curve. Fed Chairman Powell noted at the Jackson Hole meeting that he does not see elevated risk of economic overheating, which would require the Fed to tighten policy aggressively. We expect the 10-year U.S. Treasury yield to trade in a 2.80–3.10% range. We remain confident that U.S. growth fundamentals will take yields higher. What's more, we believe effects from fiscal stimulus may offer continued support for U.S. consumers.
We expect eurozone rates to trade higher, with 10-year Bunds back in the 25-50 basis point (bp) range. Along with other factors that could bring euro rates higher, the increase is likely to correlate with expectations for higher rates in the United States. Risks surrounding Italy's political tensions and budgetary process will continue until late September, when a draft of the budget is due. We believe Italy will not pose a systemic risk to the eurozone.
Investment Grade Corporates
The outlook for credit remains healthy with earnings reinforcing a supportive fundamental picture and technical factors still favorable longer term. The yield differential between U.S. and global rates continues to support the story for foreign buying of U.S. credit, despite higher hedging costs. We believe higher rates, so long as they are driven by solid growth and manageable inflation, should continue to support credit spreads. Valuations look fairly full given the balance of risks in the market.
High Yield Corporates
Spreads have changed little in 2018; yields remain around 6%, decent but arguably not cheap. Trade tensions and a decline in emerging markets (EM) growth caused minor bouts of volatility in August. BB- and B-rated bonds led the way, while CCC bonds showed signs of fatigue. U.S. growth remains positive, equities remain supportive and Treasurys continue to appear range-bound. By contrast, expected heavy new issuance in September and continuing emerging market weakness are likely to keep upside potential in check.
Securitized Assets
Volatility remains contained among agency residential mortgage-backed securities (RMBS); we expect supply and demand to remain balanced in the near term. Fundamentals remain solid with subdued prepays while market perception of the technical environment has improved. Nonetheless, Fed tapering has increased the net supply and will intensify in October.
Non-agency RMBS continue to benefit from a strong housing market. In our view, potential upside remains as credit availability increases, home ownership increases and the Millennial demographic engages. These dynamics will benefit the amortizing legacy universe as well as next generation submarkets such as credit-risk-transfer securities.
The outlook for asset-backed securities (ABS) remains positive, with credit performance strong across almost all sub-sectors. We expect ABS to outperform, supported by the strong state of U.S. consumers. We maintain our negative tactical allocation for collateralized loan obligations (CLOs) as we expect persistent supply pressures over the next few months. The sector continues to benefit from demand for floaters, but we are not convinced this will lead to outperformance.
We continue to like commercial mortgage-backed securities (CMBS) and believe a favorable technical environment should lead to outperformance despite an anticipated increase in new issuance. Fundamentals remain strong as commercial real estate prices continue to climb and defaults and delinquencies remain manageable. Certain subordinated parts of the CMBS capital structure appear rich versus their senior counterparts, but remain attractive relative to other asset classes.
Emerging Market Debt
Despite slowing during July and August, EM economic growth is still faster than developed market growth. Trade concerns dominate the rhetoric, particularly tariffs against China and sanctions against Russia, Turkey and Iran. Even though the economic impact of these concerns has yet to be determined, we believe that investor sentiment will remain subdued until trade tension and sanction risks abate. Country differentiation remains key, as there are many idiosyncratic risks such as Argentina, South Africa and Turkey. A stronger U.S. dollar is keeping EMs under pressure.
Past Performance does not guarantee future results.
This commentary has been prepared by Voya Investment Management for informational purposes. Nothing contained herein should be construed as (i) an offer to sell or solicitation of an offer to buy any security or (ii) a recommendation as to the advisability of investing in, purchasing or selling any security. Any opinions expressed herein reflect our judgment and are subject to change. Certain of the statements contained herein are statements of future expectations and other forward-looking statements that are based on management's current views and assumptions and involve known and unknown risks and uncertainties that could cause actual results, performance or events to differ materially from those expressed or implied in such statements. Actual results, performance or events may differ materially from those in such statements due to, without limitation, (1) general economic conditions, (2) performance of financial markets, (3) interest rate levels, (4) increasing levels of loan defaults, (5) changes in laws and regulations, and (6) changes in the policies of governments and/or regulatory authorities.
Voya Investment Management Co. LLC ("Voya") is exempt from the requirement to hold an Australian financial services license under the Corporations Act 2001 (Cth) ("Act")
in respect of the financial services it provides in Australia. Voya is regulated by the SEC under U.S. laws, which differ from Australian laws.
This document or communication is being provided to you on the basis of your representation that you are a wholesale client (within the meaning of section 761G of the Act),
and must not be provided to any other person without the written consent of Voya, which may be withheld in its absolute discretion.
©2018 Voya Investments Distributor, LLC • 230 Park Ave, New York, NY 10169 • All rights reserved. 
CMMC-FIMONTHLY 091318 • IM0912-44870-0919 • 163124