Should the Russia-Ukraine conflict persist, it would lead to further tightening of financial conditions but is unlikely to deter the Federal Reserve from a 25 basis point interest rate hike in March. Tighter conditions will slow economic growth at the margins and constrain financial markets over the short term, but not over the longer term.
Highlights
Should the Russia-Ukraine conflict persist, it likely would lead to further tightening of financial conditions, slowing economic growth at the margins.
The conflict is unlikely to deter the Federal Reserve from raising interest rates; we expect a 25 basis point hike at the March FOMC meeting.
Financial conditions currently look supportive, but are likely to tighten as monetary policies turn hawkish.
Tighter conditions are likely to constrain financial market performance over the short term, but not over the longer term.
Interest rates could rise less quickly than expected
Just a few weeks ago, mounting inflation was expected to push global central banks toward more hawkish policies. Since Russia invaded Ukraine, the imposition of sanctions by the West has changed the mix of factors the central banks must consider in their policy debates. Europe is likely to face the most severe economic consequences from sanctions in the form of higher energy prices. As a result, the European Central Bank probably will delay hiking rates for longer than it recently hinted.
By contrast, the U.S. Federal Reserve is likely to move ahead with plans for a March rate hike despite market disruptions. Since market downdrafts have tightened financial conditions somewhat, it's likely to be a smaller hike than some observers had expected. 
The Federal Reserve is still in the early stages of deciding how to respond to rising inflation and sanctions, but is unlikely to alter its course significantly as a result of Russia invading Ukraine. As we attempt to discern the path of Fed action, it's helpful to think of the Fed's decision space as a triangle (Figure 1). At the apex are inflation breakevens, in the second corner are real rates (nominal ex-breakevens) and in the third are financial conditions. Breakevens represent the Fed's ultimate objective, real rates represent the means of achieving that objective and financial conditions represent the costs of achieving the Fed's objective.
Figure 1. Fed's decision space, seeking to change inflation breakevens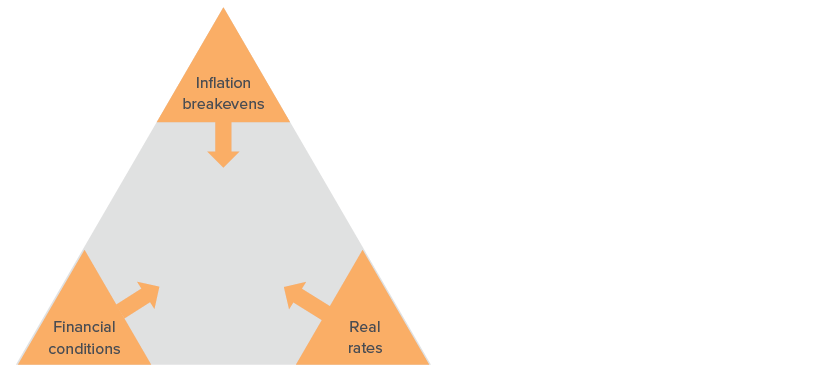 Source: BofA, Voya Investment Management.
Breakevens are still above the Fed's 2% target, about 2.7% on the 10-year note as of March 4, 2022 (Figure 2). Real rates are still negative, about -93 bp on 10-year constant maturity Treasuries as of March 4, 2022. Financial conditions are likely to tighten as a result of recent financial market downturns, though that effect may prove temporary.
Figure 2. Ten-year breakeven points to modest long-term inflation expectations
10-year breakeven inflation rate, daily, not seasonally adjusted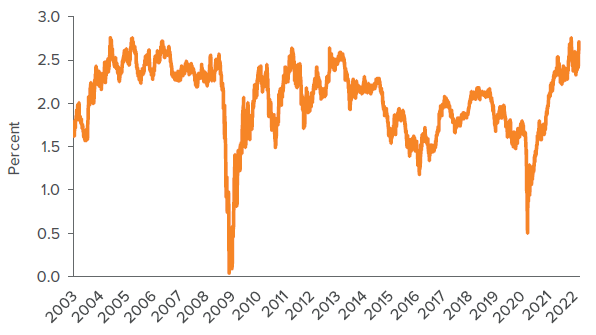 Source: Federal Reserve Bank of St. Louis: https://fred.stlouisfed.org The breakeven inflation rate represents a measure of expected inflation derived from 10-year Treasury constant maturity securities and 10-year Treasury inflation-indexed constant maturity securities. The latest value implies what market participants expect inflation to be in the next 10 years, on average. Latest reading as of 3/04/22.
Central bank policies and general financial conditions remain supportive of markets. How might those conditions change as policy turns hawkish, and what indicators could we monitor for signals the markets are being impacted and that it's time to rethink portfolio positioning? This commentary starts with the current state inflation and then examines labor market conditions, a prime source of inflation pressures. Next, it looks at financial conditions and discusses expected market impacts as conditions tighten.
Inflation pressures are expected to recede
January's highly anticipated CPI print came in with the headline figure rising 7.5% and core CPI, i.e., excluding energy and food, up 6.0% over the preceding the 12 months. The headline surpassed consensus expectations for 7.3% and represents the largest 12-month change since 1982 (Figure 3).
Figure 3. Year-over-year inflation has hit 1982 levels
Consumer Price Index for All Urban Consumers – 12 Mo. percent  change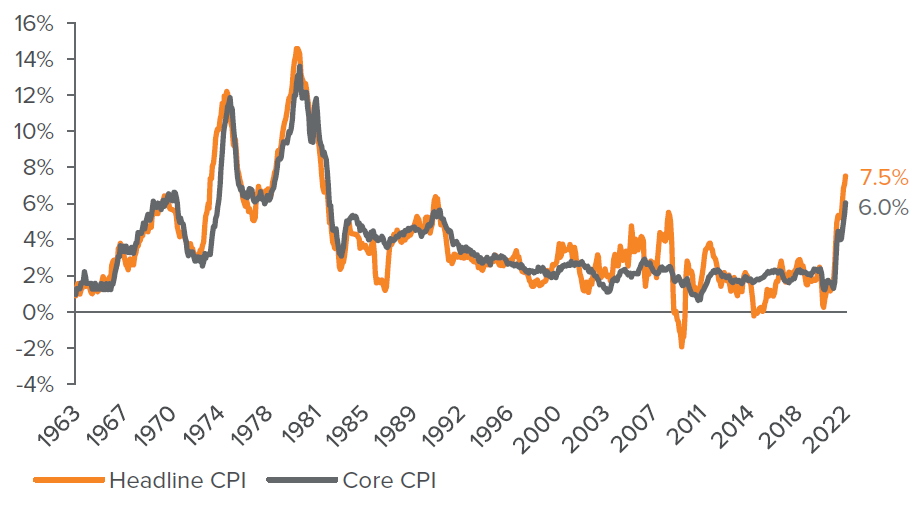 Source: U.S. Bureau of Labor Statistics, Consumer Price Index for All Urban Consumers: All Items in U.S. City Average [CPIAUCSL], retrieved from FRED, Federal Reserve Bank of St. Louis; https://fred.stlouisfed.org/series/CPIAUCSL, February 10, 2022.
While the current inflation picture looks discomforting, analysts still expect inflation to ease this year and next (Figure 4), implying a longer-term reversion to the Fed's 2% target rate.
Figure 4. Inflation projections are shifting higher, but still expected to ease after 2022
Year-over-year % change, actual and expected rates

Source: Bloomberg, data as of 2/14/22.
Labor markets could ease inflation pressures
Employment data have been highly volatile, with big seasonal adjustments. Taking a long-term view, on an annual basis the labor force participation rate (LFPR) has declined since 1998 and appears to be declining still (Figure 5). However, during 2021 the LFPR gradually bounced back to about 62%, only about one percentage point below pre-Covid levels. This is potentially an offset to inflationary pressure, though wages remain elevated. In general, we expect the demographic pull lower to continue but we expect a gradual recovery of much (perhaps not all) of the Covid dip.
Figure 5. Labor force participation has ticked up recently
Labor force participation rate: quarter-end values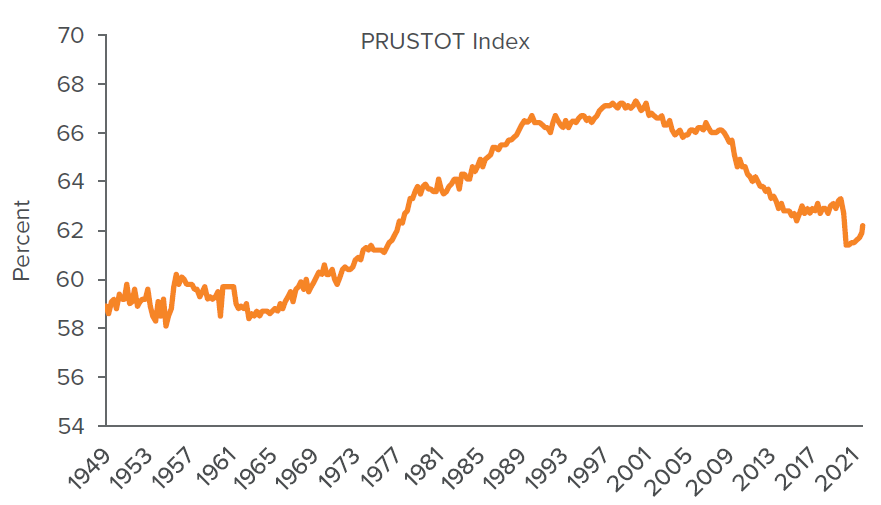 Source: Bloomberg, Bureau of Labor Statistics.
LFPR may not offset inflation pressures as much as hoped, however, because of secular constraints on its growth rate. For example, the trend toward accelerated retirements may persist, particularly among older, higher income consumers. If it does prove persistent, this trend could partially offset workforce re-entrants and new entrants. On the other hand, lagging participation rate recoveries among lower wage earners are more likely to be temporary given a presumed need to earn a living, except perhaps among those with working spouses. 
Another gauge, the employment to population ratio (EPOP) has been more volatile than LFPR but currently is increasing (Figure 6).
Figure 6. EPOP is rising but remains near 1969 levels
Employment to population ratio: yearly average of monthly values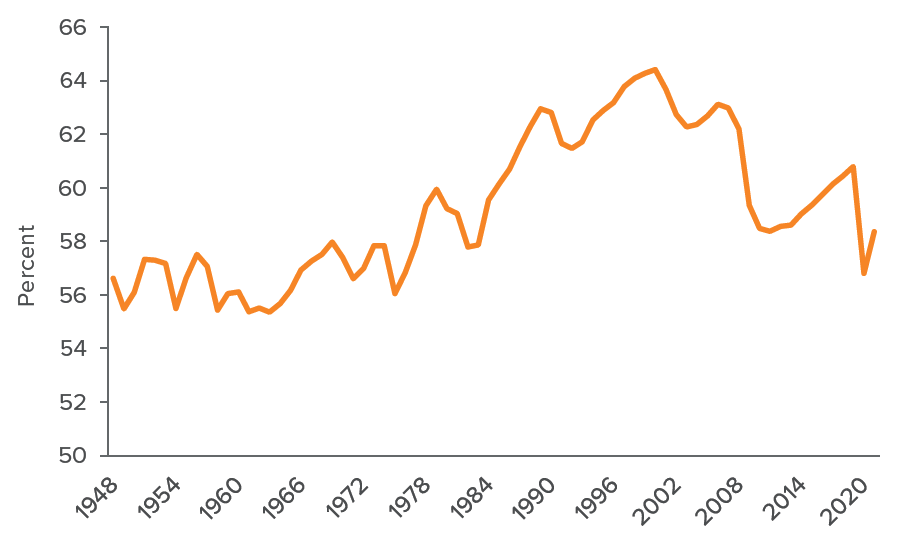 Source: Bureau of Labor Statistics.
Wage growth accelerated in 2020 during the Covid crisis, though in 2021 the rate of change appears to have reverted to trend (Figure 7).
Figure 7. Wages are still rising, though the growth rate may be easing
Median weekly wage NSA: yearly average in current U.S. dollars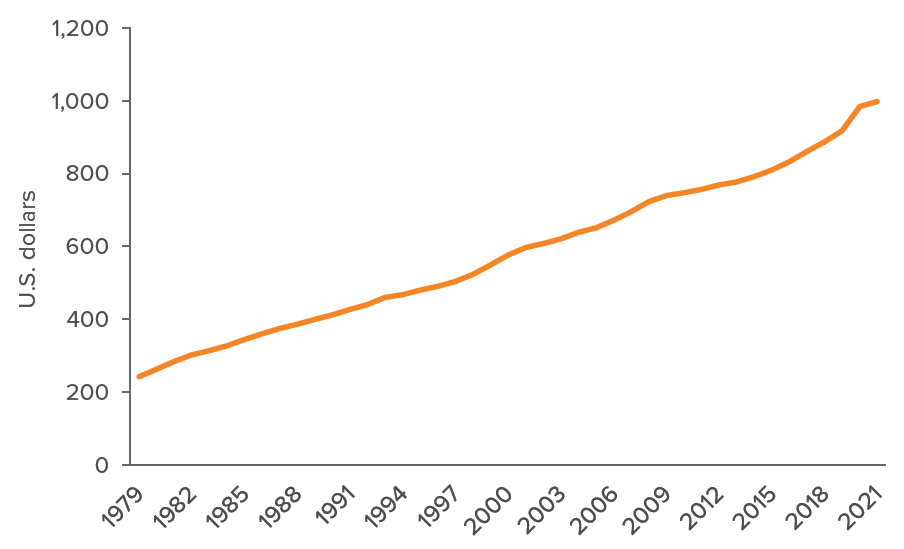 Source: Bureau of Labor Statistics.
As Covid retreats in coming months and consumers continue to spend down excess savings, more people could re-enter the work force and ease the pressure on wage increases. Wage pressures on prices might not be as intense or direct as expected — since the 1990s weaker labor unions have had limited capability to sustain pricing power, though their power may be increasing. There has been momentum on minimum wages, although this momentum is unlikely to change the wage-price calculus much: minimum wages impact a relatively small slice of the employment base, since wages in many industries already exceed the minimums.
Financial conditions still look supportive
The Chicago Federal Reserve provides a comprehensive illustration of financial conditions with its National Financial Conditions Index (NFCI). According to this measure as of February 4, 2022, financial conditions were looser than average but appeared to be tightening somewhat (Figure 8).
Figure 8. NFCI shows looser than average financial conditions may be starting to tighten
Chicago Fed National Financial Conditions Index, weekly, not seasonally adjusted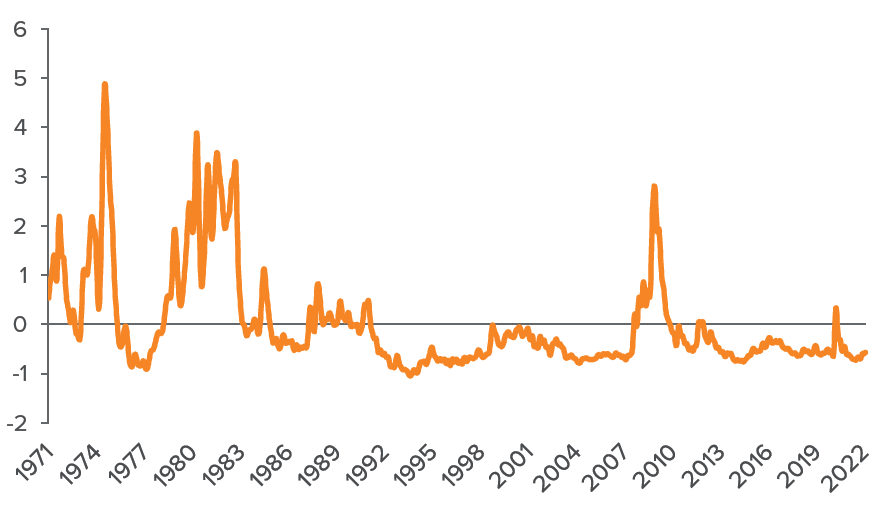 Source: FRED Graph Observations: https://fred.stlouisfed.org. The Chicago Fed's National Financial Conditions Index (NFCI) provides a comprehensive weekly update on U.S. financial conditions in money markets, debt and equity markets and the traditional and "shadow" banking systems. Positive values of the NFCI indicate financial conditions that are tighter than average, while negative values indicate financial conditions that are looser than average.
Central bank policy should manifest itself earliest in monetary conditions. A useful proxy for the tightness of monetary conditions is the fed funds target rate (EFFR) versus the 10-year U.S. Treasury (UST) yield (Figure 9). Historically, parity in these two rates has tended to be problematic for the economy. At present, this comparison signals fairly loose financial conditions, though it could quickly change if the FOMC begins hiking rates this spring. 
Figure 9. The EFFR–10-yr UST spread still signals accommodative monetary policy
Fed funds target rate vs. 10-yr U.S. Treasury yield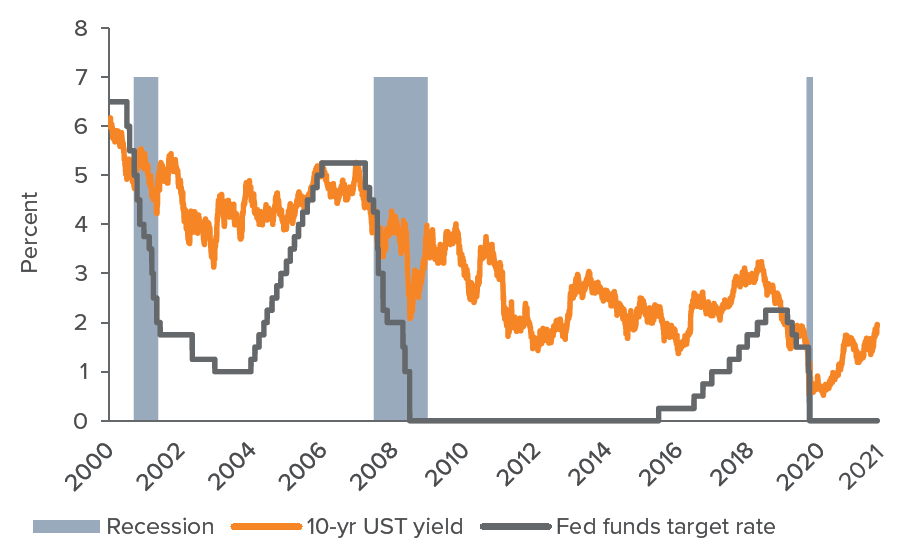 Source: U.S. Treasury, data from 7/3/2000 through 2/8/2022.
Taken together, Figures 8 and 9 paint a somewhat ambivalent picture of current conditions. It's important to note, however, that with the Fed's recent, more hawkish pivot and rate hikes expected soon, the signal in Figure 9 soon could change to reinforce the tightening signal in Figure 8. 
Markets falter early in tightening cycles, then rebound
The Fed's recent, more hawkish pivot increases the risk of greater disruption from a faster rate hike path or a larger magnitude of rate hikes than we have seen in recent cycles. The same is true for quantitative tightening (QT), which also is on an accelerated path. If past experience is any guide to future expectations, we are likely to see some market falloff once the hiking begins. After the initial pullback, however, we can expect to see the markets rebound  
(Figures 10A and 10B).
Figure 10A. Equity markets falter following first rate hikes, then rebound
Market percent returns before and after initial rate hikes S&P 500 index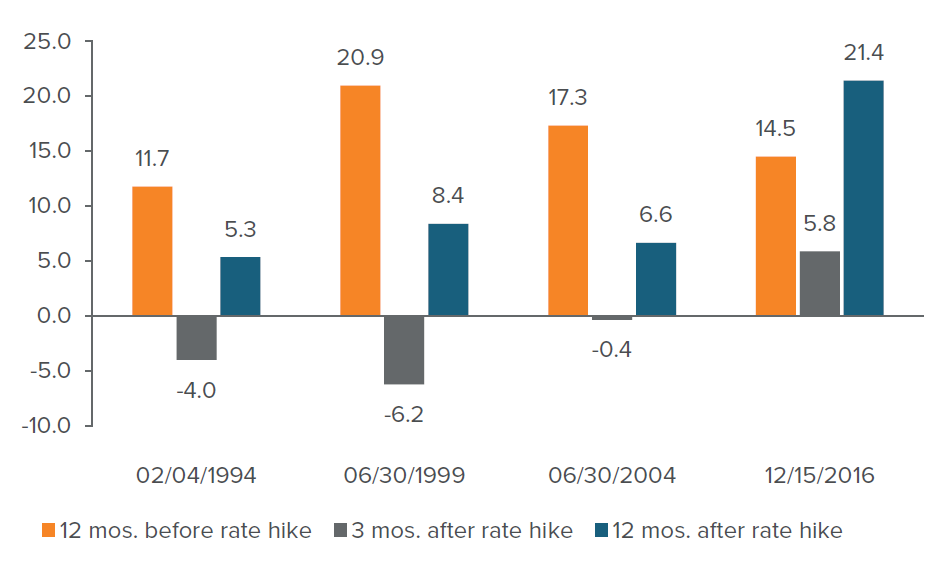 Source: Morningstar data, analysis by Voya Investment Management. Dates represent the date of the initial fed funds rate hike during tightening cycles. 
Figure 10B. Bond markets also falter after first hike but then recover
Market percent returns before and after initial rate hikes Bloomberg U.S. Aggregate index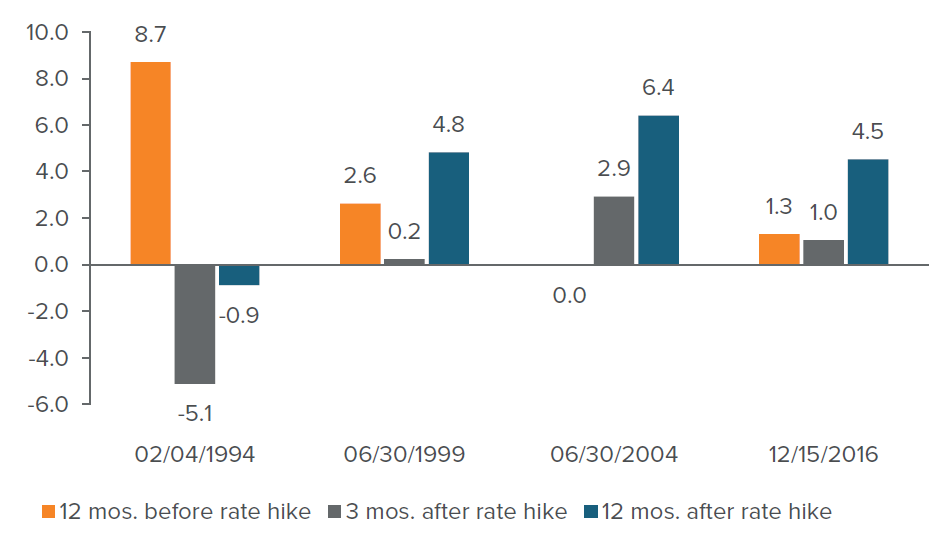 Source: Morningstar data, analysis by Voya Investment Management. Dates represent the date of the initial fed funds rate hike during tightening cycles. 
U.S. equity markets will remain volatile in the near-term, with the strongest impacts most likely in sectors such as commodities, energy and financials. Equity market weakness could persist until there is greater clarity on the impacts of sanctions against the Putin government. This will refocus investors on the path of interest rate hikes and easing supply-chain pressures, which will determine the appeal of cyclical equities relative to growth equities. 
Year-to-date, value stocks are outperforming growth stocks. Value companies such as financials, energy and industrials generally are more cyclical, so strong relative performance by these companies and industries implies a pro-cyclical economic outlook. This could extend the anticipated longevity of the growth cycle. If the current equity dynamic is correct and value is sending the right signal, then equities should resume their uptrend as the rotation completes and macroeconomic uncertainty recedes. 
Less aggressive policy path now more likely
The economic system has taken on a lot more debt in recent years, although household and corporate balance sheets seem to be better positioned. Most of the increase has been in government debt, with mortgage debt probably being secondary. When the Fed starts raising rates, however, it will be tightening into decelerating growth as stimulated demand reverts towards trend. The Fed also will be tightening into supply constraints, which could ease as restrictions are loosened; that loosening could act as a counterforce to inflationary pressures, mitigating the need for the Fed to extend tightening to a highly aggressive level.
Uncertainty remains around the extent and impact of central bank policy, and the recent surging energy prices raises questions about the persistence of inflation. Recent comments by Fed Chair Jerome Powell strongly suggest that the Fed will take a measured approach to its first rate hike, expected after the March FOMC meeting. We think the FOMC will enact a 25 basis point hike and watch how markets react to that before making more aggressive moves.
Insofar as recent market downturns serve to tighten financial conditions, they also do some of the Fed's work for it, and may mitigate the need for as many rate hikes as currently priced into the markets. We think the rates headwind will abate, which should be mildly positive for bonds. We expect moderate upward pressure on the 10-year U.S. Treasury yield throughout 2022, although we do not expect the yield curve to flatten as much as priced into forward curves. 
Fed policy is likely to be neutral or slightly beneficial to equities. In our view, earnings growth between 15–20% is attainable over the next few years. We think it's reasonable to anticipate single-digit annual gains if rate hikes don't get too heavy-handed, and believe the S&P 500 index could deliver a total return of about 8% for 2022.