Growing tension between the U.S. and China sparks volatility – which path will markets take from here?

 
As expected, at its April–May meeting the Federal Open Market Committee (FOMC) voted unanimously to hold the Fed funds rate steady in the 2.25–2.50% range. The few changes to the press release language acknowledged the solid economic backdrop and recognized weaker inflation; the statement reiterated that the Federal Reserve will remain "patient" as it evaluates what future adjustments to the target range may be appropriate. Chairman Powell noted after the meeting that he does not see a strong case for moving rates up or down.
The market took the news in stride. That was, of course, until concerns regarding a trade war between the U.S. and China resurfaced. While the lingering uncertainty is likely to create headline-induced volatility in the short term, we do not view any recent trade developments as a threat to our longer-term outlook. As we noted last month, economic conditions point to slowdown, not recession; the latest FOMC decision seems to confirm our view. Stable interest rates, low inflation and near-trend growth point to continued equity performance and moderately higher Treasury rates.
Which path will markets take from here? Our most probable case calls for global growth to bottom as the United States stabilizes at or above trend. The Fed stays on hold for an extended period, and yields move modestly higher. The U.S. dollar stays range-bound and low global interest rates with a more cautious Fed support investing beyond government markets.
We continue to believe the economy is in the late phases of the business cycle, not yet entering end-phase. Therefore, the risks attendant upon late-cycle investing still prevail: heightened episodes of volatility intensify the pain of mistakes. Accordingly, we maintain our focus on avoiding downside velocity. Clear-eyed assessment of relative value and focused security selection take on paramount importance.
We currently prefer securitized credit to corporate or emerging-market debt. Within the securitized sector, we like non-agency mortgage-backed securities and asset-backed securities. At current levels, global rates do not look attractive; we maintain a preference for short-duration bias in portfolios.
Spreads, Returns and Yields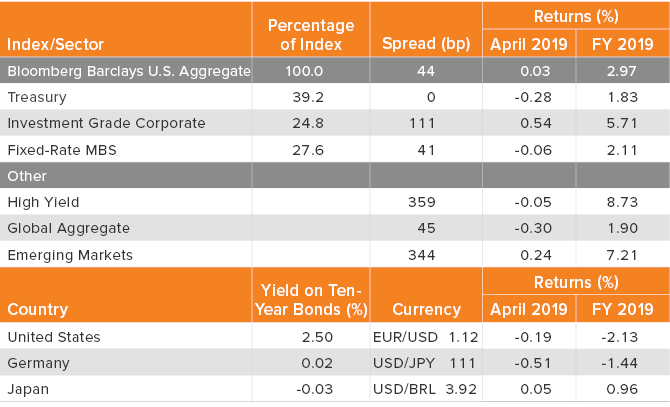 Source: Bloomberg, JPMorgan, Standard & Poor's. All spreads are to U.S. Treasurys and are option-adjusted except for emerging markets, which are nominal. All returns are total returns including dividends, expressed as percentages, in U.S. dollars.
Bond Market Outlook
Global Rates: U.S. rates to climb higher, but upside is limited with the BoJ, ECB and Fed off the table for 2019
Global Currencies: U.S. dollar stays range-bound against developed market currencies
Investment Grade: valuations look fair, should hold up in the current environment
High Yield: strong technical factors and benign inflation lead to favorable carry trade
Securitized: prefer non-agency RMBS, which benefit from improving housing market conditions
Emerging Markets: currency volatility could intensify in May as liquidity drops, but still expect growth to rebound in 2H19
Sector Outlooks
Global Rates and Currencies
The dovish stances of global central banks continue to align. The FOMC language about its "symmetric 2% inflation objective" signals it will allow inflation to slightly overshoot that target. While European Central Bank guidance is for rates to be on hold through summer 2019, market expectations of a hike have shifted into 2022. The Bank of Japan lowered its growth and inflation forecasts in April, implying its inflation target will take three or more years to reach.
Rate upside in the U.S. is limited with the BoJ, ECB and Fed off the table for 2019. The current U.S. rate structure is low because of global demand for Treasurys amidst a backdrop of low rates in other developed markets. With U.S. growth expected to stabilize, the 10-year Treasury yield is near the bottom of its range (2.40–2.90%). Any evidence of higher growth will be reflected in a modestly steeper curve: inflation will not force the Fed's hand and recent signs of life in productivity measures help to limit the inflation impact of higher wages.
The U.S. dollar should stay range-bound versus developed-market currencies, including the euro.
Investment Grade (IG) Corporates
IG spreads tightened in April as a dovish Fed, and the fact that markets were pricing a rate cut rather than a hike, led to a strong rally in risk assets. The credit curve flattened somewhat, with the long end outperforming intermediate duration bonds. BBB-rated credits outperformed A-rated credits as investors reached down the credit spectrum. Spreads are now almost back to 3Q18 levels; technical factors remain supportive, with U.S. IG yields attractive for overseas investors and hedging costs easing. The sector should hold up well in the current environment. Valuations look fair with the Fed on hold but memories of the 4Q18 sell-off should keep investors from overextending risk.
High Yield Corporates
April saw continuance of recent, solid high-yield performance. CCC-rated credits slightly outperformed higher-rated bonds. Valuation is not yet a negative as there is still decent yield among lower-rated credits. Autos and energy remain weak but are not dragging down the rest of the economy. We see potential for continued capital appreciation as limited; but for the time being the Goldilocks background of solid fundamentals, strong technical factors and benign inflation lead to a favorable carry trade. With limited upside but no visible cracks in any of these three pillars, we remain neutral.
Securitized Assets
The performance of agency mortgage-backed securities (RMBS) remained highly correlated to interest-rate volatility during April — outperforming early as volatility fell, then surrendering gains during the latter half of the month. Fundamentals have improved with the rates rally, though better housing statistics and increased Fed run-off will drive headwinds through summer. Security selection provides more opportunity than sector management.
We remain positive on non-agency RMBS for their demonstrated stability across periods of increased volatility. Upside remains as credit availability becomes increasingly efficient, home ownership increase and the burgeoning millennial demographic engages. For credit-risk transfer, attractive relative value, broader sponsorship and generally well orchestrated new supply dynamics will prove supportive even as the sector exhibits less beta.
We remain positive on commercial mortgage-backed securities (CMBS). While the sector may be challenged to tighten from current levels, it looks more attractive than competing fixed income sectors. Elevated supply will be an obstacle for May, but demand has recently proven sufficient to absorb new issuance. CMBS remain susceptible to spread widening if the backdrop degrades, but we expect more senior parts of the capital structure to perform well.
Broader risk sentiment determines the outlook for asset-backed securities (ABS); they will remain well bid and offer outperformance potential when market beta is negative. While the sector will lag in risk-on markets, longer-term potential is high given the combination of performance drivers. Volatility in swap spreads is a wildcard; in expectation that May could witness increased volatility, we turn tactically positive on ABS.
Emerging Market (EM) Debt
Supported by Chinese stimulus, EM economic growth should bottom towards summer, although with country-specific variance. Oil-market fluctuations highlight the differences between winners and losers: exporters vs. importers and the impacts on GDP, fiscal policy and inflation. EM currency volatility could pick up in May as liquidity drops — local bonds may trade sideways until the impact of oil-supply shocks fades and growth picks up in 2H19.
IM842576
Past performance does not guarantee future results.
This commentary has been prepared by Voya Investment Management for informational purposes. Nothing contained herein should be construed as (i) an offer to sell or solicitation of an offer to buy any security or (ii) a recommendation as to the advisability of investing in, purchasing or selling any security. Any opinions expressed herein reflect our judgment and are subject to change. Certain of the statements contained herein are statements of future expectations and other forward-looking statements that are based on management's current views and assumptions and involve known and unknown risks and uncertainties that could cause actual results, performance or events to differ materially from those expressed or implied in such statements. Actual results, performance or events may differ materially from those in such statements due to, without limitation, (1) general economic conditions, (2) performance of financial markets, (3) interest rate levels, (4) increasing levels of loan defaults, (5) changes in laws and regulations, and (6) changes in the policies of governments and/or regulatory authorities.
Voya Investment Management Co. LLC ("Voya") is exempt from the requirement to hold an Australian financial services license under the Corporations Act 2001 (Cth) ("Act") in respect of the financial services it provides in Australia. Voya is regulated by the SEC under U.S. laws, which differ from Australian laws.
This document or communication is being provided to you on the basis of your representation that you are a wholesale client (within the meaning of section 761G of the Act), and must not be provided to any other person without the written consent of Voya, which may be withheld in its absolute discretion.
©2019 Voya Investments Distributor, LLC • 230 Park Ave, New York, NY 10169 • All rights reserved.