Economic data seem to confirm our thesis of slowdown, not recession, but do not yet confirm a turnaround; nonetheless, we believe a turning point is approaching.
Over the past few weeks, Eurozone and U.S. economic and manufacturing data releases have started showing early signs of stabilization. In the United States, PMI data have trended sideways of late. Industrial production missed expectations, but much of the weakness is due to the strike at GM and challenges at Boeing. ISM readings have been weaker than those from regional Federal Reserve surveys, suggesting the data likely reflect a greater weighting of input from larger, more globally exposed firms and are missing some relative strength in the domestic economy.
Meanwhile, U.S. consumers remain well supported. Labor market data based on the latest jobs report has been producing strong results. Payrolls surprised to the upside, along with upward revisions. Retail sales numbers confirmed spending remains healthy. Given the services sector typically lags manufacturing, we expect a modest spillover that may lead to a slowing in hiring and wage growth. That said, we believe the depth of the downturn in the services sector will be limited in scope.
Europe also appears to be seeing the light at the end of the tunnel. Germany avoided a technical recession with its 3Q19 GDP print of 0.1%, while France and Spain supported broader Eurozone growth. Weakness in German auto production, largely driven by emission rule changes, is not expected to get materially worse as sales activity appears to be recovering. Additionally, we believe the worst effects of Brexit largely have been factored in.
Though the data seem to confirm our thesis of slowdown but not recession, they do not yet confirm a turnaround; nonetheless, we believe a turning point is approaching. The market has thus shifted its focus to trade developments, which has been evidenced by the whipsawing in rates. This leads to our view that we expect volatility to remain elevated, particularly as valuations stay rich. For the time being, we maintain a fairly conservative risk budget. Our current stance remains to diversify across lower-risk opportunities. We believe securitized credit offers sector and security opportunities, whereas corporate credit potential is more limited to security selection.
Returns, Spreads and Yields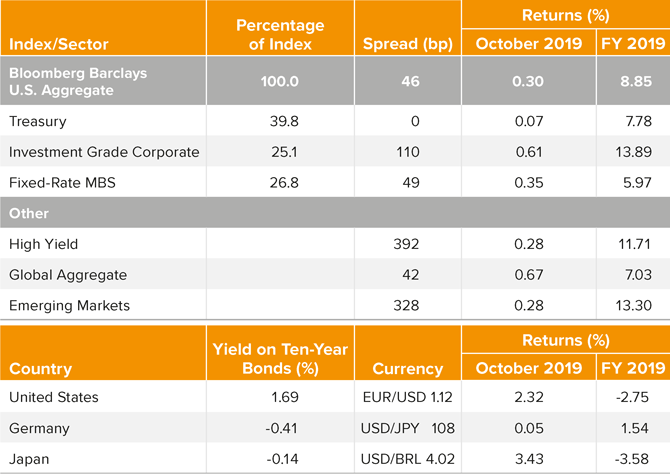 Source: Bloomberg, JPMorgan, Standard & Poor's. All spreads are to U.S. Treasurys and are option-adjusted except for emerging markets, which are nominal. All returns are total returns including dividends, expressed as percentages, in U.S. dollars.
Bond Market Outlook
Global Rates: Benign inflation, negative global rates and lack of recession risk keep U.S. rates range-bound
Global Currencies: U.S. dollar weakens against euro amid signs of European growth bottoming
Investment Grade: Further spread tightening limited given year-to-date run, but still see value
High Yield: YTD performance leaves little upside potential, energy and CCCs still lag
Securitized: Mortgage spreads remain attractive, closely tied to rate volatility and directionality
Emerging Markets: EM GDP growth remains subdued in near term; prefer local rate risk with EM central banks accommodative
Sector Outlooks
Global Rates and Currencies
As expected, the Federal Open Market Committee (FOMC) cut the fed funds rate by 25 bp, citing global developments, growth uncertainties and muted inflationary pressures as primary reasons to cut rates. One key change from the policy statement was the removal of "act as appropriate...," which was replaced by "…assess the appropriate path…" for monetary policy. FOMC speakers reinforced the message that the next move will be data-driven, and insurance cuts are done for now. Thus, depending on the signal from incoming economic data, we think the 10-year U.S. Treasury yield will range between 1.60% and 1.90% over the next few months. The U.S. dollar may slip further against the euro and emerging market currencies.
Fallout from the September European Central Bank (ECB) meeting showed that it was highly controversial: disagreements spilled out in public and resulted in a number of resignations. There is still a high degree of division within the ECB, and new President Lagarde will have to manage emboldened hawks. Market pricing indicates that the ECB will likely hold the deposit rate constant for the December Governing Council meeting.
Investment Grade (IG) Corporates
IG spreads continue to grind tighter, as limited supply outweighs economic and geopolitical risks. Third-quarter earnings were decent and supportive of credit. Importantly, 4Q19 and full-year guidance were better than expected, suggesting 3Q19 could mark a trough in earnings and set the stage for better performance into 2020. Despite the whipsaw in the rates market, demand for IG remains robust as lower rates and higher negative yields abroad push overseas investors into U.S. credit. We believe the technical picture will remain positive into year-end, even though current spreads do not appear to compensate for the current mix of risks.
High Yield (HY) Corporates
Spreads rebounded back below 390 basis points after modest widening in October. Riskier credits continued to lag and quality remained firm with limited upside. Mixed macro data and increasing concerns about weakening business sentiment weigh on the risky end of the market. We will see if the improving trade rhetoric translates into improved business sentiment. In our view, there is little room to run at this point; upside potential mostly lies with CCC-rated bonds and the energy sector.
Securitized Assets
Agency residential mortgage-backed securities (RMBS) performed well in October as volatility fell and rates remained within their recent range; GNMAs outperformed conventional mortgages. Spreads remain attractive versus rates and credit, softening the impact of elevated refinancing. Mortgage performance will remain closely tied to rate volatility and directionality.
We retain our positive outlook for non-agency residential mortgage-backed securities (RMBS), as current spreads imply a risk-adjusted advantage over alternatives. We believe elevated transaction deleveraging via faster prepays will foster spread tightening for much of the universe. Nonagency RMBS will continue to benefit from housing market expansion and improving mortgage-credit availability.
We maintain our positive stance for commercial mortgage-backed securities (CMBS), as fundamentals remain strong despite likely having plateaued. Commercial real estate prices continue to climb, while new issuance has remained steady. Valuations look rich for higher quality deals, while carry remains attractive for more seasoned subordinated deals, particularly when coupled with their shorter duration postures.
The outlook for asset-backed securities (ABS) remains a function of broader risk sentiment, offering outperformance potential when market beta is negative and vice versa. Despite questions about subprime borrowers, U.S. consumers generally remain strong. We expect ABS to lag, as markets ride macroeconomic and geopolitical tailwinds to tighter spreads.
Emerging Market (EM) Debt
EM GDP growth will remain subdued in 4Q19 and into 2020 as current consumption languishes. Notwithstanding lower growth, improvements in EM trade balances and massive portfolio inflows will decrease EM external vulnerabilities. The U.S.-China phase I trade resolution is only the tip of the iceberg; key issues are unlikely to be resolved before the 2020 U.S. presidential election. China will continue to support its economy via infrastructure spending, tax cuts and looser monetary policy.
EM corporate credit metrics remain stable thanks to conservative financial policies and to China's monetary and fiscal stimulus. EM central banks remain accommodative, and inflation well contained. Supportive monetary policy will not spur inflation or growth unless domestic consumption and business confidence pick up.
IM1014743
Past performance does not guarantee future results.
This commentary has been prepared by Voya Investment Management for informational purposes. Nothing contained herein should be construed as (i) an offer to sell or solicitation of an offer to buy any security or (ii) a recommendation as to the advisability of investing in, purchasing or selling any security. Any opinions expressed herein reflect our judgment and are subject to change. Certain of the statements contained herein are statements of future expectations and other forward-looking statements that are based on management's current views and assumptions and involve known and unknown risks and uncertainties that could cause actual results, performance or events to differ materially from those expressed or implied in such statements. Actual results, performance or events may differ materially from those in such statements due to, without limitation, (1) general economic conditions, (2) performance of financial markets, (3) interest rate levels, (4) increasing levels of loan defaults, (5) changes in laws and regulations, and (6) changes in the policies of governments and/or regulatory authorities.
Voya Investment Management Co. LLC ("Voya") is exempt from the requirement to hold an Australian financial services license under the Corporations Act 2001 (Cth) ("Act") in respect of the financial services it provides in Australia. Voya is regulated by the SEC under U.S. laws, which differ from Australian laws.
This document or communication is being provided to you on the basis of your representation that you are a wholesale client (within the meaning of section 761G of the Act), and must not be provided to any other person without the written consent of Voya, which may be withheld in its absolute discretion. 
©2019 Voya Investments Distributor, LLC • 230 Park Ave, New York, NY 10169 • All rights reserved.