While the yield curve is one indicator of the economy's trajectory, there are other factors to consider.
March 2019 marked ten years since the trough of the financial crisis. Many pundits relished the opportunity presented by this arbitrary anniversary to prognosticate the next great market calamity. Concerns about a slowing global economy and risk for recession have dominated recent headlines and the relative "flatness" between the U.S. three-month and ten-year yields has reignited the market's fixation on the yield curve as a predictor of impending economic doom.
So what inning is it exactly? While the yield curve is one indicator, we believe consensus views on the economy are too pessimistic: global business surveys, credit conditions as well as corporate and consumer balance sheets continue to point to a more benign economic slowdown. In terms of the "late cycle versus end of cycle" question, this places us in the "late cycle" camp.
Late-cycle investing comes with its own playbook. Keeping with the baseball analogy, Babe Ruth once said, "Every strike brings me closer to the next home run." Words for homerun hitters to live by, but decidedly the wrong mindset for a fixed income investor navigating portfolios through a late-cycle environment (or any conditions for that matter). While it is not appropriate to take risk completely off the table, the stakes are undoubtedly higher in a late-cycle environment. Valuations are stretched and, with so much uncertainty among market participants, any deviation from the market's expectations regarding economic data is intensely scrutinized. These dynamics make volatility a hallmark of late-cycle investing.
In the later stages of a cycle, risk-taking needs be intentional and even more precise. Margins of safety are low or nonexistent, meaning strikeouts are penalized more severely. Selectivity in this environment is of the utmost importance — there is nothing worse than being a forced buyer in a late-cycle situation. Short-term tactical positioning is also critical. Following the rally from the December sell-off, we believe risk is now skewed to the downside over the near term. Accordingly, we are maintaining our focus on avoiding downside velocity.
Spreads, Returns and Yields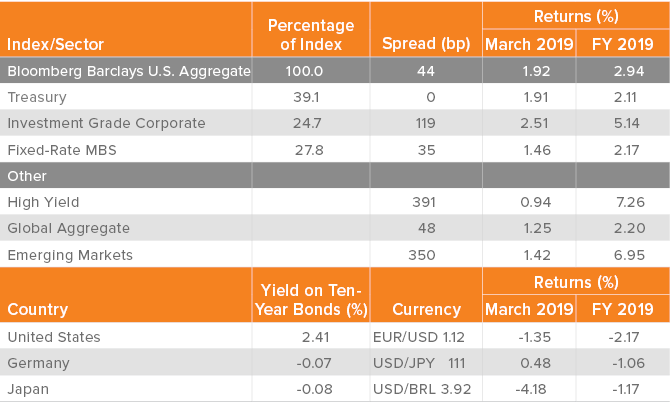 Source: Bloomberg, JPMorgan, Standard & Poor's. All spreads are to U.S. Treasurys and are option-adjusted except for emerging markets, which are nominal. All returns are total returns including dividends, expressed as percentages, in U.S. dollars.
Bond Market Outlook
Global Rates: Fed pause in rate hikes confirmed for 2019, cut seems unlikely
Global Currencies: U.S. dollar stays range-bound against developed market currencies, slightly weaker versus emerging markets
Investment Grade: valuations fair, fundamentals still decent despite some expected earnings slowdown heading into 1Q19 earnings season
High Yield: spreads are at fair levels, but further tightening will likely have to be driven by CCCs
Securitized: prefer CMBS, which continue to benefit fundamentally from low rate environment and technically from relatively low new issuance
Emerging Markets: inflation broadly muted across EMs, growth expected to rebound in 2H19
Sector Outlooks
Global Rates and Currencies
Global central banks are aligned with more dovish stances. The Federal Reserve's pause in its rate-hiking cycle has many debating whether the next move will be a cut. The Fed probably will allow inflation to slightly overshoot its 2% target, leading to an uptick of inflation expectations and higher break-even rates. The Peoples' Bank of China has loosened liquidity, and economic headwinds in the Eurozone have forced the European Central Bank (ECB) to reverse course. At its March meeting, the ECB cut its 2019 forecast for European GDP and unveiled a new round of targeted longer term refinancing operations, the third since 2016. Expectations of a rate hike have shifted to September 2020.
Against this backdrop, we think the U.S. dollar will remain range-bound versus developed market currencies, including the euro. Ten-year U.S. yields should range between 2.50–2.75%, and the two-to-ten-year curve should steepen 10–25 basis points (bp). We look for ten-year German Bund yields between 5–30 bp and a neutral yield curve.
Investment Grade (IG) Corporates
Spreads were little changed in March, as a dovish Fed statement led to mixed results. News that the Fed would be on hold through 2019 cheered foreign investors, who can expect dollar-hedging costs to fall; but the decline in long-term rates hurt yield-based buyers. IG spreads are now back to early November levels and the rally has slowed noticeably with nearly full valuations. The credit curve steepened somewhat, with intermediateduration bonds a bit tighter and the long end unchanged. Triple-B-rated bonds outperformed single-A bonds as investors reached down the credit spectrum at tighter levels. With the Fed on hold, valuations could grind towards the low 100s but memories of the 4Q18 sell-off should keep investors wary of over-extending credit risk.
High Yield Corporates
High yield continued to post solid returns in March. The considerable drop of Treasury yields has given another leg to the BB rally, but CCCs have lagged as risk appetites remain suppressed. Valuation is not yet a negative as there is still decent yield among lower-rated credits. While the market is not complacent on duration, there is little concern about higher rates. Autos and energy remain weak but are not dragging down the rest of the economy. The domestic outlook is decent, whereas concerns about Europe and China persist. A number of idiosyncratic situations, particularly in the CCC space, are still inhibiting a full, "risk-on" rally.
Securitized Assets
Agency residential mortgage-backed securities (RMBS) treaded water versus Treasurys until the end of March, when Treasury yields rallied and agencies lagged on increasing volatility and prepayment fears. Headline risk remains high but the Fed pause should keep volatility contained, while lower net supply in 2019 should limit some downside.
We remain positive on non-agency RMBS, particularly on a relative-value basis as well as the sector's demonstrated stability across periods of increased volatility. The fundamental backdrop appears improved with the rally in rates and recent housing data. We believe attractive relative value and well-orchestrated supply will prove supportive for credit risk transfer securities.
We remain positive on commercial mortgage-backed securities (CMBS). While it's hard to envision significant near-term tightening from current levels, the sector should continue to perform. Favorable new issue supplies provide a tailwind and the recent rally in rates solidifies fundamentals. Relative value is not overwhelming, but we look for more senior parts of the CMBS capital structure to continue to fare well, while various segments of the CMBS universe such as subordinate credit and new issue interest-only paper will continue to attract risk-seeking capital.
We continue to favor U.S. consumers over U.S. corporations, but expect "higher-carry" sectors to outperform asset-backed securities (ABS) in April. Strategically, we believe ABS will remain well bid and offer potential for outperformance when market beta is negative. Strong ABS fundamentals remain supportive of transaction de-leveraging, ratings upgrades and stable to tighter credit spreads.
Emerging Market (EM) Debt
Absence of inflation pressures across most EMs has turned central banks more dovish: a number foresee rate cuts in 2H19. U.S. and EM interest-rate differentials should remain long-term drivers of EM currency valuations; if global growth slows more sharply, EM central banks might try to "out-dove" each other. We expect a pick-up of growth momentum in the second half of 2019, differentiated by country and supported by Chinese stimulus. A China-U.S. trade deal, if reached in April, could further boost exports and business confidence.
IM812559
Past performance does not guarantee future results.
This commentary has been prepared by Voya Investment Management for informational purposes. Nothing contained herein should be construed as (i) an offer to sell or solicitation of an offer to buy any security or (ii) a recommendation as to the advisability of investing in, purchasing or selling any security. Any opinions expressed herein reflect our judgment and are subject to change. Certain of the statements contained herein are statements of future expectations and other forward-looking statements that are based on management's current views and assumptions and involve known and unknown risks and uncertainties that could cause actual results, performance or events to differ materially from those expressed or implied in such statements. Actual results, performance or events may differ materially from those in such statements due to, without limitation, (1) general economic conditions, (2) performance of financial markets, (3) interest rate levels, (4) increasing levels of loan defaults, (5) changes in laws and regulations, and (6) changes in the policies of governments and/or regulatory authorities.
Voya Investment Management Co. LLC ("Voya") is exempt from the requirement to hold an Australian financial services license under the Corporations Act 2001 (Cth) ("Act") in respect of the financial services it provides in Australia. Voya is regulated by the SEC under U.S. laws, which differ from Australian laws.
This document or communication is being provided to you on the basis of your representation that you are a wholesale client (within the meaning of section 761G of the Act), and must not be provided to any other person without the written consent of Voya, which may be withheld in its absolute discretion.
©2019 Voya Investments Distributor, LLC • 230 Park Ave, New York, NY 10169 • All rights reserved.