CLOs – Q2 Review
In Q2 2022, US CLO tranches were not immune from the macro volatility and broader market sell-off. Given the high correlation to loan market dynamics, especially at the lower Mezz levels, CLO tranches delivered negative returns* across the board at at -1.42%, - 3.05%, -3.97%, -5.85%, -6.94%, -8.6% for AAA, AA, A, BBB, BB and B rating cohorts, respectively.
Despite the slight pickup in loan downgrade activity (none for CLO tranches yet) and minor uptick in tail risk (mainly an increase in loan collateral priced in the $80-$90 range), CLO fundamentals remained generally unchanged as measured by various credit metrics including WARF, B3 and CCC exposures. Structural metrics such as BB OC ("Overcollateralization") and ID ("Interest Diversion") remain favorable and above pre-pandemic levels. Breaches were at negligible levels, with cushions steady as portfolios exhibited par build in Q1 and early part of Q2 given the loan market primary issuance and secondary trading activity. However, market value metrics such as WAP, BB MVOC, and equity NAVs further weakened in Q2 as a result of the 544 bps softness in loan prices during the quarter.
CLO issuance in the first half of 2022 has been impacted by a difficult macro backdrop. While the fundamental view remains stable for now, the technical market challenges have led to significant spread widening in both the primary and secondary CLO markets. This has resulted in a deceleration in issuance trends, as US CLO issuance through the YTD period has amounted to approximately 73 billion ("bn") and is down 13% versus 2021, which was the highest year on record for CLO issuance. By count, the YTD period has seen 152 new-issue deals, 11 refis, and 35 resets, totaling $73bn, $4.2bn, and $20.2bn, respectively, down 13%, 94%, and 72% versus the comparable period from last year.
While the YTD issuance tally is tracking below last year, it's still trending above 2018 and 2019 levels, as issuers, arrangers, and equity investors have been creative in structuring deals in this volatile environment. In Q2, the most prevailing deal structures have either been static deals or short-dated deals with shorter reinvestment periods (3/1 year non-call/end-of-reinvestment periods versus traditional 5/2 years) and primarily print-and-sprint based ("P&S") transactions. This contrasts with the longer-dated deal structures and traditional longer warehousing CLO formats that the market has been accustomed to. CLO managers with available internal captive capital have been prolific issuers in this market environment, while managers that rely on sourcing third-party equity capital have seen their pipeline issuance delayed given the challenging CLO arbitrage.
U.S. CLO Issuance ($ Billions)
January 1, 2016 to June 30, 2022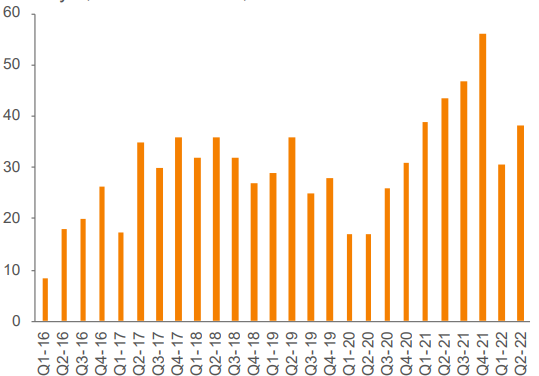 U.S. CLO Arbitrage at Issuance (Bps)
January 1, 2016 to June 30, 2022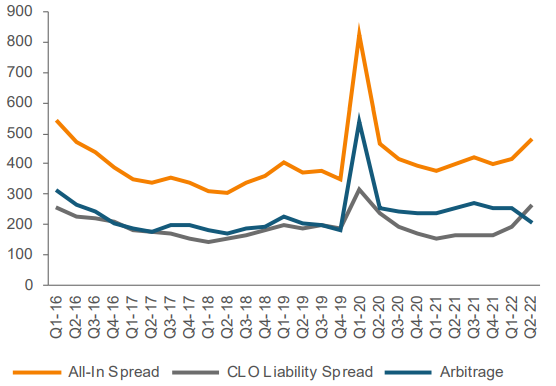 U.S. CLO BWIC ($ Billions)
January 1, 2017 to June 30, 2022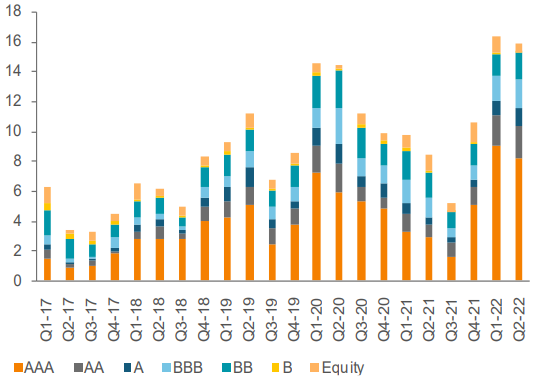 A sizable number of CLO warehouses (over 200 currently and more than a 20% increase since the start of the year) remain undealt with and likely to approach extension deadlines this summer. Underwater warehouses are not conducive to CLO formation and likely to pause some market headwinds until secondary loan prices recover. In addition to the weaker macro backdrop, the lack of a CLO AAA bid remains a central theme in the CLO market and a headwind for continued CLO issuance. Large US banks have had minimal appetite for CLO AAA in 2022, as overseas and money manager/insurance companies remain the main buyers of senior tranches.
Accordingly, issuance expectations for the full year have been reduced from roughly $150bn to a range of $90-$110bn. Supportive technicals in the second half of March and April have weakened recently, with loan retail outflows and nuanced CLO bid (opportunistic P&S only available to well established CLO managers) diminishing the key support technicals that buoyed the market in early Q2.
As we look ahead, we believe CLOs look attractive versus corporates due to historically wide levels, relative spread pick-up, strong structural protections and ability to withstand mild recessionary stress scenarios. The currently wider spread and yield levels look favorable compared to other comparable asset classes, but we acknowledge the potential for spreads to leak wider if volatility persists. In the near term, ongoing Q2 earnings will be the first early market proxy to assess loan fundamentals and potential for elevated downgrade activity. CLO pricing in the second half of the year will be influenced by loan fundamentals and technicals, as well as macro developments from inflation trajectory and Fed monetary policy. CLO equity distributions in Q3 (July payment cycle) will be lower, driven by higher reference rates and loss of LIBOR floors, as the base rates increased meaningfully. We expect lower Mezz prices to be pressured by any negative loan market and macro headwinds. We view the current wider yields on offer favorably given the CLO fundamentals and have become more constructive on BBBs given the recent widening. As for BBs, we remain selective and still like the structural protections offered by high-quality portfolios that are now offering double-digit base case yields. High-quality BB tranches, in our opinion, remain loss remote even under a recessionary scenario.
U.S. CLO 2.0/3.0 Secondary Spreads (Bps)
January 1, 2016 to June 30, 2022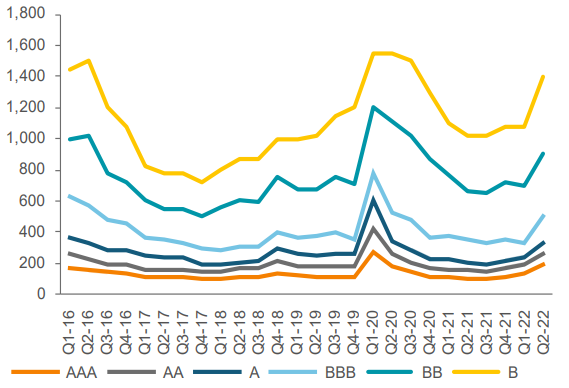 Equity NAVs, BBB MVOCs, BB MVOCs
Periods: 2015-2016, 2018, 2020 and July 5, 2022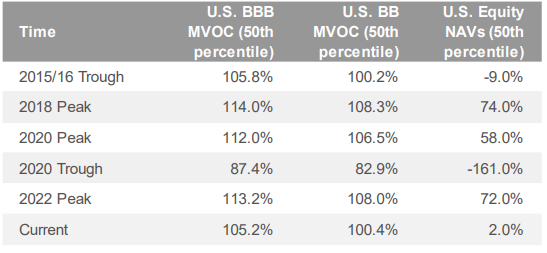 U.S. CLO Tranche Average Price
December 1, 2015 to June 30, 2022

In Q2, a confluence of macro risks weighed on investor sentiment in the loan market, leading to notable weakness in the secondary market, muted new loan issuance and outflows from retail loan funds/ETFs. Against this backdrop, the S&P/LSTA Leveraged Loan Index (the "Index") lost 4.45% for the quarter. The average Index bid price fell by 544 bps from March levels to 92.16, a level not seen since August 2020 during the COVID recovery phase.
Not surprisingly, the market was firmly in risk-off mode with returns for BBs, Single-Bs, and CCCs coming in at -3.11%, -4.91%, and - 7.69%, respectively. The dislocation amongst different ratings buckets/liquidity profiles increased in June with better-rated and liquid areas holding better, as lower quality and illiquid names started to come under pressure.
On a relative basis, loans still meaningfully outperformed other risk assets during the quarter such as investment grade bonds, high yield bonds, and equities, which have all registered double-digit losses for the YTD period.
Market technicals reversed the healthy dynamics seen in Q1, as new loan supply was muted in the last two months and totaled just $56bn for the quarter, a 50% reduction from Q1. On a YTD basis, total issuance volumes amounted to $168.3bn, which is tracking only half of last year's pace for the comparable period. Average clearing yields in the primary market increased well above 7% for the quarter due to wider OIDs amid the challenging conditions for new-issue, as well as a function of rising base rates. Dissecting new-issue volume by financing needs for issuers, M&A-related paper represented the bulk of transactions during the quarter, followed by refinancing activity, while dividend recapitalizations were largely sporadic.
On the investor demand front, CLO issuance remained active given prevalence of opportunistic P&S deals (as noted above), which are priced with only partially ramped portfolios and typically have short-dated or static (non-reinvestment) terms. Total formation in Q2 was $38.3bn, reflective of a 25% increase from the first quarter. YTD formation through June is roughly $71.4bn, a respectable figure considering the macro developments.
Average Bid: S&P/LSTA LLI
June 1, 2016 to June 30, 2022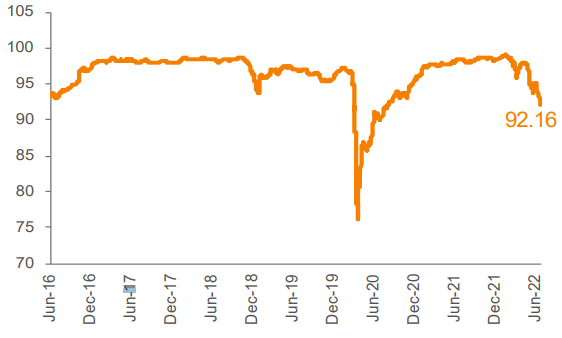 Average 3-YR Call Secondary Spreads: S&P/LSTA LLI 2,3
June 1, 2016 to June 30, 2022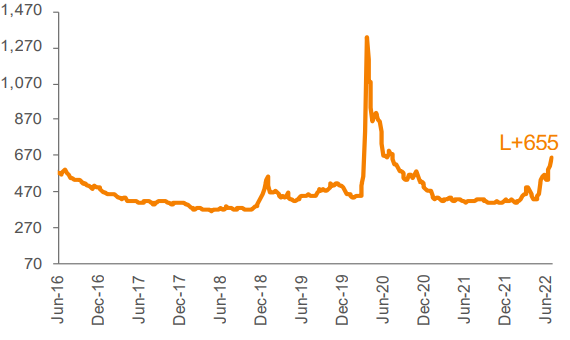 Loan Issuance and Repricing Activity ($ Billions)
January 1, 2019 to June 30, 2022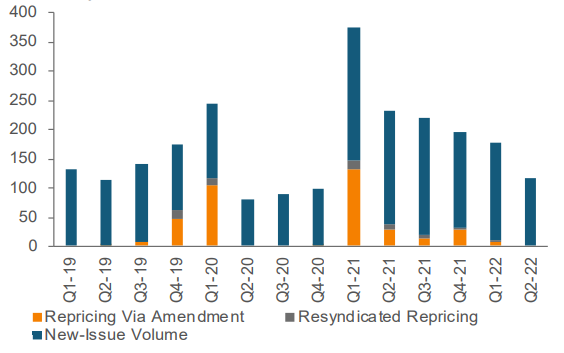 The global CLO market surpassed $1 trillion in 2021 and will likely reach $1.2 trillion by the end of 2022. Continued solid formation in Q2 further increased the size of the US CLO market, which currently stands above $900bn as of June, equating to more than a 100% increase from the start of 2017.
On the other hand, the retail base redeemed an aggregate $3.8bn from loan funds/ETFs, while YTD flows still remain positive at $18.3bn. As of June 30, the retail loan fund ownership of the Index totaled approximately 12%. For context, this figure was as high as 18% in the previous rate hike cycle from 2016-2018 and reached a low-water mark of 8% during 2020.
There were two defaults in the Index during the quarter (Talen Energy Supply and Revlon Consumer Products). As a result, the trailing 12-month default rate by principal amount experienced a small uptick of 9 bps and closed out the quarter at 0.28%, which is well below the long-term historical average for the asset class.
As we look ahead, we expect the macro backdrop to remain the main source of uncertainty and any broad market volatility. Recession risk has risen globally, as inflation and tightening monetary policy have led to a deceleration in economic growth. Higher food and commodity prices will remain a headwind to consumers and a challenge to policy makers, although impact will vary globally with Europe most at-risk given higher reliance on foreign energy. May CPI print amplified Fed's hawkish stance and raised terminal rate projections to 3.25-3.5% by year-end 2022. Policy outlook reflects a strong commitment to lowering inflation, but path to soft landing has narrowed considerably.
Specific to loans, the outlook in the medium term will continue to be driven by both technicals (primarily) and fundamentals (secondarily, given the still supportive backdrop going into Q2 earnings season). Beyond the visible forward calendar (which is relatively concentrated), near term new issue activity is expected to remain sporadic until the backdrop improves. General expectation, assuming no meaningful improvement in macro over the summer, is for spreads to reflect higher risk premiums; however, no significant pick-up in corporate defaults is anticipated over the next 12 months from the current low levels. Downgrade activity is likely to be a bigger concern for the loan market over the medium term, as compared to elevated defaults. Given the uncertain backdrop, we continue to closely monitor our credit selection and positioning given the prospects of sector and rating dispersion as we head into the typical pockets of summer illiquidity amidst macro uncertainty and a likely weaker earnings environment
U.S. CLO Market Size ($ Billions)
January 1, 2016 to June 30, 2022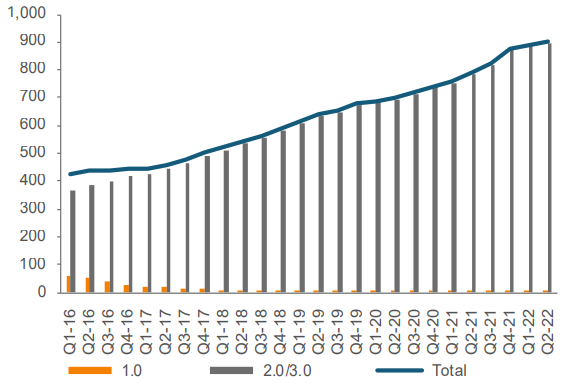 CLO Volume and Retail Fund Flows ($ Billions)
January 1, 2019 to June 30, 2022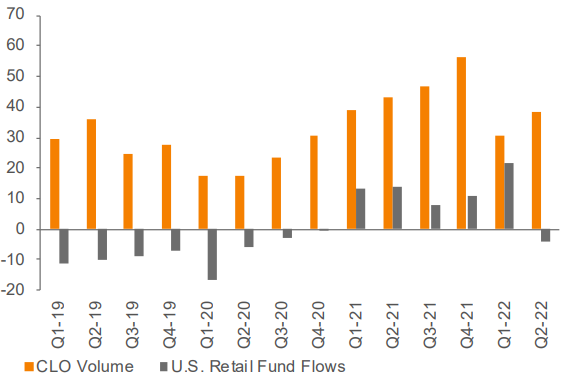 Lagging 12-Month Default Rate: S&P/LSTA LLI 4
June 1, 2016 to June 30, 2022