Strong CLO market activity delivered another record volume of issuance in the U.S.
CLOs – Q2 Review
In the U.S., strong CLO market activity did not show any signs of abating in Q2 and delivered another record volume of issuance. On a YTD basis, new issue is now up 128% relative to last year and is tracking roughly $84 billion ("bn"), while reset/refi volumes came in at $72bn/$67bn and were up about 6.4x/3.4x, respectively. CLO market fundamentals and technicals continue to be well supported. Healthy loan issuance, recovery in structural/market measures, improvement in loan credit metrics, relatively benign default outlook and favorable fund inflows continue to support CLO formation and medium-term issuance forecasts.
In Q2 2021, U.S. CLO tranches posted total returns1 of 0.31%, 0.41%, 0.66%, 1.44%, 4.44%, and 6.20% for AAA, AA, A, BBB, BB and B rating cohorts, respectively. Interest carry accounted for much of the returns in the IG tranches, while price convexity, in addition to interest, contributed to the returns in the mezzanine tranches.
Demand remained healthy across the capital stack driven by the favorable carry and attractive CLO arbitrage. There is growing demand from asset managers for CLO paper and global banks are back into the investor mix buying CLO AAA. CLO equity from structured credit funds raised in 2021, alongside strong bids from minority equity, is also providing additional support to the CLO market.
Portfolio margins held up well during the quarter despite ongoing repricing activity in the loan market, a reflection of both active portfolio management (reducing lower spread assets) and participation in the robust loan primary issuance (low to mid- Single-B profile). YTD loan repricing volume has amounted to $182bn (14% of loan market) from 176 issuers, which has resulted in 78 bps of spread compression (67/11 bps reduction coming from the respective spread/LIBOR reductions); resulting in roughly 11 bps impact on the S&P/LSTA Leveraged Loan Index (the "Index").
Notable observations in issuance trends have been: 1) prevalence of long-dated structures (i.e., 2/5-year noncall/ reinvestment periods), which have now reverted to prepandemic levels and 2) growing ESG focus and ESG-friendly CLO supply (though ESG document proliferation remains in the early stages).
U.S. CLO Issuance ($ Billions)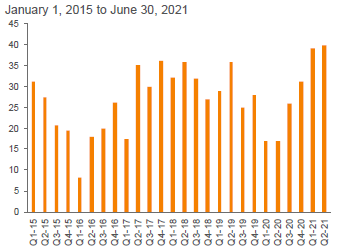 U.S. CLO Arbitrage at Issuance (Bps)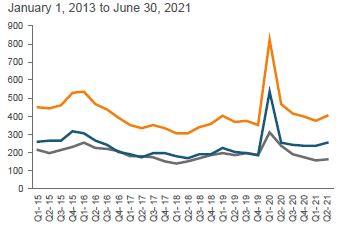 U.S. CLO BWIC ($ Billions)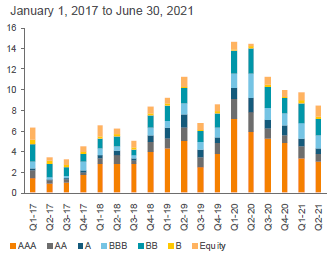 Sources: S&P/LCD, BofA/ML Research, Citibank
Ratings refer to original rating, and spreads are generic. Actual spreads may differ based on structure, WAL, collateral and manager.
The strong issuance in the first half of the year has resulted in spread widening from the tight levels observed in early March. IG tranches have widened by 15 bps, while mezzanine tranches have retraced some of the widening since March but remain higher than the tights for the year.
There is a significant number of warehouses that are currently open, more than 250 in count by some estimates. As the CLO market recovered, so did the availability and terms of warehouses. On the demand side, third-party first loss, away from manager captive capital, is becoming increasingly available. Furthermore, warehouse terms have fully reverted towards more normalized levels in terms of higher advance rates, lower funding costs and gradual disappearance of the mark-to-market clause.
Equity distributions remain resilient with Q2 median payouts at 3.5%, just below the 3.7% seen in Q1. Equity cashflows for the upcoming payment cycles in Q3/Q4 are expected to continue at current 2021 quarterly levels. LIBOR floor benefit and stable interest margins will likely provide ongoing support.
Aside from potential volatility from any unforeseen macro issues and expectations of Fed policy in the second half of the year, LIBOR transition has become one of the important themes to watch in the second half of 2021.
The market is expecting CLO AAA spreads to widen further to L+120 bps for top-tier managers by the end of Q3 2021, driven by supply glut and expectations that LIBOR transition risk could push CLO spreads a bit wider in Q4 2021.
We remain constructive on CLO fundamentals in the medium term and expect continued structural recovery; albeit at a lower level than the pace exhibited in the first half of the year. This coupled with supportive technicals for spreads provide a favorable backdrop for CLO mezzanine, particularly when compared to other corporate credit asset classes. In addition to our preference for newer vintage CLOs, we also like 2019/2020 reset opportunities for deals with relatively clean underlying portfolios and minimal par erosion.
U.S. CLO 2.0/3.0 Secondary Spreads (Bps)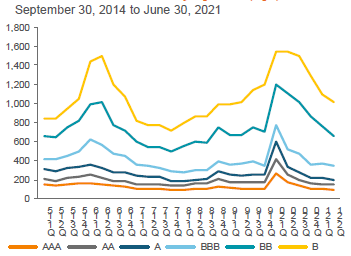 Equity NAVs, BBB MVOCs, BB MVOCs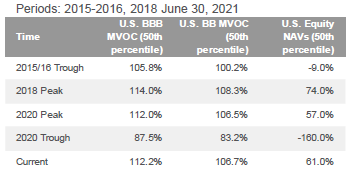 U.S. CLO Tranche Average Price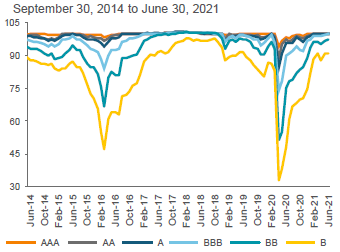 Pricing Across The CLO Stack

Sources: BofA/ML Research, Morgan Stanley Research, Citi, and J.P. Morgan.
Leveraged Loans – Q2 Review
The second quarter was largely a continuation of the themes experienced in Q1. Strong market technicals due to surging M&A issuance and healthy investor demand, combined with non-existent default activity, helped push prices closer to par. Against this backdrop, the Index experienced an 83 bps rise in the average bid price from the previous quarter, leading to a quarterly return of 1.47%. Senior loans have gained 3.28% in 2021.
In predictable fashion, lower-rated/higher-yielding credits outperformed higher-quality loans, as investors maintain their strong appetite for risk. To that end, CCCs led all cohorts with a return of 3.42%, defaulted loans returned 2.94%, and second liens outperformed first liens (3.66% vs. 1.42%). Moving up the ratings scale, Single-B and BBrated paper posted returns of 1.52% and 0.83%, respectively.
From a market technicals perspective, the volume of new loans coming to market slightly eased form the robust levels seen in Q1 but remained strong at $145.8bn. The bulk of new money supported buyouts and acquisition, roughly 58% of all transactions, while refinancings were prevalent as well but considerably less than in the first quarter. On a YTD basis, institutional issuance has reached $331.5bn, currently on pace to eclipse the previous record set in 2017, which was about $503bn.
On the other hand, demand for floating rate products did not show any signs of abating in Q2, as the asset class continues to absorb demand from yield-seeking investors. It was a record quarter in terms of CLO origination, as managers printed $40bn of new vehicles, eclipsing the previous record of $39bn from Q1.
Attractive absolute yields on debt tranches and favorable equity arbitrage are providing sustained momentum to the CLO issuance pace. This coupled with robust issuance in the primary loan market and still (relatively) reasonable secondary is providing additional support.
Average Bid: S&P/LSTA LLI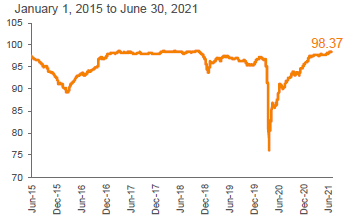 Average 3-YR Call Secondary Spreads: S&P/LSTA LLI 2,3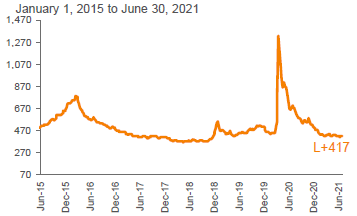 Loan Issuance and Repricing Activity ($ Billions)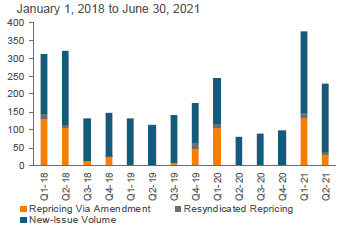 Index Stats

Source: S&P/LCD, S&P/LSTA Leveraged Loan Index and S&P Global Market Intelligence.
Based on various street estimates, the global CLO market has officially reached the $1 trillion milestone ($815bn in U.S. and €164bn in Europe). U.S. CLO new issue supply is on track to hit a revised forecast of $130bn for full-year 2021. U.S. CLO refi/reset supply target is estimated to approach $100bn and $120bn, respectively for full-year 2021. The aggregate issuance, if achieved, will amount to $350bn and will exceed the $285bn recorded in 2018. The U.S. CLO market is expected to be well north of $850bn by year end.
Further adding to the demand equation was a pick-up in retail loan fund inflows, which amounted to $13.9bn for the period. Retail fund flows have totaled approximately $27bn through the YTD period, essentially erasing the net aggregate outflow in 2020 of roughly $27.8bn.
From a fundamental credit perspective, the loan market had a default-free quarter. As a result, the Index's trailing-12- month default rate by principal amount decreased sharply to 1.25% (from 3.15% in Q1). The notable drop is a function of improving corporate credit health and a bevy of the COVID- 19-induced defaults rolling off the trailing calendar. General market consensus points to low near-term default activity and a rate firmly below the historical market average.
In terms of rating agency actions, upgrades continued to outpace downgrade activity. The rolling 3-month downgrade to- upgrade ratio closed out June at 0.44x, as compared to 1.08x at the end of 2020, and the historical peak of 43.2x experienced during the peak of the COVID-19 uncertainty in May of last year.
In the near term, the loan market remains positioned well and should continue to benefit from the favorable supply/demand backdrop and improved fundamentals. However, we expect performance to be driven more by coupon and less by market value appreciation given where loans on average are currently priced (Index bid firmly above 98).  Of course, investors will remain focused on factors that could derail that outcome and introduce volatility such as the threat of COVID-19 variants, geo-political risks, concerns around the path/sustainability of inflation, and potential quicker shift in Fed policy than originally anticipated.
U.S. CLO Market Size ($ Billions)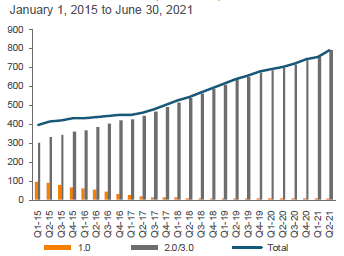 CLO Volume and Retail Fund Flows ($ Billions)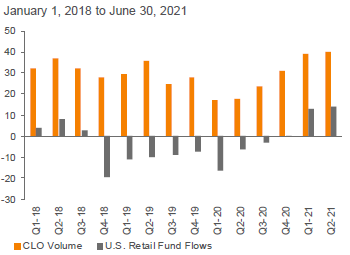 Lagging 12-Month Default Rate: S&P/LSTA LLI 4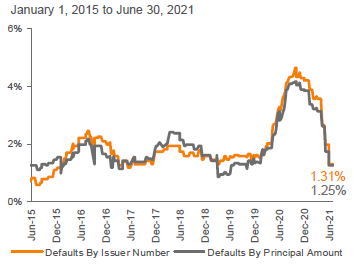 Source: BofA/ML Research, S&P/LCD, S&P/LSTA Leveraged Loan Index and S&P Global Market Intelligence.