The key CLO themes in Q1 2022 were a smooth transition to SOFR, relative outperformance versus other comparable asset classes, widening in liability spreads towards the back end of the quarter, elevated redemption activity early on, and notable deceleration in US issuance volume in March.
CLOs – Q1 Review
The key CLO themes in Q1 2022 were a smooth transition to SOFR, relative outperformance versus other comparable asset classes, widening in liability spreads towards the back end of the quarter, elevated redemption activity early on, and notable deceleration in US issuance volume in March.
 In Q1 2022, US CLO tranches posted negative total returns* across the capital stack (except B tranche) of -0.26%, -0.33%, -0.54%, - 0.01%, -0.33%, and +1.42% for AAA, AA, A, BBB, BB and B rating cohorts, respectively. CLO fundamentals remained generally unchanged as measured by various credit metrics including WARF and CCCs. Structural metrics such as BB OC cushions were steady, as portfolios exhibited par build. However, market value metrics such as WAPx, BB MVOC and NAV softened due to loan market weakness.
For the quarter, US new-issue volumes came in at $30.7 billion ("bn"), down 23% versus Q1 2021, but generally in line with 2018 and 2019 respective volumes of $32bn/$29bn. Refis are down 88% YoY (versus $38.3bn), while resets are down 49% YoY (versus $32.6bn). Elevated secondary supply, primarily of CLO IG tranches, led to widening in AAA spread levels, resulting in 15-20 bps increase from low-130s in early March. The mezzanine tranches widened by 50- 100 bps, resulting in more than 20 bps increase in average liability costs across the CLO capital structure – hence worsening the equity arbitrage. This resulted in a notable deceleration in issuance volume from February and below last year's strong volumes. Any pickup in issuance volume will be predicated on stabilization/tightening in CLO AAA spreads, which will be dependent on spread/yield relative value versus other similarly rated asset classes (Corporate IG, CMBS, and RMBS) to renew investor demand for CLO IG tranches.
Every new-issue CLO deal in 2022 has been priced using SOFR base rates. While the market witnessed a lull in issuance during the first few weeks of the year as SOFR-based price discovery materialized, the CLO market was able to establish the right market clearing levels with tier I manager AAA clearing in the low-130s (a 15 bps premium to average LIBOR-based pricing in Q4 2021), with the CSA (credit spread adjustment) embedded into the nominal spread.
With the market now pricing an aggressive Fed rate trajectory, 3M LIBOR exceeded 1% briefly in March. The 3M/1M LIBOR spread hovered around new wides of roughly 50 bps, up significantly from the 6 bps average in 2021. Additionally, the 3M LIBOR/SOFR basis spiked over 40 bps before settling down in the low 30 bps at quarter end.
U.S. CLO Issuance ($ Billions)
January 1, 2016 to March 31, 2022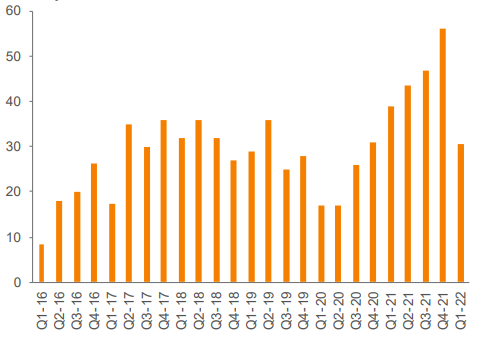 U.S. CLO Arbitrage at Issuance (Bps)
January 1, 2016 to March 31, 2022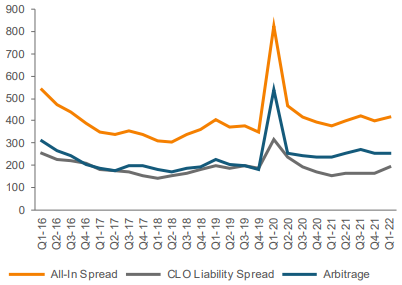 U.S. CLO BWIC ($ Billions)
January 1, 2017 to March 31, 2022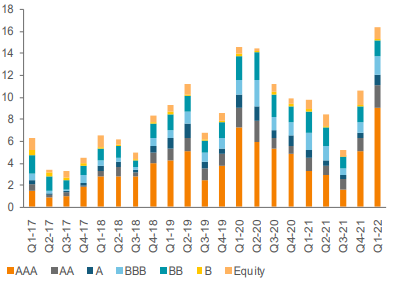 Such rates developments are negative for CLO equity distributions in the short term. Currently, the embedded floors on about 80% of 1M LIBOR-based loans are out of the money and almost all floors for 3M LIBOR loans are out of the money. CLO managers in various deal vintages may also start switching to SOFR early given the recent widening in LIBOR/SOFR basis, driven potentially by various documentation technical nuances and economic incentives.
As more CLOs continue to incorporate permissible bond buckets (average around 5%), total bond holdings across BSL CLO portfolios have increased and are at $1.7bn with the median share of bonds at 0.8%.
2022 new issue forecasts are being revised slightly down to $125bn from earlier forecasts of $145-$150bn to reflect market volatility and challenging arbitrage. Any forward meaningful pick up in issuance will require stabilization in the macro backdrop, further spread tightening and improvement in CLO equity arbitrage. A pickup in Japanese CLO AAA demand with the start of the new fiscal year in April alongside more than 200 US CLO open warehouses will provide some support for sustained moderate issuance in the medium term.
CLOs are nicely positioned versus corporates and the spread/yield basis is wide compared to the historical average. The floating rate nature provides upside for additional carry in a rising rate environment. The corporate fundamental view, while still supportive for loans and CLOs, has become slightly trickier post the Q1 macro developments. While default expectations are still expected to be benign for now, we're closely watching for any uptick in tail risks due to margin shortfalls from sustained inflation, supply chain disruptions, as well as higher borrowing costs. We expect CLO BBs to be sensitive to any softness in loan prices in the medium term and will look to take advantage of selective widening in the primary market with yields now approaching 10%+. If BBs become very volatile, discounted short-duration tenors could become attractive. At the same time, we have become more constructive on BBBs with the recent widening and will look to start adding exposure again given the relatively lower beta (versus CLO BB and equity tranches) as well as attractive floating rate yields, which have crept into the 6% range.
U.S. CLO 2.0/3.0 Secondary Spreads (Bps)
January 1, 2016 to March 31, 2022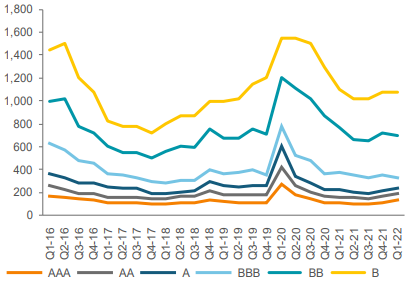 Equity NAVs, BBB MVOCs, BB MVOCs
Periods: 2015-2016, 2018, 2020 and March 8, 2022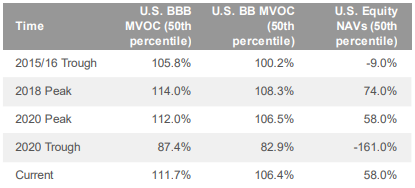 U.S. CLO Tranche Average Price
December 1, 2015 to March 31, 2022
Pricing Across The CLO Stack

Sources: BofA/ML Research, Morgan Stanley Research, Citi, and J.P. Morgan. Additional footnotes and disclosures on back page.
For qualified institutional investor use only. Not for inspection by, distribution or quotation to, the general public.
Leveraged Loans – Q1 Review
The U.S. loan market started the new year off on a strong note before geopolitical tension and broad market weakness weighed on performance. Altogether, the S&P/LSTA Leveraged Loan Index (the "Index") returned -0.10% for the quarter, reflective of a 104 bps decline in the average Index bid price to 97.60. In fact, bid levels briefly fell below 96 for the first time since 2020 before a late-March retracement helped stabilize trading levels. On a relative basis, loans strongly outperformed other risk assets, which also faced rate pressures given the strong uptick in government bond yields.
Digging into ratings cohort performance within the asset class, Single-Bs were ahead of the pack and the only cohort to register a positive return, albeit a modest one at just +3 bps. Meanwhile, BBs trailed at -0.17%, while CCCs were well into the red with a 97 bps decline given the decreased appetite for risk.
Market technicals remained healthy despite the choppier waters. New institutional loan issuance totaled $113.5bn in Q1, most of which was syndicated in January (roughly 64%), as new loan formation was subdued in the last two months. M&A-related supply represented the bulk of total volume, followed by refinancing activity, while dividend recapitalizations took a backseat.
Absorbing the new deal flow was strong investor demand for the asset class, most notably from the retail loan fund segment. For the quarter, retail loan funds experienced $21.8bn of inflows, the most of any quarter since 3Q-2013. Q1's total inflow is already nearly half of last year's aggregate inflow of approximately $47.5bn. As of February 28, LCD estimates retail funds' ownership of the Index to be approximately 13%, up 2% from the start of the year and 5% from the start of 2021. 
On the CLO front, managers printed roughly $30.7bn of new vehicles during the period with nearly half issued in February. January issuance was on the lighter side, as investors and CLO managers sorted through the price-discovery phase of the baserate transition to SOFR. Q1's tally is down 23% year-over-year but is generally in line with 2018 and 2019 volumes, as noted above.
Average Bid: S&P/LSTA LLI
March 1, 2016 to March 31, 2022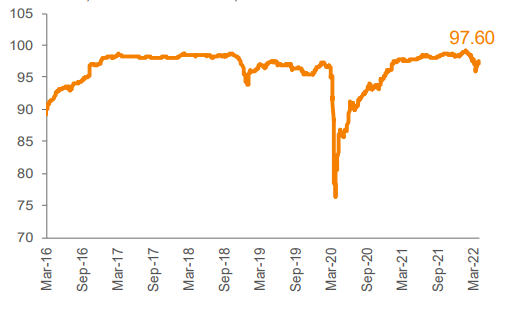 Average 3-YR Call Secondary Spreads: S&P/LSTA LLI 2,3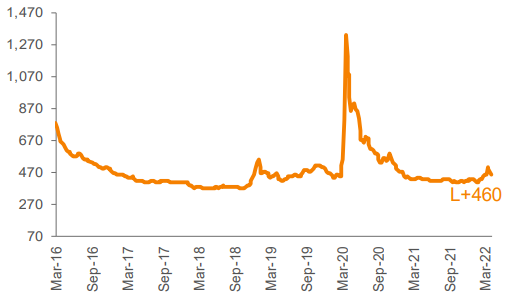 Loan Issuance and Repricing Activity ($ Billions)
January 1, 2019 to March 31, 2022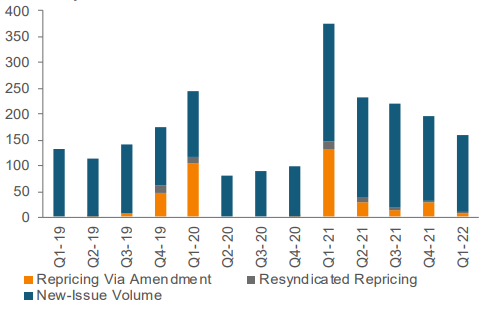 Index Stats

Source: S&P/LCD, S&P/LSTA Leveraged Loan Index and S&P Global Market Intelligence. Additional footnotes and disclosures on back page.
Past performance is no guarantee of future results. Investors cannot invest directly in the Index.
The global CLO market surpassed $1 trillion in 2021 and will likely reach $1.2 trillion by the end of 2022. Solid formation in Q1 continued to expand the size of the US CLO market, which currently stands at approximately $892bn as of March-end, equating to roughly a 100% increase from the start of 2017.
In terms of downgrade activity, upgrades continued to outpace downgrades for the rolling 3-month period in March, although slowed a bit compared to the pace seen towards the end of last year. For reference, there were 41 upgrades in Q1, as compared to 35 downgrades, bringing the rolling 3-month upgrade-to-downgrade ratio to 0.85x. For comparison, last quarter's ratio was approximately 0.53x.
The loan market's trailing-12-month default rate continued to fall in Q1, reaching just 0.19% by principal amount, a few bps off the alltime-low for the asset class. Based on LCD's Leveraged Finance Survey for Q1, nearly half of respondents expect the default rate to be between 0.75% and 1.5% one year from now. Even an uptick to the upper end of that range would still keep the default rate well below the historical average of 2.79%, a threshold not exceeded since March 2021.
Looking ahead, a bevy of uncertainties will continue to influence sentiment in global financial markets. Topping the list include the ongoing conflict in Ukraine, elevated inflation and input costs, tightening monetary policy and rate volatility. On the other hand, adequate economic growth, low unemployment, generally healthy corporate balance sheets, and solid consumer data are providing somewhat of a buffer to increased risks. The upcoming earnings cycle will be key in assessing the impact of the latest rise in input costs/energy prices and should hopefully provide some clarity on expected path of corporate growth in the near term.
Specific to loans, the asset class will benefit from the expected rise in short-term rates. At the March FOMC meeting, the U.S. Federal Reserve raised the Fed Funds Rate to 0.25% and signaled for six to seven additional rate hikes in 2022. Market participants are now expecting an accelerated rate hike cycle given the recent inflation data with some expecting 50 bps rate hikes at the next three meetings. The current rate backdrop, virtually non-existent duration risk and relatively limited volatility are all providing a constructive backdrop for loans for the near-term outlook.
U.S. CLO Market Size ($ Billions)
January 1, 2016 to March 31, 2022
CLO Volume and Retail Fund Flows ($ Billions)
January 1, 2019 to March 31, 2022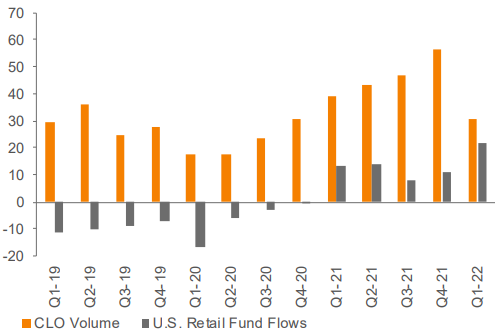 Lagging 12-Month Default Rate: S&P/LSTA LLI 4
March 1, 2016 to March 31, 2022