Going forward, we believe CLO mezzanine and equity tranches provide one of the most unique and diverse opportunity sets today given the scarcity of yield across most other segments of the market.
CLOs – Q1 Review
Overall, the U.S. CLO market saw record volume activity and new issuance in Q1 2021. New issue was up 125% versus last year and ended the quarter at approximately $39 billion, while reset/refi volumes came in at $35/$39 billion and were up 300% and 160%, respectively.
New refi/reset forecast has increased from $130 billion to $160 billion to $220 billion. In total, full-year 2021 could see $290 billion to $350 billion of total U.S. CLO supply, surpassing 2018's record of $286 billion.
In Q1 2021, U.S. CLO tranches posted total returns1 of 0.49%, 0.95%, 1.46%, 1.60%, 2.98%, and 12.69% for AAA, AA, A, BBB, BB and B rating cohorts, respectively, with a sustained rally in loan prices during the quarter providing incremental price uptick in CLO Mezz tranches.
CLO metrics continued the positive trend from late 2020 and showed improvement in underlying collateral statistics with market value metrics moving higher and showing stable trends, while structural metrics continued the gradual recovery.
The increased market supply seen in Q1 resulted in CLO primary spreads leaking wider towards the end of Q1, as investors were generally overwhelmed with the amount of supply that came to the market. As of March-end, primary AAA spreads were wider by 10-12 bps, while BBB/BB spreads were wider by 30-50/50- 100 bps respectively, as compared to their tights in mid-February, driven by some of the rates-induced broader market vol and elevated supply witnessed in late March. There is an expectation that the widening in primary CLO spreads could cause refi/reset volumes to subside in Q2 from their unprecedented high levels observed in Q1.
The CLO market remained resilient through the increased volatility across broader segments in late March. Despite the recent widening (which subsequently stabilized post month-end), new issue activity is expected to remain elevated as investors take advantage of attractive arbitrage levels and AAA spreads remain at the tight end of their historical levels. While we expect to see a short-term reprieve from a gross level perspective, supply should remain high compared to historical averages.
U.S. CLO Issuance ($ Billions)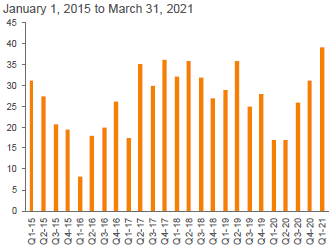 U.S. CLO Arbitrage at Issuance (Bps)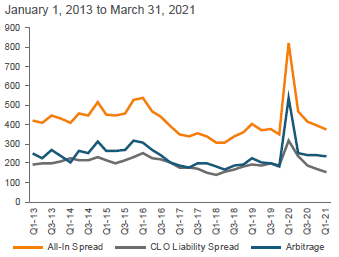 U.S. CLO BWIC ($ Billions)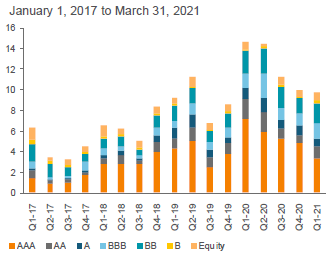 Sources: S&P/LCD, BofA/ML Research, Citibank
Ratings refer to original rating, and spreads are generic. Actual spreads may differ based on structure, WAL, collateral and manager. 
The majority of the new issue volume in Q1 had the 5-year reinvestment period structure and the reset volume came primarily from the 2016 and 2017 vintages, as they exited reinvestment periods. In Q2, the market will see a pick-up in reset volume from CLOs that priced last year – typically shorter dated structures (to be increased from 3 to 5 years) and higher average liability costs (likely to be reduced by at least 50 bps).
Various street estimates around new issuance have been revised upwards in the past two weeks, with the new issue forecast increasing from $100 billion to $130billion-$140 billion for full-year 2021, in light of strong investor demand for floating rate assets and the robust CLO pipeline.
The market expectation is for overall demand to remain strong, and for CLO liability spreads to retest their 2021 tights over the next few months. The floating rate nature of CLO bonds should continue to see supportive investor demand given the market concerns with inflation risk and recent rally in rates.
The prevailing sentiment in the CLO market remains bullish. Rally in loan prices, subsiding default activity, improving ratings and CCC upgrade trend have all helped with the recovery in CLO Mezz MVOCs and CLO equity NAVs. Furthermore, OC ratios have improved significantly with the percentage of deals failing any tests declining meaningfully from the peak levels in May 2020, resulting in CLO equity distributions reverting back to their pre-pandemic levels.
The favorable macro backdrop, recovery in CLO fundamentals, supportive technicals, stable ratings environment (with a bias towards some upgrade activity in the short term) and attractive relative value keeps us supportive of the CLO Mezz tactical allocation thesis.
While medium term pockets of vol, as they emerge, could result in spread widening in the short term, we expect spreads to generally be well supported from a demand perspective given the floating nature and structural protections. We continue to recommend newer vintage CLOs, conservative/defensive managers and relatively clean underlying portfolios.
U.S. CLO 2.0/3.0 Secondary Spreads (Bps)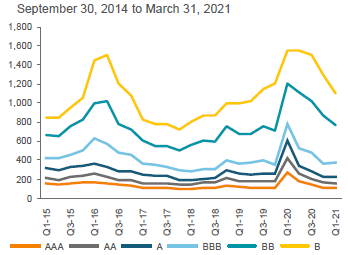 Equity NAVs, BBB MVOCs, BB MVOCs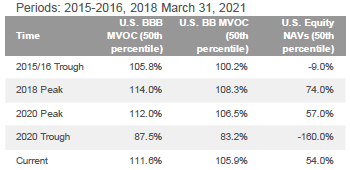 U.S. CLO Tranche Average Price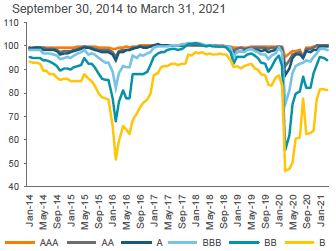 Pricing Across The CLO Stack

Sources: BofA/ML Research, Morgan Stanley Research, J.P. Morgan.
Leveraged Loans – Q1 Review
The U.S. loan market performed soundly during the quarter, buoyed by healthy market technicals and stronger secondary trading levels. In total, the S&P/LSTA Leveraged Loan Index (the "Index') returned 1.78% for the period with market value gains and interest income both contributing to performance.
Returns were in the black across all rating cohorts but clearly favored lower-quality, as investors maintained a strong risk-on bias. With an outsized gain of 6.38%, CCCs were the top performers for a fourth consecutive quarter. Moving up the ratings quality scale, single-Bs and BBs posted returns of 1.60% and 0.75%, respectively.
Turning to market technicals, both sides of the equation experienced robust volumes. Starting with supply, total institutional issuance amounted to $184.4 billion, surpassing the previous quarterly record of $171.4 billion set in Q1 2017. Driving the uptick was a strong resurgence of M&A and LBO-related transactions, which were up 47% from the previous quarter. Other notable drives included refinancings and dividend recapitalizations.
The heavy new-issue supply was absorbed by strong investor interest for the asset class. CLO managers, the predominant buyers of loans, printed roughly $38.8 billion of new vehicles during the quarter. CLO formation has been underpinned by attractive arbitrage, recovery in credit fundamentals, improvement in structural metrics and a strong pipeline of new loan deals.
Within the retail loan segment, inflow activity was also in high gear, as investors allocated $13.1 billion into retail loan funds according to LCD, the most since the first quarter of 2017. For reference, retail loan funds were slightly in the negative territory in Q4 2020 (-$0.15 billion) and experienced a net outflow of $27.8 billion for full-year 2020 (more than half of which occurred in March).
Average Bid: S&P/LSTA LLI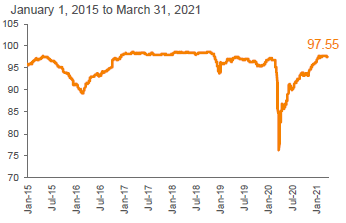 Average 3-YR Call Secondary Spreads: S&P/LSTA LLI 2,3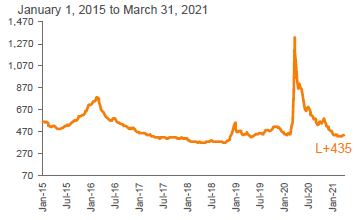 Loan Issuance and Repricing Activity ($ Billions)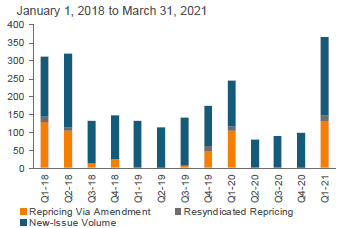 Index Stats

Source: S&P/LCD, S&P/LSTA Leveraged Loan Index and S&P Global Market Intelligence.
From a fundamental credit perspective, the loan market experienced muted default activity with just two Index constituents defaulting during the quarter. As a result, the trailing-12-month default rate by principal amount fell by 68 bps from previous quarter, to 3.15%, much closer to the historical average for the asset class.
The forward consensus estimates (LCD's latest default survey, which was conducted in March) place the peak default rate in the loan market at just under 4% for yearend 2021.
The loan market's rolling 3-month ratio of downgrades to upgrades closed out Q1 at 0.71x, as upgrade activity outpaced downgrades, particularly in the last two months of the quarter. Given the improved credit and macro backdrop, this represents a vast improvement from the historical April peak of 43.2x (and a solid improvement from 1.01x in Q4 2020), as the material impacts of the pandemic resulted in aggressive downgrade actions by the rating agencies.
As we look ahead, the broad macro picture should continue to improve as economic reopening progresses, vaccinations ramp up, and a general pivot back to pre-pandemic activities accelerates. The global vaccine rollout has improved the outlook for COVID-19, as infections rates are expected to continue to fall. However, the road to herd immunity will remain turbulent, particularly for countries with slower rates of vaccinations.
Nonetheless, the most material downside risks have diminished considerably, as the upward trend in corporate earnings should continue against the backdrop of strong GDP growth in the near term. Separate from the pandemic, market participants are also focused on inflation and rate volatility, both of which have been recently ignited by prospects of additional government spending. Should there be a further leg up in longer-end rates, we expect loans to benefit in such scenario given the inherent rising-rate protection offered by the asset class.
U.S. CLO Market Size ($ Billions)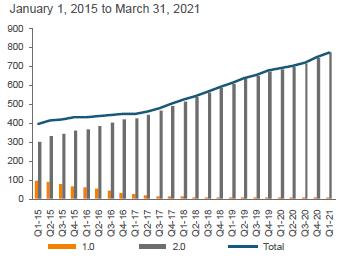 CLO Volume and Retail Fund Flows ($ Billions)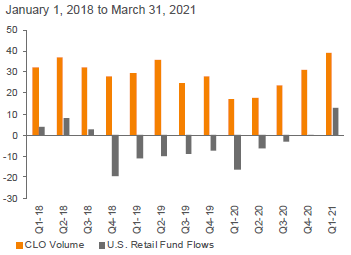 Lagging 12-Month Default Rate: S&P/LSTA LLI 4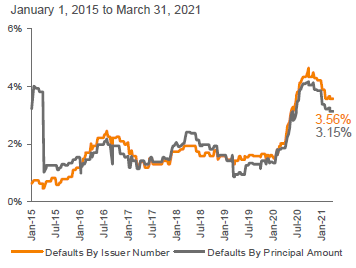 Source: BofA/ML Research, S&P/LCD, S&P/LSTA Leveraged Loan Index and S&P Global Market Intelligence.
20210507-1638731-4908071
To the extent the data is sourced from Standard & Poor's/LCD, S&P/LCD does not make any representations or warranties as to the completeness, accuracy or sufficiency of the data in this report.
1 J.P. Morgan Collateralized Loan Obligation Index (CLOIE) has been obtained from sources believed to be reliable but J.P. Morgan does not warrant its completeness or accuracy. The Index is used with permission. The Index may not be copied, used, or distributed without J.P. Morgan's prior written approval. Copyright 2020, J.P. Morgan Chase & Co. All rights reserved.
2 Assumes 3 Year Maturity. Three-year maturity assumption: (i) all loans pay off at par in 3 years, (ii) discount from par is amortized evenly over the 3 years as additional spread, and (iii) no other principal payments during the 3 years. Discounted spread is calculated based upon the current bid price, not on par.
3 Excludes facilities that are currently in default.
4 Comprises all loans, including those not tracked in the LPC mark-to-market service. Vast majority are institutional tranches. Issuer default rate is calculated as the number of defaults over the last twelve months divided by the number of issuers in the Index at the beginning of the twelve-month period. Principal default rate is calculated as the amount defaulted over the last twelve months divided by the amount outstanding at the beginning of the twelve-month period.
General Risks for Floating Rate Senior Loans: Floating rate senior loans involve certain risks. Below investment grade assets carry a higher than normal risk that borrowers may default in the timely payment of principal and interest on their loans, which would likely cause the value of the investment to decrease. Changes in short-term market interest rates will directly affect the yield on investments in floating rate senior loans. If such rates fall, the investment's yield will also fall. If interest rate spreads on loans decline in general, the yield on such loans will fall and the value of such loans may decrease. When short-term market interest rates rise, because of the lag between changes in such short-term rates and the resetting of the floating rates on senior loans, the impact of rising rates will be delayed to the extent of such lag. Because of the limited secondary market for floating rate senior loans, the ability to sell these loans in a timely fashion and/or at a favorable price may be limited. An increase or decrease in the demand for loans may adversely affect the loans.
This commentary has been prepared by Voya Investment Management for informational purposes. Nothing contained herein should be construed as (i) an offer to sell or solicitation of an offer to buy any security or (ii) a recommendation as to the advisability of investing in, purchasing or selling any security. Any opinions expressed herein reflect our judgment and are subject to change. Certain of the statements contained herein are statements of future expectations and other forward-looking statements that are based on management's current views and assumptions and involve known and unknown risks and uncertainties that could cause actual results, performance or events to differ materially from those expressed or implied in such statements. Actual results, performance or events may differ materially from those in such statements due to, without limitation, (1) general economic conditions, (2) performance of financial markets, (3) changes in laws and regulations and (4) changes in the policies of governments and/or regulatory authorities. The opinions, views and information expressed in this commentary regarding holdings are subject to change without notice. The information provided regarding holdings is not a recommendation to buy or sell any security. Fund holdings are fluid and are subject to daily change based on market conditions and other factors.
Voya Investment Management Co. LLC ("Voya") is exempt from the requirement to hold an Australian financial services license under the Corporations Act 2001 (Cth) ("Act") in respect of the financial services it provides in Australia. Voya is regulated by the SEC under US laws, which differ from Australian laws. This document or communication is being provided to you on the basis of your representation that you are a wholesale client (within the meaning of section 761G of the Act), and must not be provided to any other person without the written consent of Voya, which may be withheld in its absolute discretion.
Past performance is no guarantee of future results.