CLOs – 3Q Review
In 3Q22, US CLO tranches exhibited mixed returns with the investment grade (IG) part of the stack faring better than the mezzanine (mezz) part. These returns registered 0.23%, 0.08%, – 1.1%, – 1.43%, –2.56%, –2.57% for AAA, AA, A, BBB, BB and B rating cohorts, respectively. Similar to 1Q22 and 2Q22 trends, CLO fundamentals remained generally unchanged as measured by various credit metrics including weighted average rating factor (WARF) and CCC exposures, though the lower-priced collateral buckets saw an uptick as lower credit profile dispersion grew in the quarter. Structural metrics such as BB overcollateralization (OC) and interest diversion (ID) remain favorable (above pre-pandemic levels), and breaches remain at negligible levels. Market value metrics such as weighted average purchase price (WAPP), BB market value overcollateralization (MVOC) and equity NAVs slightly improved in 3Q, driven by the loan market rally in July and August before decelerating in September.
CLO issuance surpassed the $100 billion mark as the quarter concluded. While directionally lower than last year by about 18%, 2022 year-to-date CLO issuance is tracking ahead of 2018 levels, which holds the second highest issuance volume after 2021. CLO issuance is likely to hit around the $115–120 billion threshold in 2022 assuming $5–7 billion monthly issuance (below the average $10 billion monthly trend) for the rest of the year holds.
CLO issuance has been impacted by a difficult macro backdrop. While the fundamental view remains stable for now, the technical market challenges have led to significant spread widening in both the primary and secondary CLO markets. On a YTD basis, 86 US CLO managers have issued in 2022 versus 101 last year. As previously mentioned, larger CLO managers have increasingly dominated the primary supply, with the largest 30% of managers (28 managers with over $10 billion US CLO AUM) contributing to 61% of the issuance YTD, as compared to 51% last year.
CLO refinancing (refi) and reset activities have lagged in 2022 given the liability widening. Roughly $85 billion (or 9%) of the outstanding US CLO universe are exiting their reinvestment period in 2022, and another $204 billion (or 22%) are exiting in 2023. While a repeat of the robust refi/reset activity that played out during the 2017-2019 period is unlikely for now, any market activity (and even redemptions) will be driven by CLO equity IRR performance and whether loan prices can recover some ground.
U.S. CLO Issuance ($ Billions)
January 1, 2016 to September 30, 2022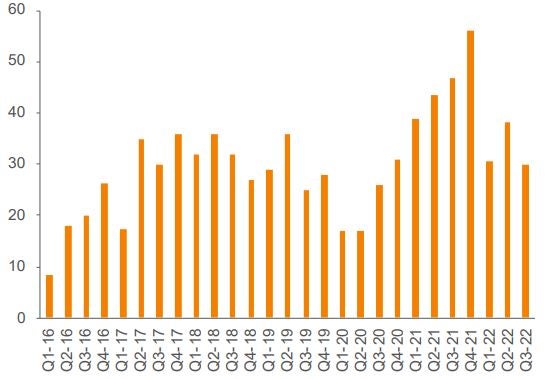 U.S. CLO Arbitrage at Issuance (Bps)
January 1, 2016 to September 30, 2022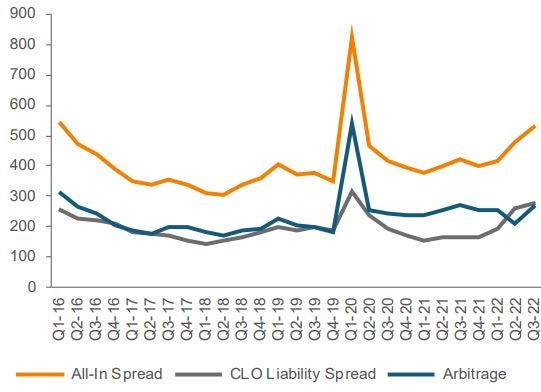 U.S. CLO BWIC ($ Billions)
January 1, 2017 to September 30, 2022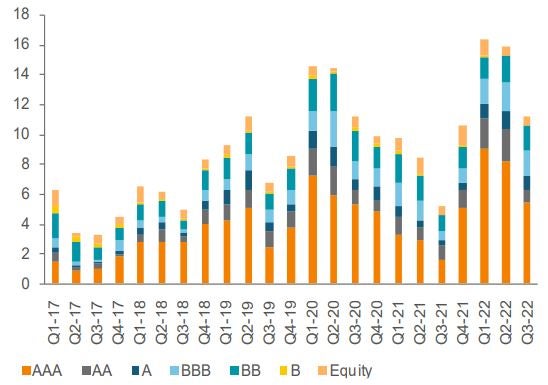 Sources: LCD, BofA Global Research, Ratings refer to original rating, and spreads are generic. Actual spreads may differ based on structure, WAL, collateral and manager. Additional footnotes and disclosures on back page.
CLO bids remain marginally supportive with recent arbitrage (arb) trend but there are lot of moving parts that impact sustainability and execution, including weak interest only (IO) for regular deals, warehouse pressure resulting in uneconomic deals, principal only (PO) trade coming back if loans sell off, and state of AAA investor base. The latter is impacted by US banks' security holdings versus loan growth demand/capital ratios and sustainability of recent surge in Japan's bid despite higher hedging costs eroding US yield advantage. As a result, CLO formation will only be available to select managers and structural/economics levers will be the driver behind issuance in 4Q.
Liabilities continued to widen from the August tights. However, the arb slightly improved but remains PO-driven as loan prices have retraced back down to some of the wider levels seen in 2022. The outstanding warehouse count of over 180 days remains concentrated (nearly two thirds of the total count) which makes pricing hard for older warehouses with typically higher weighted average prices.
CLO spreads are expected to remain range bound to slightly wider. However, given the challenging arb, there is less room for any material widening which could completely halt any remaining issuance. At the same time, levels can widen if macro volatility further accelerates from current high levels. Both loan downgrades and defaults have accelerated since 2Q22, which will lead to more price volatility and bifurcation in CLO tranches in 4Q.
CLO tranches look attractive due to historically wide levels, favorable coupons and yields, strong structural protections and ability to withstand mild recessionary stress scenarios. CLO pricing will be influenced by loan fundamentals and technicals driven by corporate earnings, macro developments and US Federal Reserve policy. CLO equity distributions in 3Q were lower and expect to further decelerate into the October payment cycle. As previously highlighted, the decline is driven by higher rates and loss of LIBOR floors as base rates increased meaningfully. We expect mezz prices to be pressured by any additional loan market and macro headwinds. We view the current wider yields favorably given CLO fundamentals and remain constructive on BBBs with current yields at high single-digits. As for BBs, we remain selective and still like the structural protections offered by high quality portfolios that are now offering double-digit base case yields.
U.S. CLO 2.0/3.0 Secondary Spreads (Bps)
January 1, 2016 to September 30, 2022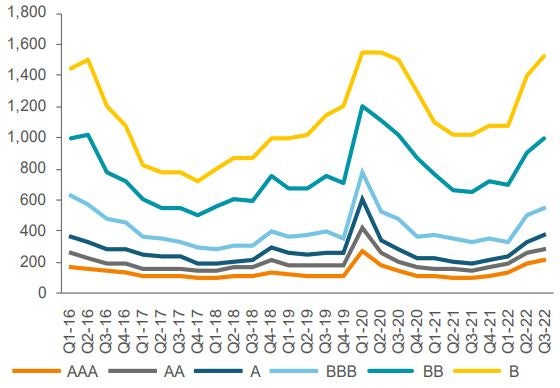 Equity NAVs, BBB MVOCs, BB MVOCs
Periods: 2015-2016, 2018, 2020 and October 24, 2022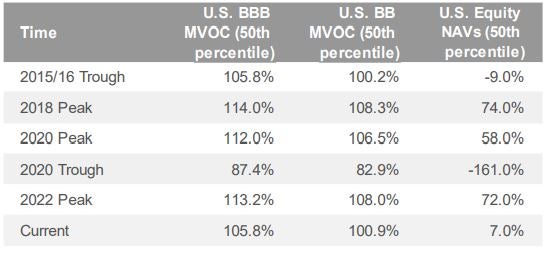 U.S. CLO Tranche Average Price
December 1, 2015 to September 30, 2022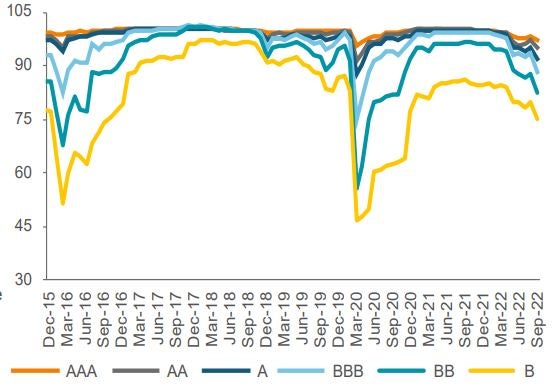 Sources: BofA Global Research, Morgan Stanley Research, and J.P. Morgan. Additional footnotes and disclosures on back page.
The US loan market, as represented by the Morningstar® LSTA ® US Leveraged Loan Index (Index), rallied in the first two months of 3Q22 before broad-based volatility weighed on returns in September. Altogether, loans posted an advance of 1.37% during the quarter, while year-to-date returns are tracking –3.25%. The average Index bid price decreased by 24 basis points (bp) from June levels to 91.92, with the entire decline occurring in September. On a relative basis, loans continued to outperform other risk assets such as IG bonds, high yield (HY) bonds and equities, which have all registered double-digit losses for the YTD period.
A continued flight to quality theme was evident with returns for BB, single-B and CCC rated loans coming in at 2.45%, 1.18% and – 1.72%, respectively. The dislocation amongst different ratings buckets and liquidity profiles remained intact in 3Q22 with betterrated and liquid areas holding better, as lower quality and illiquid names remain under pressure. On a YTD basis, returns for BB, B and CCC rated loans are –0.90%, –3.76% and –10.16%, respectively.
Turning to technical factors, new-issue supply was muted as a result of the uncertain backdrop, while investor demand continued to be driven by CLO formation. Total institutional loan volume amounted to just $21.4 billion during the quarter, a 62% reduction from 2Q22 and YTD total of $189.6 billion is 61% behind last year's record-breaking pace. Merger and acquisition (M&A) transactions represented the bulk of new-issue volume during the quarter, consistent with the theme experienced for much of the year, although some refis were present as well.
Meanwhile, CLO issuance remained the primary driver of loan demand, as total formation was $29.8 billion, bringing the YTD tally above $100 billion for the year. For context, YTD 2022 has seen 226 new-issue deals, 11 (refis), and 35 resets, totaling $108 billion, $4.2 billion, and $20.2 billion, respectively. New-issue volumes are down 18% year over year (YoY), as compared to $131 billion through September 2021. On the other hand, refis are down 95% YoY (versus $91 billion), while resets are down 81% YoY (versus $107 billion).
Average Bid: Morningstar LSTA LLI
September 1, 2016 to September 30, 2022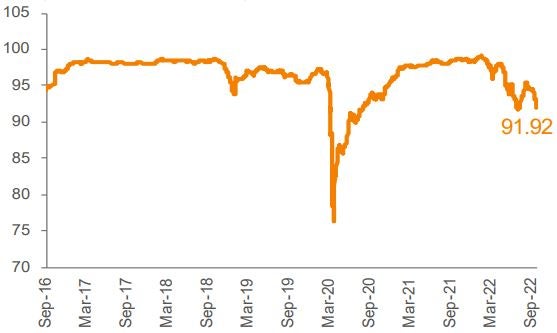 Average 3-YR Call Secondary Spreads: Morningstar LSTA LLI 2,3
September 1, 2016 to September 30, 2022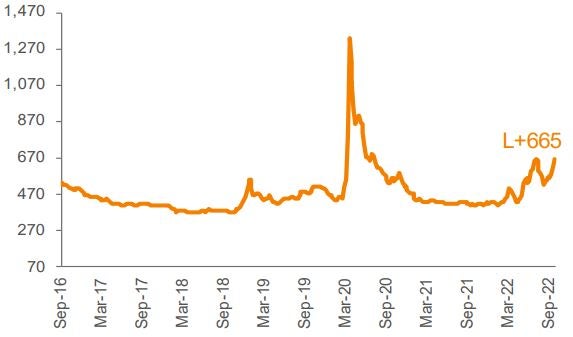 Loan Issuance and Repricing Activity ($ Billions)
January 1, 2019 to September 30, 2022

Source: LCD, The Morningstar ® LSTA ® Leveraged Loan Index. Additional footnotes and disclosures on back page. Past performance is no guarantee of future results. Investors cannot invest directly in the Index. *The Index's average nominal spread calculation includes the benefit of LIBOR floors (where applicable).
The global CLO market surpassed $1 trillion in 2021 and will likely reach $1.2 trillion by the end of 2022. Continued solid formation in 3Q further increased the size of the US CLO market, which currently stands above $925 billion as of September, equating to more than a 100% increase from the start of 2017.
On the other hand, retail loan funds continued to experience outflows, to the tune of $14.6 billion in 3Q22. On a YTD basis, the aggregate inflow tally currently stands at just $3.5 billion, having been as high as roughly $28 billion earlier in the year.
Default activity picked up pace, as the Index experienced six defaults during the quarter. As a result, the trailing 12-month default rate by principal amount increased by 62 bp to 0.90% but remains well below the historical average for the asset class. The pace of downgrades also accelerated, with the rolling 3-month downgrade-to-upgrade ratio increasing to 2.28x (from 1.32x in 2Q).
The overall macro setup for the balance of the year is difficult with a challenging outlook for risk assets given the ongoing repricing of the global risk-free rate, tightening of financial conditions, earnings deceleration and the increasing prospects of a global recession. Under such a backdrop, it is difficult to identify a catalyst to recovery over the short-term. As the ability of the Fed to orchestrate a soft landing has narrowed, markets are now starting to price more than a short and shallow recession, although expectations of a deep, prolonged recession remain low for now.
For loans, the market supply and demand equation will likely remain less supportive than earlier this year and is expected to be accompanied by a weakening backdrop for fundamental factors. While the CLO bid continues to provide some technical support for loans relative to other asset classes, retail outflows have accelerated recently, although still being absorbed in a reasonably orderly fashion. A positive counterbalance to the market technical outlook is a thin new-issue pipeline, which should mitigate the need to create liquidity in order to onboard new loans. Issuer fundamental factors will continue to drive sentiment and price movement given the developing sectoral themes and higher prospects of a substantial slowdown in earnings. While default activity remains contained for now, the recent uptick alongside continued ratings downgrade activity might add more pressure to the ongoing theme of spread and ratings dispersion among weaker credits and continued decompression as we navigate the remainder of the year. Given the bevy of concerns that remain top of mind, we will continue to closely monitor our credit selection and positioning in the near term.
U.S. CLO Market Size ($ Billions)
January 1, 2016 to September 30, 2022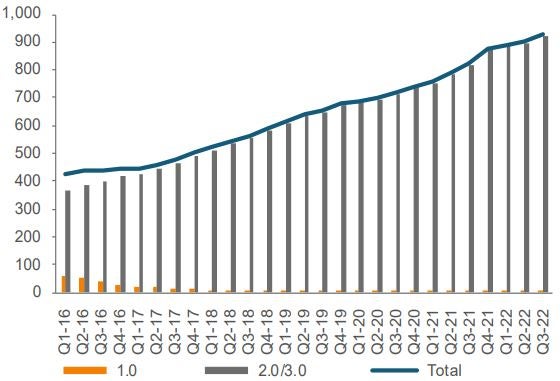 CLO Volume and Retail Fund Flows ($ Billions)
January 1, 2019 to September 30, 2022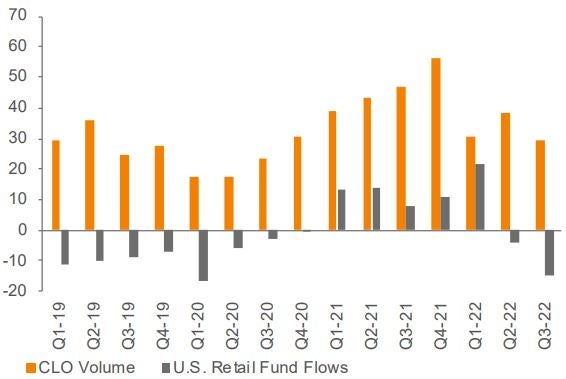 Lagging 12M Default Rate: Morningstar LSTA LLI4
September 1, 2016 to September 30, 2022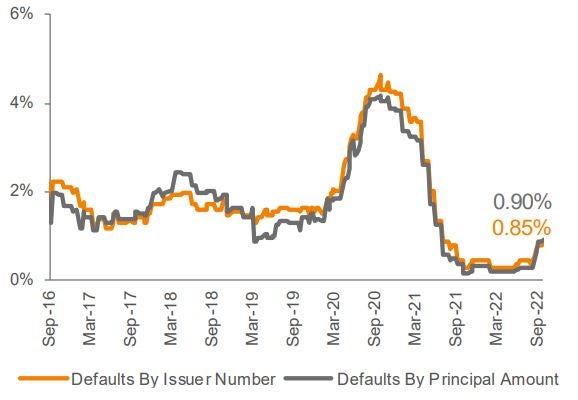 Source: BofA Global Research, LCD, Morningstar ® LSTA ® Leveraged Loan Index. Additional footnotes and disclosures on back page. Past performance is no guarantee of future results. Investors cannot invest directly in the Index.