A lookback provides insight about the path ahead: Protecting funded status in 2019 and beyond requires dynamic pension risk management
Estimates show that the average funded ratio for U.S. corporations sponsoring a DB plan remained unchanged from the prior year-end (~86%) according to Wolfe Research (Figure 1). This flatness in funded ratio status occurred despite a ~60 basis points (bps) increase in the average liability discount rate (~+30 bps from interest rates and ~+30 bps from Aa-rated corporate bond spreads).
Figure 1. Average Funded Ratio for U.S. Corporations Remains Unchanged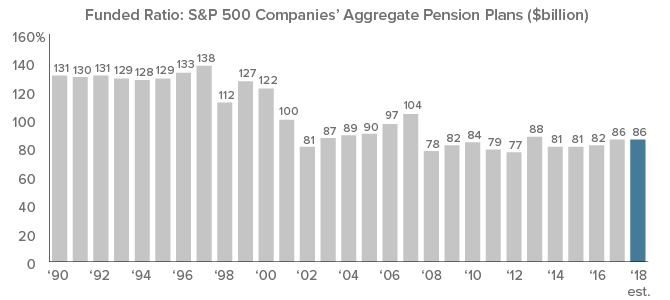 Source: Wolfe Research. As of December 31, 2018.
Many companies made large discretionary contributions during 2018 (Figure 2) to take advantage of the higher corporate tax rates. This will help them reduce their 2019 PBGC variable rate premiums, improve their funded status at year-end 2018 and decrease their 2019 pension expense, everything else the same.
Figure 2. Tax Rates Incentivized Companies to Make Discretionary Contributions in 2018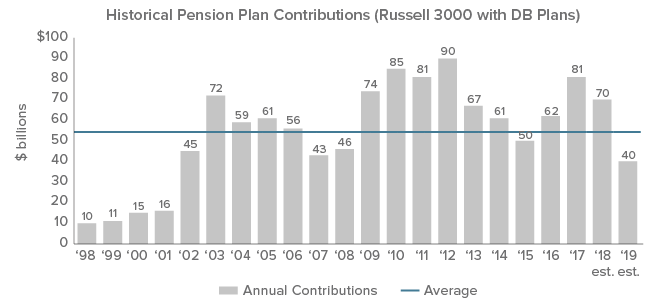 Source: Wolfe Research. As of December 31, 2018.
As a result, this means that the growth rates of plan assets were lower than the growth rate of the liability as measured by the sum of the service cost and interest cost. Plans also saw actuarial gains due to the increase in the discount rate. Had the capital markets remained upbeat and the liability discount rate at its September 30, 2018 level (~+20 bps higher vs. December 31, 2018), we estimated that the funded ratio would have been about 5% higher as of December 31, 2018.
Individual plan results will obviously vary based on a sponsor's asset allocation, the specific liability characteristics, the interest rate hedge ratio of the plan assets versus the liability, the amount of contributions and the level of de-risking activity during the year (lump sums and pension buyouts), which remained strong during 2018 (see Figure 3.)
Figure 3. Buyouts Remained Robust in 2018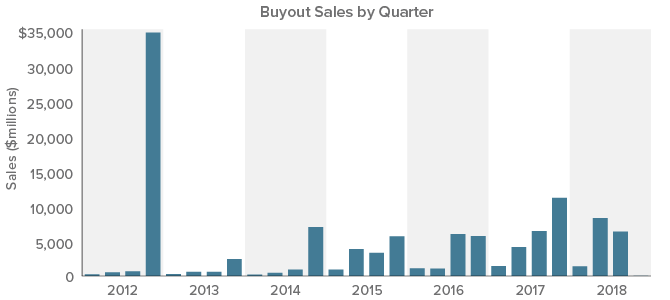 Source: Group Annuity Risk Transfer Survey (2018, 3rd Quarter), LIMRA Secure Retirement Institute. Based on 16 companies that provided single premium buyout sales
Investment Grade Corporate Bond Supply
The lower corporate tax rates effective in 2018 will have the effect of increasing the after-tax cost of debt issued by U.S. corporations, incenting some of them to de-leverage. Over the long term, this could potentially decrease the supply of long duration corporate bonds. Yet, pension plan sponsors are increasing their demand for long-duration corporate bonds as they allocate more assets to fixed income to hedge the interest rate and spread risk exposures of their liabilities. Therefore, as the growth rate of long corporate issuance potentially slows (Figure 4), the possible supply/demand imbalance may prompt plan sponsors to want to expand their investible universe.
Figure 4. Corporate Debt: Is a Slowdown of Issuance on the Horizon?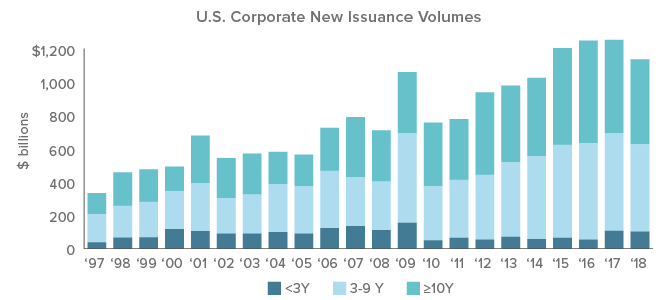 Source: Deutsche Bank as of 12/31/2018
Trends with U.S. Corporate DB Plans
Below is a list of trends, along with their rationale, that we expect to continue to develop as plan sponsors continue to focus on de-risking based on their target end-game and glide path.
Pension Trends in Focus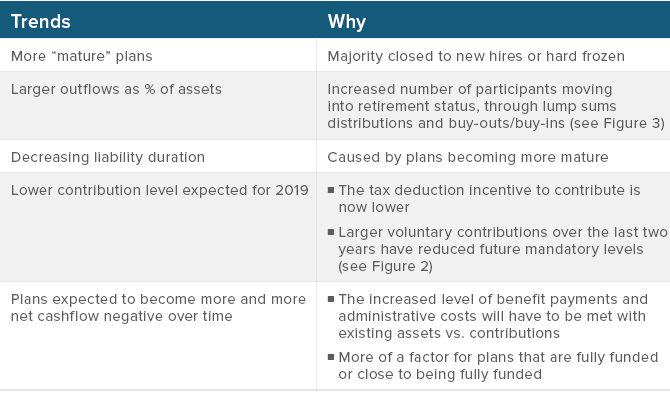 Implications: Dynamic Pension Risk Management
Due to the uncertain economic outlook and increased volatility recently, we expect plan sponsors to continue their focus on managing the level and volatility of their funded status through pension risk management initiatives shown in the table below.
Also, if this favorable economic environment were to stop sooner than anticipated, downside risk for plan sponsors could be greater than in previous recessions. This would be especially true for pension plans that are large versus the overall financials of the company and for those with a relatively risky investment strategy and low funded ratio currently.
Plan Sponsor 2019 Priorities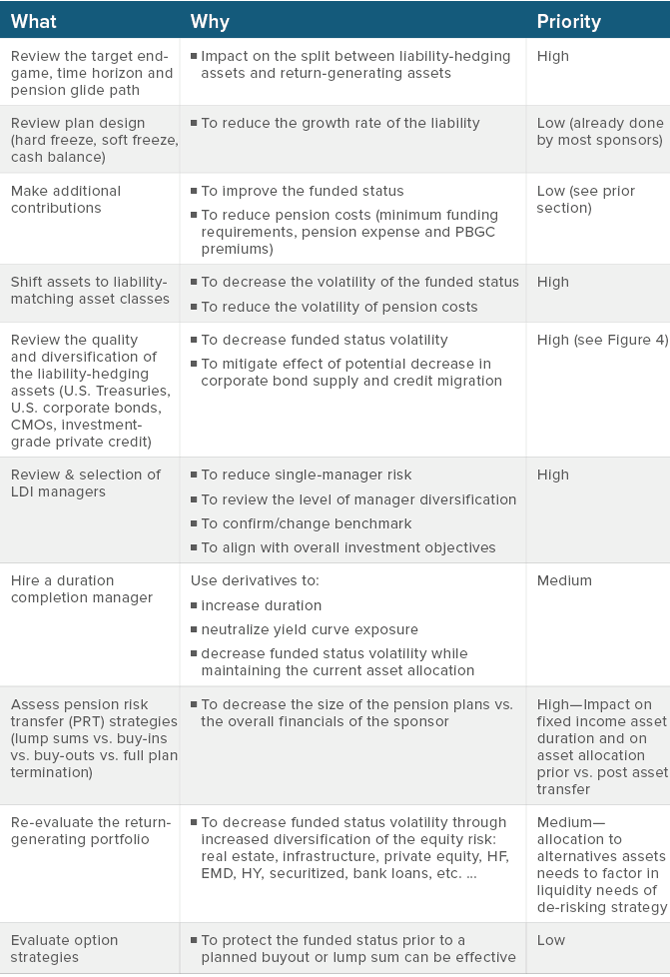 This commentary has been prepared by Voya Investment Management for informational purposes. Nothing contained herein should be construed as (i) an offer to sell or solicitation of an offer to buy any security or (ii) a recommendation as to the advisability of investing in, purchasing or selling any security. Any opinions expressed herein reflect our judgment and are subject to change. Certain of the statements contained herein are statements of future expectations and other forward-looking statements that are based on management's current views and assumptions and involve known and unknown risks and uncertainties that could cause actual results, performance or events to differ materially from those expressed or implied in such statements. Actual results, performance or events may differ materially from those in such statements due to, without limitation, (1) general economic conditions, (2) performance of financial markets, (3) changes in laws and regulations and (4) changes in the policies of governments and/or regulatory authorities. The opinions, views and information expressed in this commentary regarding holdings are subject to change without notice. The information provided regarding holdings is not a recommendation to buy or sell any security. Fund holdings are fluid and are subject to daily change based on market conditions and other factors.
Past performance is no guarantee of future results.