While the phenomenon may seem contained to a handful of stocks, we believe there are broader ramifications for active managers to navigate.
The Big Short Squeeze
After nearly a year of no water cooler around which to gather, Reddit quickly became the talk of nearly every virtual water cooler around. In case you missed it, a handful of stocks that had large short positions skyrocketed as retail investors piled into the stocks based on a thread on Reddit called WallStreetBets. While the initial activity seemed like it would be a short-lived, localized, stock-specific phenomenon, the large volume of stock that proceeded to trade over the course of the ensuing week suggested the ramifications of this episode to the market could well be broader, more profound and longer-lived.
Short Interest, Sky High Returns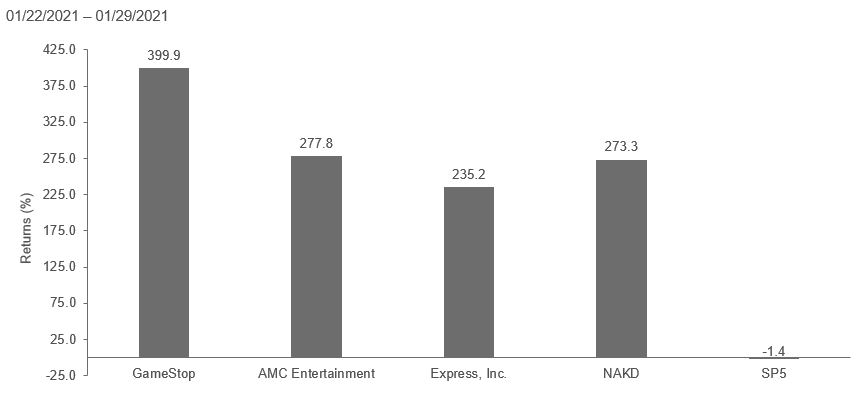 Source: Bloomberg and Voya Investment Management.
Amid debates on social and traditional media about whether and how regulators should intervene, our focus remains on our clients' portfolios. Across Voya's actively managed equity portfolios, we do not own any of the stocks that were in the crosshairs of WallStreetBets. Stocks like GameStop, Express, and AMC Entertainment are, in our view, secularly-challenged companies, wholly undeserving of nearly all of the adulation placed upon them by the market this past week.
Managing Risk and Seizing Opportunities: How Should Active Managers Proceed?
On the surface, the short squeeze phenomenon may seem contained to a handful of stocks. However, the distortion of price discovery has led to broad-based deleveraging among hedge fund investors, prompting them to sell down their long positions to cover their vulnerable short positions. It is in this regard that stocks that we own and others in which we have an interest have come under pressure.
As a result, we have enriched our risk management mosaic to better account for investor positioning and sentiment, while also embracing the opportunity to add to positions where dislocation caused by short-term hedge fund deleveraging has enhanced the longer-term risk-reward.
We are doing this, for example, by looking at our portfolios and flagging those that have a short interest above 30%. We are also intensely focused on hedge fund crowding behavior and which of our stocks have and will present buying opportunities as hedge funds become forced sellers. There are a number of events currently shaping the trajectory of individual stocks (vaccines, new COVID strains, government stimulus, change in political regime, earnings season etc.); by actively assessing and isolating hedge fund positioning and its attendant fallout, we are better able to manage the risk and opportunity presented by these stocks in the face of these formidable crosscurrents.  Notably, these are just additional lenses beyond our existing investment discipline and risk management through which we make investment decisions. Ultimately, we will still continue to focus on the fundamental drivers of the stocks and world in which we invest.
While the duration and form of deleveraging from here remains an open question, what is fairly certain is the emergence of a technologically-connected investor cohort with a seat at the market table.  While accounting for the presence of this cohort is not without its challenges, we believe quite firmly that it will be a boon to active managers with a steadfast approach to disciplined investing.
Past performance does not guarantee future results. This commentary has been prepared by Voya Investment Management for informational purposes. Nothing contained herein should be construed as (i) an offer to sell or solicitation of an offer to buy any security or (ii) a recommendation as to the advisability of investing in, purchasing or selling any security. Any opinions expressed herein reflect our judgment and are subject to change. Certain of the statements contained herein are statements of future expectations and other forward-looking statements that are based on management's current views and assumptions, and involve known and unknown risks and uncertainties that could cause actual results, performance or events to differ materially from those expressed or implied in such statements. Actual results, performance or events may differ materially from those in such statements due to, without limitation, (1) general economic conditions, (2) performance of financial markets, (3) interest rate levels, (4) increasing levels of loan defaults, (5) changes in laws and regulations, and (6) changes in the policies of governments and/or regulatory authorities.