Highlights
The political agendas of individual nations no longer seem as closely aligned as they once did. Rising geopolitical uncertainty, trade disruptions and supply chain pressures are combining to drive significant inflationary pressures as companies seek to mitigate the risks of manufacturing and transporting goods from nations with opposing political agendas. This retreat from globalization will have a significant impact on companies in both the short and long term. We're watching these key trends:
Brand strength and pricing power: Companies that offer a differentiated product or service will be better able to maintain profitability as costs increase
Cybersecurity ramp-up: Companies that provide protection from cyber-risks will continue to deliver long-term, high growth potential
Energy supply diversification: Companies that play a part in helping nations curtail their reliance on Russian energy sources will benefit from greater growth potential going forward
Productivity enhancement: As business costs rise, companies that provide automation and artificial intelligence will benefit from a long runway of growth potential
Turning away from globalization's risks
Since the end of World War II, the global geopolitical environment has provided a framework that has paved the way for decades of globalization and offshoring, which have led to improved profitability and global wealth creation. Production has moved to countries with lower labor rates and regionalization has provided economies of scale. The globalization of the world's economy has been made possible by a relatively benign geopolitical environment that has encouraged cooperation and coordination of monetary, economic and trade policy. This environment has been enhanced by improvements in global communications and transportation, the entrance of China as a trade partner in the 1980s and the reliability of the U.S. dollar as the world's reserve currency.
Today there are multiple forces challenging this world order; it appears to be shifting in ways which will have dramatic long-term effects on global economic growth, wealth distribution and productivity. While many of the shifts have been slow moving, a few recent events have dramatically impacted the stability of the global status quo: notably the China–U.S. tariff and trade war, the Covid 19 pandemic and most recently, the Russian invasion of Ukraine. The China–U.S. tariff and trade war highlighted the risks of over-concentration in sourcing manufactured goods.
It also showed the potential for conflict escalation as China and the United States went back and forth imposing tariffs on successive categories of goods, each seeking to inflict greater pain on the other. The risks associated with dependence on Chinese manufacturing and the potential for further rounds of tariffs came to outweigh the benefit of lower costs. To help ensure stable supply and costs for materials, companies have accelerated plans to diversify manufacturing sources and relocate to regions with more stable trade relations, even if that potentially entails higher labor costs (Figure 1).
Figure 1. U.S. companies are remanding productive capacity to domestic suppliers
Annualized reshoring rate, all industry categories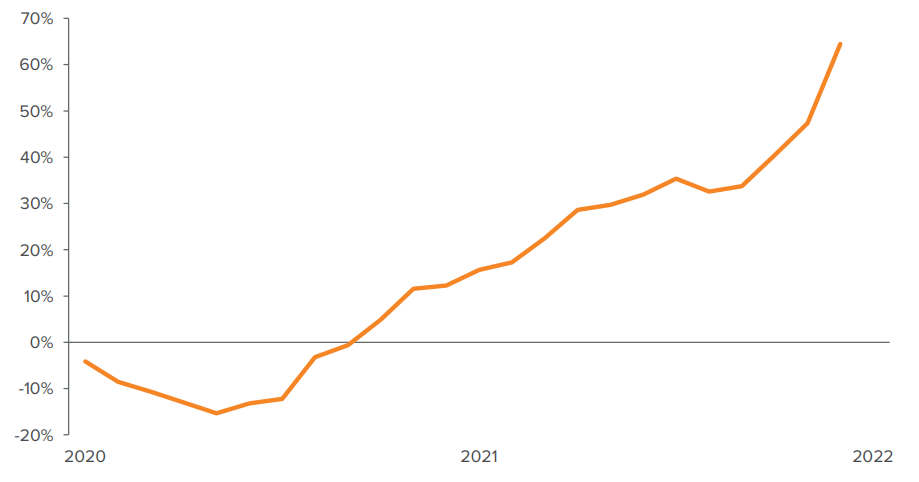 Source: "US Reshoring Corp. Reshoring Announcements Accelerate in Q4 w/ 80% 2yr Growth," UBS, Global Research, February 24, 2022.
The Covid-19 pandemic also has accelerated the need for reshoring supply chains and bringing supply closer to demand. The pandemic had dramatic impacts on the cost of goods and accentuated the risks already felt during the tariff war. Crucial goods such as medical supplies became difficult to acquire. The reliability of global supply chains broke down due to labor shortages as illness and medical risk severely limited the flow of goods (Figure 2).
Figure 2. Average delays in U.S. ports spiked during Covid
Delays in minutes
Finally, the Russian invasion into Ukraine has highlighted the risks of energy dependence, centralized finance and autocratic governments. Europe's dependence on Russian energy is an advantage to Putin's campaign and a risk to the European economy. The importance of alternative energy sources has expanded beyond issues of climate change to encompass national and regional security issues. The development of an integrated global communications network since WWII has led to heightened communication and cyber-risks (Figure 3).
Figure 3. Rising global cyberattacks drive need for greater protection
Billions of records reported lost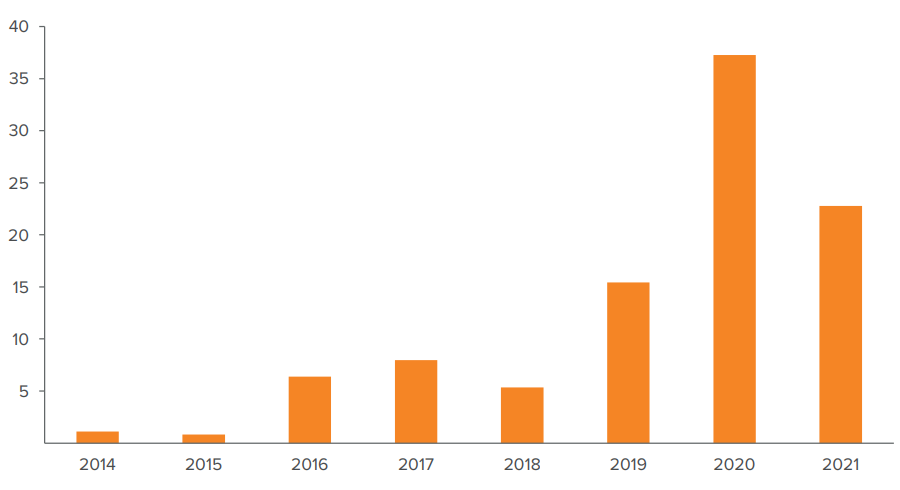 Source: Cyber Risk Analytics, 2021 Year End Report, Data Breach QuickView, 2022.
In addition to the physical war on the ground in Ukraine, significant cyberwarfare is occurring on multiple levels, which could impede global financial and communication networks. On the flip side, recent events also have demonstrated the importance of a unified system in waging a financial war to counter the physical war.
Structural shifts turn up new opportunities
Taken together, these geopolitical risks, trade disruptions and supply chain pressures will result in significant inflationary pressures as companies attempt to mitigate future risk by diversifying sources of manufactured goods and materials and reducing dependence on global supply chains. This will have the effect of limiting investments — and thus growth opportunities — in volatile political jurisdictions.
During periods of volatility and heightened risk it is important to realize that events will lead to opportunities for certain industries whose products and services address rising needs. At Voya we are focusing on companies and industries that we believe could benefit from these longterm structural changes, while avoiding those that are in the cross-hairs. Currently, we see four key areas we believe will benefit from the structural shifts in the global environment.
Brand strength and pricing power: Besides investing in cost-saving technologies and process improvements, companies with strong pricing power will be better able to maintain profitability in line with history as costs increase. Companies that offer a differentiated product or service and have a proven track record of maintaining brand strength are likely to be more successful at avoiding margin compression. We believe companies that have greater control of their distribution, or benefit from a unique distribution model, will continue to maintain margins in an inflationary environment. We are focused on companies with distinctive products and first-tier competitive positioning.
Cybersecurity ramp-up: As communication and data networks have become global and interconnected cyberwarfare has become a more prevalent disruption to industries and economies. The frequency of cyberattacks has accelerated and protection from them has become vital for corporate success, particularly in critical areas such as supplying electricity and financial services. Cybersecurity Ventures estimates that in 2021, payments resulting from ransomware totaled $20 billion, 57 times higher than in 2015. Cybersecurity Ventures also estimates that spending on cybersecurity products and services will increase by $1.75 trillion for the years 2021 to 2025. 1 Companies that provide protection from cyber-risks will continue to deliver long-term, high growth as the as the economy becomes increasingly digital and their potential customer base expands.
Energy supply diversification: The Russian invasion of Ukraine has exposed vulnerabilities in many countries dependent on Russia for energy supplies, and will drive those countries to seek alternative sources. For nations without their own fossil fuel resources, this could mean developing nuclear energy and accelerating the transition to alternative energy sources, as well as seeking other fossil fuel suppliers. For those with fossil fuel resources, such as the U.S., it could mean reopening the debate on access to domestic oil and natural gas reserves, on increasing nuclear development and accelerating the transition to alternatives. What's more, the expansion of renewable capacity within the U.S. should drive further upgrades to an aging power infrastructure. We believe portfolios positioned in companies that play a part in these developments will benefit from greater growth potential going forward.
Productivity enhancement: Tariffs, supply chain disruptions and rising material costs and wages have had a significant impact on companies' profitability as the cost of doing business increases. In addition, an aging workforce requires more automation. These cost pressures result in investments in automation and robotics to improve productivity.2 As a result, companies are making significant investments in automation and robotics, supported by advancements in semiconductor manufacturing and 5G communications networks. In addition to cost savings from automation, advancements in artificial intelligence (AI) and software are enhancing companies' operating efficiency. In a 2020 McKinsey survey, 50% of respondents had adopted AI in at least one function and 22% attributed at least 5% of earnings before interest and taxes (EBIT) to AI.3 Investments in automation and artificial intelligence are now a cost of doing business; we believe companies that provide these key services and functions will provide investors a long runway of growth potential.
Summary
Multiple forces appear to be shifting the world order in ways that will have dramatic longterm effects on global economic growth, wealth distribution and productivity. Under the current circumstances, with war raging in Ukraine and inflation surging globally, the four themes identified above — brand strength and pricing power, cybersecurity ramp-up, energy diversification and productivity enhancement — are likely to become more salient over the near term. Long term, as the economic cycle turns from inflation control and geopolitical issues revert to the background, we expect these themes to set the tone for the next phase of growth.