While global growth deceleration and other macro factors have largely weighed on the performance of risk assets thus far in 2018, two subsectors among U.S. corporate debt markets have posted comparatively strong relative performances: CCC-rated high yield bonds and the shorter end of the investment grade corporate curve.
Triple-C-rated performance has been especially rewarding for investors with a strong-enough risk appetite. So far this year nearly 80% of CCC issues have garnered the lion's share of excess returns for the high yield sector, followed by the B-rated segment (Figure 1). Indeed, CCC performance has surpassed what current levels of volatility would suggest, though this dynamic has faded more recently with volatility easing since the end of May, bringing CCC performance more closely in-line with other macro factors.
Meanwhile, with macro factors, such as growth deceleration and the impact of rising rates, taking their toll on the longer end of the investment-grade credit curve those who positioned themselves in the 0 to 5-year maturity bucket have also been rewarded, at least on a relative basis. Over 98% of IG issues within the 0 to 5-year bucket have outperformed the index, with a favorable skew towards smaller issuers (Figure 2). To that end, it is worth noting that roughly 50% of IG index constituents has short and long maturing outstanding issuance, highlighting that investors are currently more concerned with macro forces than with underlying credit fundamentals, as near-term growth prospects remain strong.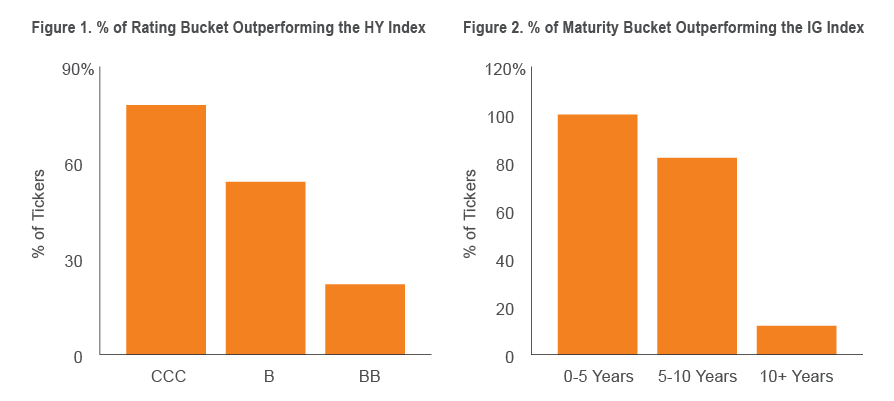 As of 6/30/2018. Source: Barclays Capital, Voya Investment Management. High Yield Index is represented by the Bloomberg Barclays US High Yield Index; Investment Grade Corporates are represented by the Bloomberg Barclays U.S. Corporate Index.
While the core driver of volatility has been the recent deceleration in U.S. and global growth, this must be taken with a grain of salt - at least over the short term - as it has come from above potential growth levels within developed economies. Therefore, despite the slowdown, growth rates remain healthy. Relative excess return performance within the investment grade and high yield markets has tracked consistently with the slowdown in growth from healthy levels with credit market performance exhibiting more concern about duration risk than credit risk. Equity market returns have also been consistent with the deceleration in economic growth and have been aligned with the relative excess performance within the IG and HY markets, perhaps indicating a broader market comfortability with higher volatility in a slow, but still healthy economic environment.
All good things (could) come to an end
While investors appear comfortable with the current level of elevated volatility, a continued slowdown in global economic growth and other factors – such as fundamental developments and rising uncertainty – could push spreads wider, putting further pressure on the long end of the IG curve and posing a challenge to the current CCC outperformance. However, with our constructive view on global growth and the credit market's current proclivity to remain responsive to macro-economic conditions, we anticipate a continued support for CCC's relative performance and perhaps easing pressure on long duration IG underperformance.
This commentary has been prepared by Voya Investment Management for informational purposes. Nothing contained herein should be construed as (i) an offer to sell or solicitation of an offer to buy any security or (ii) a recommendation as to the advisability of investing in, purchasing or selling any security. Any opinions expressed herein reflect our judgment and are subject to change. Certain of the statements contained herein are statements of future expectations and other forward-looking statements that are based on management's current views and assumptions and involve known and unknown risks and uncertainties that could cause actual results, performance or events to differ materially from those expressed or implied in such statements. Actual results, performance or events may differ materially from those in such statements due to, without limitation, (1) general economic conditions, (2) performance of financial markets, (3) changes in laws and regulations and (4) changes in the policies of governments and/or regulatory authorities. The opinions, views and information expressed in this commentary regarding holdings are subject to change without notice. The information provided regarding holdings is not a recommendation to buy or sell any security. Fund holdings are fluid and are subject to daily change based on market conditions and other factors.
Past performance is no guarantee of future results.