While it remains to be seen if the current administration will succeed in its attempt to reform America's tax system, our analysis below provides investors with a framework for understanding how elements in the current proposal could alter corporate behavior and impact credit markets.
Corporate Incentives in the Current Tax Regime
Figure 1 shows the growth of cash balances for technology companies against the technology industry's share of investment grade net issuance. As technology companies' cash balances increased, the tech industry came to represent more of the total net issuance of investment grade debt. 
Figure 1. Technology Companies' Cash Balances versus Debt Issuance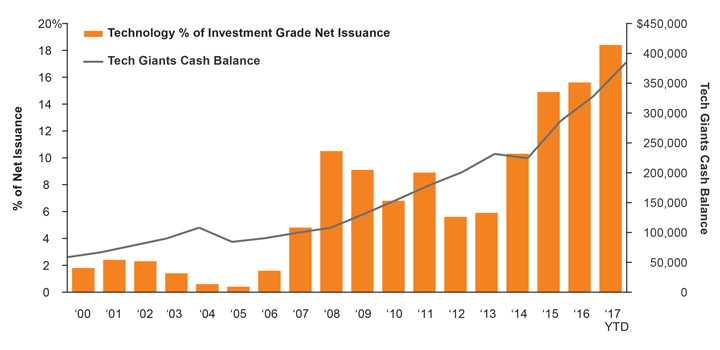 Source: Voya Investment Management, Dealogic, and J.P. Morgan. 
Given the relatively higher corporate tax rate in the United States, technology companies, like other U.S.-based multi-national corporations, hold a significant amount of their cash in countries outside of the U.S. In fact, based on the most recent tax-return data, the congressional Joint Committee on Taxation estimates that multinationals have ~$2.6 trillion in profits booked offshore.
Figure 1 suggests that tech companies are effectively accessing their overseas cash by borrowing in U.S. dollar terms against the implicit backing of the overseas cash.
Corporate Incentives in the Proposed Tax Regime
In Washington, discussions about tax reform have included limitations on interest deductibility, repatriation of foreign profits and a shift to a territorial tax system. If passed into law, these provisions would likely make it less favorable for technology companies to issue debt. Rather than issuing debt to fund investments, M&A, or stock buybacks, tech companies could simply access their overseas cash. In this environment, we would expect credit spreads in the technology industry to tighten.
Looking more broadly, while corporations in other industries may not have as much cash as technology companies, the bottom line is that debt would be more expensive in this type of tax regime, which could translate into a moderation in debt issuance across the board. Accordingly, we believe this type of corporate tax environment has the potential to reverse the long-term upward trend in corporate leverage, which in turn would be positive for credit spreads and good for overall systemic risk.
From a fixed income perspective, there is one more potential benefit to consider. This reduced supply of corporate debt would occur at the same time that the net supply of Treasuries and mortgage-backed securities is set to rise due to the Fed's gradual unwind of its balance sheet. Less corporate debt would reduce the overall amount of fixed income supply that the market has to absorb.
Past performance does not guarantee future results. 
This commentary has been prepared by Voya Investment Management for informational purposes. Nothing contained herein should be construed as (i) an offer to sell or solicitation of an offer to buy any security or (ii) a recommendation as to the advisability of investing in, purchasing or selling any security. Any opinions expressed herein reflect our judgment and are subject to change. Certain of the statements contained herein are statements of future expectations and other forward-looking statements that are based on management's current views and assumptions and involve known and unknown risks and uncertainties that could cause actual results, performance or events to differ materially from those expressed or implied in such statements. Actual results, performance or events may differ materially from those in such statements due to, without limitation, (1) general economic conditions, (2) performance of financial markets, (3) changes in laws and regulations and (4) changes in the policies of governments and/or regulatory authorities. The opinions, views and information expressed in this commentary regarding holdings are subject to change without notice. The information provided regarding holdings is not a recommendation to buy or sell any security. Fund holdings are fluid and are subject to daily change based on market conditions and other factors.