Among insurers, property and casualty (P&C) companies have historically shown the most interest in the tax benefits offered by municipal bonds. This is largely due to the nature of their liabilities. P&C companies operate with significantly less asset leverage given that their liability outflows can spike dramatically in the wake of a catastrophe. P&C insurers must therefore maintain large securities portfolios relative to their expected liabilities, which creates more taxable income and increases the appeal of tax-advantaged securities.
Rethinking Taxable Bonds
Historically, P&C insurers have found the yields offered by municipal bonds to be more attractive than the after-tax yields offered by taxable instruments such as corporate bonds. However, with the new tax laws, this after-tax yield advantage may disappear.

Starting this year, the corporate tax rate has declined from 35% to 21%; the lower rate potentially makes the after-tax yields of taxable bonds more attractive to P&C insurers than the tax-advantaged yields of municipal bonds (Figure 1).
Figure 1. New, Lower Tax Rate Makes After-Tax Yields More Attractive than Tax-Free Yields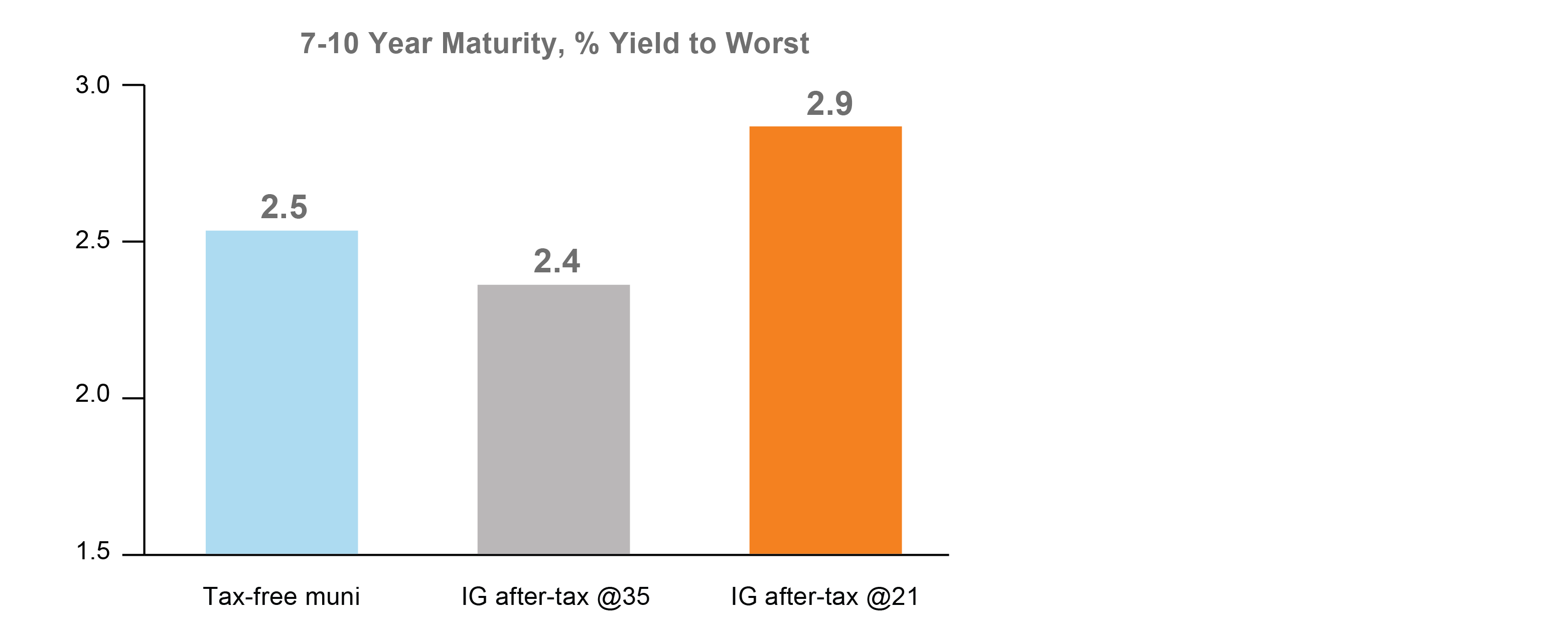 Source: BBGBarclays Live, as of 1/31/2018. After-tax yields based on a nominal corporate yield of 3.64%.
Will Tax Exempt Yields Adjust to the New Environment?
In an efficient market, one would expect this new tax regime to cause an adjustment of tax-exempt yields, pushing them higher to maintain their relationship with taxable yields. As Figure 1 shows, so far, this has not happened—and it may not in the future. The reason for this is that the new tax law does not materially change the incentives for the largest group of municipal bond owners, the high-net-worth (HNW) household sector.

The tax rate for high net worth investors has fallen only slightly, from 39.6% to 37%; what's more, the new tax law curtails individual deductions such as mortgage interest and state and local taxes, which could offset much of the benefit of the lower income tax. For these investors, tax-free investment income may become even more attractive, so municipal bonds retain their appeal.

HNW ownership accounts for about 41% of the municipal market (Figure 2). Thus, investors with incentive to hold onto tax-exempt instruments have dominant market heft, which mitigates the need for yields to adjust. By contrast, P&C insurers represent about 9% of the market; a diminishment of their ownership would have only a muted effect on yields.
Figure 2. Municipal Bond Ownership Skews to High-Net-Worth Investors

Source: U.S Federal Reserve, Z.1 Financial Accounts of the United States, December 7, 2017, page 121. Amounts outstanding at end of period, not seasonally adjusted.
Seeking Diversification
While the tax code may make taxable bonds more attractive to P&C portfolio managers, there are other factors to consider — the tax changes also make it more expensive for corporations to issue debt. This could lead to lower supply, compressing credit spreads and diminishing the attractiveness of after-tax yields. For this reason, Voya advocates the use of private credit and commercial mortgage loans (CMLs), which offer potential for attractive yield and may serve as effective alternatives to public corporate debt.

Some insurers hold municipal bonds mainly for their diversification potential as a high quality, long-duration substitute for public credit. Over-reliance on the corporate credit market for long spread exposure is not ideal; in addition, P&C insurers should consider mining other markets such as CMLs, commercial mortgage-backed securities (CMBS) and long-duration private credit for other ways to diversify their long rate and key rate exposure.
This commentary has been prepared by Voya Investment Management for informational purposes. Nothing contained herein should be construed as (i) an offer to sell or solicitation of an offer to buy any security or (ii) a recommendation as to the advisability of investing in, purchasing or selling any security. Any opinions expressed herein reflect our judgment and are subject to change. Certain of the statements contained herein are statements of future expectations and other forward-looking statements that are based on management's current views and assumptions and involve known and unknown risks and uncertainties that could cause actual results, performance or events to differ materially from those expressed or implied in such statements. Actual results, performance or events may differ materially from those in such statements due to, without limitation, (1) general economic conditions, (2) performance of financial markets, (3) changes in laws and regulations and (4) changes in the policies of governments and/or regulatory authorities. The opinions, views and information expressed in this commentary regarding holdings are subject to change without notice. The information provided regarding holdings is not a recommendation to buy or sell any security. Fund holdings are fluid and are subject to daily change based on market conditions and other factors.
Past performance is no guarantee of future results.
Voya IM does not provide tax or legal advice. This information should not be used as a basis for legal and/or tax advice. In any specific case, the parties involved should seek the guidance and advice of their own legal and tax counsel.