Many investors are drawn to Investment Grade Private Credit because of the segment's historically higher spread to public corporate bonds of the same rating. Voya's long-term average spread to public bonds is about 75 basis points (bps) for Investment Grade Private Credit. However, this up-front premium has been lower over the past five years.  In 2017, Voya's weighted average spread to publics was 50 bps for transactions done that year and this was a historic low for the team.  This statistic increased to 63 bps in 2018 but remains below the long-term average.
While the current environment undoubtedly presents challenges for private credit investors, it is important to remember that Investment Grade Private Credit represents a long-term strategic allocation—this is not an asset class for market timing. Historically, Investment Grade Private Credit has served to diversify broader fixed income portfolios and complement investors' existing public bond allocations. At this stage of the market cycle, we believe the potential diversification benefits and covenant protections of Investment Grade Private Credit are even more valuable to investors.
Upfront yield advantage is just one component of total return
Issuers are willing to pay more to issue private debt because of customization. For example, privately-issued debt has a variety of unique characteristics that are valuable to issuers, including tenures not issued in the public market (e.g. 12 or 15 year), customization of tranche sizes (e.g. $120 million, $50 million, and $100 million issued in different tranches), amortizing bonds, floating-rate notes, delay draws, non-USD swapped offerings, etc.
This customization has resulted in an up-front yield advantage for individual private deals that historically has averaged about 75 bps more than similarly rated and similar duration public bonds. While current upfront spreads are below this long-term average, upfront yield advantage is not the only component driving the total return of private credit portfolios. Covenant protections provide non-coupon income of about 50 bps on the back end and are crucial to avoiding and minimizing loss when defaults do occur. This 50 bps is split into different sources – prepayment fees, amendment/waiver fees, and lower losses.  Historically, prepayment and amendment/waiver fees from covenant protections have delivered about 30 bps to the annual total return of an Investment Grade Private Credit portfolio. Perhaps more importantly given the current market environment, covenant protection also helped lower losses, which historically added about 20 bps annually to the total return of an Investment Grade Private Credit portfolio.
Diversification and the potential for downside protection
We recently shared our views on the growing risks in the public BBB space. While we do not believe a downgrade cycle is imminent, risk is undoubtedly elevated. Against this backdrop, Investment Grade Private Credit can help investors enhance the risk profile of their broader corporate credit portfolio by substituting some of the public credit exposure with private credit exposure that has covenant protection for the downside. As demonstrated below, the embedded structural protections from negotiated covenant packages have historically helped Investment Grade Private Credit outperform their public counterparts during periods of downside volatility.
Protecting on the downside: The historical benefits of private versus public investment grade credit
Financial Crisis: Peak-to-Trough (September 2007 - March 2009)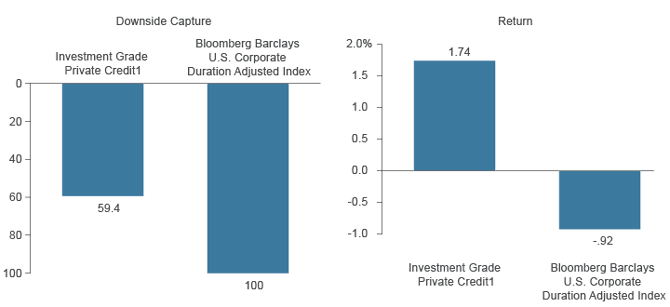 Source: Voya Investment Management and Bloomberg Barclays. Represents the time period September 1, 2007 through March 31, 2009. The Bloomberg Barclays U.S. Corporate Duration-Adjusted Index is the U.S. Corporate Index published by Bloomberg Barclays that is adjusted to have duration identical to that of a representative private credit portfolio. 1Given the limited availability of private credit market data, investment grade private credit information is represented by the Voya Private Credit Investment Grade composite.
What matters most? Focus on security selection
We believe the investment thesis for Investment Grade Private Credit remains intact. Critically, in this environment, investors need to be even more mindful of manager selection. Demand for the asset class has grown at a time when, broadly speaking, we are seeing more leverage and investor willingness to weaker covenant deals. Patience in this environment is absolutely critical to investment success.
When is market timing good?
We believe being prepared for market downturns with the ability to invest in private credit more selectively is critical now.  So the best time to start investing – is today.  Even though the average deal may be about 60 bps, there are many attractive deals that come to market that are missed now because investors are not participating in the market.  Investors must remember that "good deals" are not the enemy of "great deals" when it comes to spread to publics.  Also, current investors can choose the speed of current investment and ramp up when market conditions change and spreads widen in particular sectors or overall.
At Voya, we remain disciplined investors and only participate in deals where credit risk, structure, and pricing meet our standards. Not all private credit investors have the luxury of selectivity because they have such large target levels of production to fill each year for their own proprietary general accounts and must participate in most deals that appear in the market. Having the organizational structure and expertise to pass on deals helps us build portfolios that have superior goal alignment between our proprietary portfolio needs and that of our third party clients.
This commentary has been prepared by Voya Investment Management for informational purposes. Nothing contained herein should be construed as (i) an offer to sell or solicitation of an offer to buy any security or (ii) a recommendation as to the advisability of investing in, purchasing or selling any security. Any opinions expressed herein reflect our judgment and are subject to change. Certain of the statements contained herein are statements of future expectations and other forward-looking statements that are based on management's current views and assumptions and involve known and unknown risks and uncertainties that could cause actual results, performance or events to differ materially from those expressed or implied in such statements. Actual results, performance or events may differ materially from those in such statements due to, without limitation, (1) general economic conditions, (2) performance of financial markets, (3) changes in laws and regulations and (4) changes in the policies of governments and/or regulatory authorities. The opinions, views and information expressed in this commentary regarding holdings are subject to change without notice. The information provided regarding holdings is not a recommendation to buy or sell any security. Fund holdings are fluid and are subject to daily change based on market conditions and other factors.
Past performance is no guarantee of future results.