The first quarter of 2018 marked the return of volatility to financial markets. Fixed income was not immune from these swings. The increase in U.S .Treasury yields can be traced back to late 2017, when rising inflation expectations set the stage for a massive spike in implied volatility, with the VIX index leaping from 10% to 37% in just ten days. This confluence of events drove equity markets down and large swings have continued throughout 2018. Although a sudden change from recent behavior, the increase in volatility was a return to normal for financial markets.
Are we cautious in the current market environment? Absolutely—it's certainly not the time to max out risk budgets. However, it is important to note that while we are indeed cautious, we are not overly bearish. In another change — here from precedent — equity downturns this year have not led to wider credit spreads (Figure 1). Indeed, the degree of spread widening and underperformance for corporate credit in Q1 was rather muted compared to previous equity corrections since the global financial crisis. When equities sold-off in late January, investment grade spreads barely reacted – widening by just 2 basis points. Investment grade corporate bond spreads continued to drift wider for the balance of the quarter in response to announcements of U.S. trade tariffs and rising concerns of the threat of a trade war.
This breakdown between equity market volatility and credit spread volatility is a positive sign for fixed income investors as it indicates that credit fundamentals remain largely intact. The recent volatility has also led to increased dispersion among industries and issuers, creating opportunities for fixed income investors. In this environment, security selection remains key as idiosyncratic risks among issuers are being magnified.
Figure 1. Correlation Between Equities and Credit Spreads Breaking Down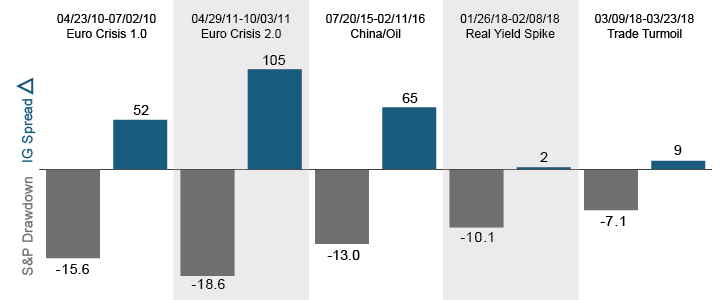 As of March 23, 2018. Source: Bloomberg, Barclays Bloomberg and Voya Investment Management
S&P 500 returns represented as all drawdowns of at least 10% from 01/01/2010 – 12/31/2017, plus drawdowns in Q1 2018. IG Spread changes as represented by option adjusted spread (OAS) change for the Bloomberg Barclays Corporate Bond Index.
Past performance does not guarantee future results. 
This commentary has been prepared by Voya Investment Management for informational purposes. Nothing contained herein should be construed as (i) an offer to sell or solicitation of an offer to buy any security or (ii) a recommendation as to the advisability of investing in, purchasing or selling any security. Any opinions expressed herein reflect our judgment and are subject to change. Certain of the statements contained herein are statements of future expectations and other forward-looking statements that are based on management's current views and assumptions and involve known and unknown risks and uncertainties that could cause actual results, performance or events to differ materially from those expressed or implied in such statements. Actual results, performance or events may differ materially from those in such statements due to, without limitation, (1) general economic conditions, (2) performance of financial markets, (3) changes in laws and regulations and (4) changes in the policies of governments and/or regulatory authorities. The opinions, views and information expressed in this commentary regarding holdings are subject to change without notice. The information provided regarding holdings is not a recommendation to buy or sell any security. Fund holdings are fluid and are subject to daily change based on market conditions and other factors.